Entertainment
WWE's Stephanie McMahon Danced To 'Humko Tumse Pyaar Hai'. Fans Asked Her To Join Bollywood
World Wrestling Entertainment (WWE) already has a huge fan following in India and it has risen manifold after wrestlers of the Indian origin started taking part in WWE championships. WWE is also making sure that its fan base increases further by holding WWE tryout first time in India this March.
There is no doubt that Bollywood is also very famous outside India and whenever people from foreign countries start discussing about India, Bollywood definitely finds a place in that discussion. A video is going viral in which the wrestlers Singh brothers are seen discussing about WWE and India and then conversation shifts to Bollywood.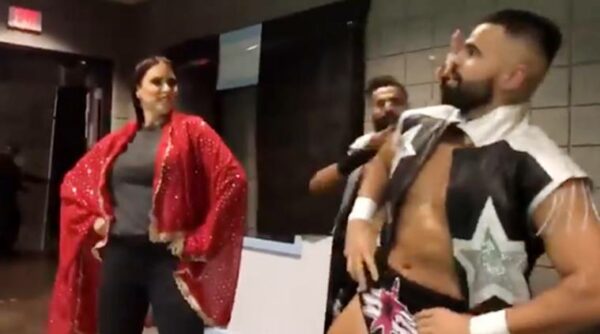 WWE's chief brand officer Stephanie McMahon also joined them in the discussion. Just to inform, Stephanie is married to Triple H who is a wrestler, actor and WWE business executive.
Singh brothers asked her to dance with them wearing a bright red dupatta on her head on the song "Humko Tumse Pyaar Hai" from the movie "Ishq". In the beginning, Singh brothers did bhangra, a Punjabi dance, and Stephanie also copied them. They all enjoyed their dance and then Stephanie left while dancing.
Here's The Video:
Now wouldn't @StephMcMahon be perfect for a #Bollywood movie? 😉 @SinghBrosWWE pic.twitter.com/o3dhrQJLvq

— WWE (@WWEIndia) January 29, 2019
Click here to watch this video directly on Twitter
Fans loved Stephanie's dance moves and asked her to join Bollywood. Here are some selected reactions:
#1
@StephMcMahon once you know the meaning of the song you will realize that Singh bros were flirting with you 😂😂!

— Randy Orton Guy (@Abed_Orton) January 31, 2019
#2
Triple H waiting backstage for singh brothers after knowing the meaning of that song.

— Yogesh patil (@yogs_patil) January 31, 2019
#3
Yes, the boss of the company @StephMcMahon will be a good fit in the Bollywood. She's so amazing and talented that she can cast herself in the Bollywood movie and produce too and that's best for business @TripleH.

— Hungry Animal (@_MeSumiT_) January 29, 2019
#4
Great Dance @StephMcMahon 👌👌Please Come to Bollywood…🙏🙏

— TEENA JACKSON (@TeenaJackson05) January 29, 2019
#5
Stephanie is one of the most genuine people behind the scenes, all the work she does behind the scenes with the Make A Wish kids is truly unmatche, her passion with the Women's Divison is unbelievable. Seeing her dance with The Singh Brothers is tremendous as well🙌🏼. pic.twitter.com/qV00QgXlW4

— C.B. (@CBenard_) January 29, 2019
#6
The boss of a company .what title of the movie would be appropriate? ?? Thinking Bad Boss , not any offense to Stephanie, she's great , I love her when plays bad

— Lovey Deol (@Lovey_thebullet) January 29, 2019
#7
#Perfect .. time comes up for Bollywood😊 @StephMcMahon @WWEIndia #alwayswelcome 🙏

— Manish K Prajapati (@M_K_shekhar) February 1, 2019
#8
That was awesome! Nice work

— Kevin Rose (@KevDRose) January 29, 2019
#9
This is Great but I know Someone Who Can Join her too 😅@AlexaBliss_WWE pic.twitter.com/JksYlx811F

— Muhammad Hussein (@Mhussein9911) January 30, 2019
How did you find Stephanie's dance on the popular Bollywood track? Let us know.
Share Your Views In Comments Below