Sports
"Ye Kya Ashleelta Hai," Asks Twitter As Usman Khawaja Undresses On The Field During BBL Match
The International cricket is going on full swing and Australia's premier T20 league Big Bash League is also providing a lot of entertainment to the cricket lovers. We have seen many strange things happening on the cricket field; for example, fans breaching the security to meet their favourite cricketer, dog running in the middle of the field, girls showing placards on which they express their love for a cricketer and so on. However, recently something so weird happened during a match in the Big Bash League that nobody was able to believe their eyes.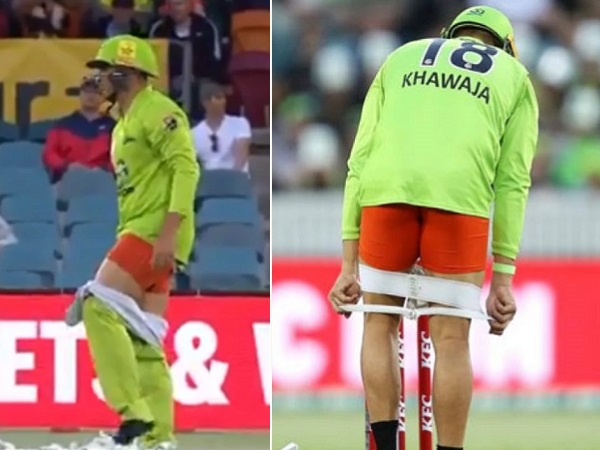 Usman Khawaja, the 34 years old Australian cricketer, who is presently playing in the BBL for Sydney Thunder did something which gave a rude to shock to not just cricket lovers but also former cricketers and commentators. During a match between Sydney Thunder and Brisbane Heat which was taking place in Canberra, in the eighth over of the first innings, Usman had to change his abdomen guard and quite surprisingly, he didn't do it in the dressing room but on the field.
The video of Usman Khawaja removing his shoes, pads and undressing for changing his abdomen guard went viral for obvious reasons. Cricket Australia tweeted the video with caption, "Wardrobe malfunction! #BBL10"
Wardrobe malfunction! 😳 #BBL10 pic.twitter.com/IvBzaFDSIG

— cricket.com.au (@cricketcomau) January 31, 2021
Soon the micro-blogging site flooded with reactions over the incident; while some said that the umpire should have objected to it, several others had fun on it. Check out some of the hilarious tweets:
#1
Hard to believe umpires allowed him to do that….

— UnBhakt (@VamosBangalore) January 31, 2021
#2
BBL is so weird this season 🙃

— siemen_subbaiah (@siemen_subbaiah) January 31, 2021
#3
At least you guys should have taken the cameras off him

— Bikano (@bhujiyekapacket) January 31, 2021
#4
— SauRabh SiNgh (@saurabh_sin_gh) January 31, 2021
#5
— Nitesh Bhadoria (@BhadoriaNitesh) January 31, 2021
#6
Let this be instructive to all those who wanted to go deeper and learn more about the internals of the game and what is worn inside but were too afraid to ask. Be afraid no more. Here is a detailed video that explains everything. In stunning HD detail 😂

— AR (@r_arvindk2000) February 1, 2021
#7
lol … what else are we going to see this decade

— Rega (@GairePravesh) February 1, 2021
#8
I didn't sign up for this R-rated content

— ً (@Iabuschagne) January 31, 2021
#9
O teriiiii Ye kia ho raaha hy bahi 😂😂

— Tehzeeb Hassan (@TehzeebHassan13) February 2, 2021
#10
@Six_Foot_1 yeh Kya ashleelta h 🤣🤣🤣

— Aman Agarwal (@amanagarwal7546) January 31, 2021
What is your take in this regard? Let us know over the incident.
Share Your Views In Comments Below