Automobile
YouTuber Made A Car That Can Be Driven From Outside; Twitter Called It The Most Stupid Invention
There are many people who have dedicated their lives for transforming their ideas into reality and keep on inventing new things. However, sometimes they come up with such things that are absolutely of no use to the society.
Master Milo, a YouTuber, is known for making strange inventions like a vehicle that gives the impression of a child bike, a tumbling car, etc.
Even more amazingly, he has now come up with a car that can be driven from outside.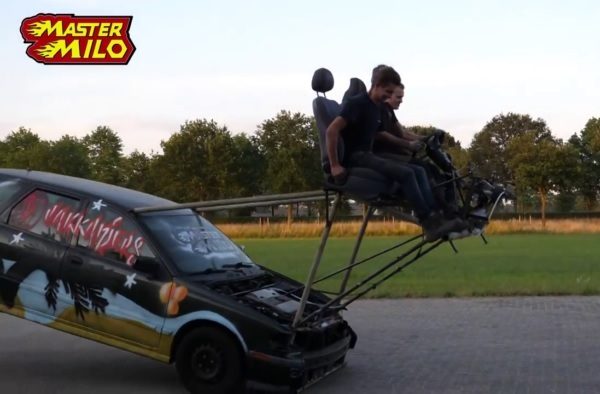 Sounds strange, doesn't it? As a matter of fact, car was designed for the purpose of providing a vehicle that has a roof-top and it not only helps a family in travelling together but also saves them from rain, sunrays etc.
Well, we are sure of one thing that Master Milo's invention is going to be of no use for common public as it is impractical, has no protection and puts life of the traveller at risk. However, if you still want to experience something new and different, you can go for a drive in Master Milo's car that has been named as Wipkar 2.0.
Here is the video of the car:
For More Videos, Subscribe Us Now
Click here to watch this video directly on YouTube
Social media is abuzz with reactions and has called it one of the dumbest inventions. Some of them have even questioned the need of creating such a car. Here are some reactions:
#1
Doctors everywhere are loving this video. Whos neck is first?

— Kenneth Gordon (@K_M_M_G) August 9, 2018
#2
Idiotic. I wouldn't dare to call this an invention.

— JusShawn (@NatTurnerStyle) August 9, 2018
#3
…which is a thing no one in the history of the world has ever asked for. https://t.co/kL29le0WNc

— Alex (@alexinlaw) August 10, 2018
#4
Honestly, this is one of the most useless thing I've ever seen. What's the point of this thing??

— Sahar Piltan (@SaharPiltan) August 9, 2018
#5
That's just nice buh have u been passed by a heavy-duty truck b4 or met rain on ur way. Seem u guys got spare lives in a fridge. YOLO

— DJ Xtяeme (@Iam_DJXtreme) August 10, 2018
#6
It's all fun and game until… pic.twitter.com/ReONtAtcJe

— magnolia darjeeling (@MagnoliaDarj) August 10, 2018
#7
And at the wire, we have a new winner for the dumbest thing I've seen this week! https://t.co/Dwu1GuHZzD

— Jon Acuff (@JonAcuff) August 10, 2018
#8
BEAN pic.twitter.com/KW4BYGlFkS

— John Macomber (@libgentech) August 8, 2018
#9
What's the point in having a car if u can't drive it from the inside

— sarah🌻 (@sarah_1003176) August 10, 2018
#10
— Vineyard Logistics™ (@UyannaBennTemba) August 9, 2018
#11
Because sometimes you want to kill yourself but just aren't sure how.

— Leonard Robinson (@leonardrobinson) August 10, 2018
#12
I almost thought it was gonna roll over and stamp their bodies to the floor

— Jose Reyes (@josewasthere) August 8, 2018
What is your opinion with regard to this car? Let us know your views.
Share Your Views In Comments Below