Sports
Yuvraj Singh Shares Hilarious Meme Featuring Virat Kohli & Anushka Sharma With A Twist
The former Indian cricketer Yuvraj Singh is one of the finest all-rounders of all times who have played for India and he was also given the name of the sixer king because of his ability to hit big sixes. No cricket fan will ever be able to forget six consecutive sixers that Yuvraj Singh hit in one over of Stuart Broad in a match which was played in the 2007 ICC T20 World Cup.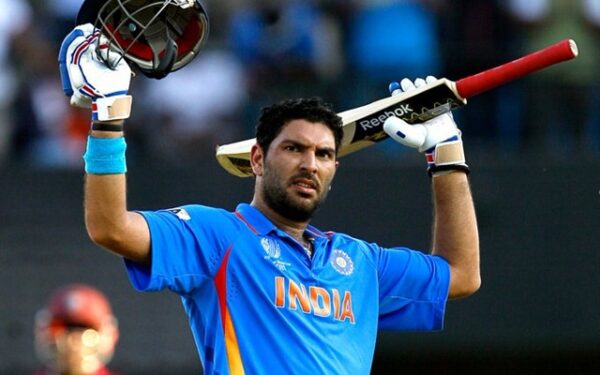 In his illustrious career of 17 years, Yuvraj Singh gave many match-winning performances both with bat and ball and he was also one of the best fielders of his time. In addition, Yuvi was the member of the 2007 ICC T20 World Cup and the 2011 ICC World Cup winning teams and in both the tournaments, he contributed pretty well.
His impact on the Indian cricket has been so huge that the Indian cricket fans still miss him, especially when the middle-order of the present Indian team crumbles while playing matches. Yuvraj Singh is a fighter at heart as he suffered from cancer but he fought bravely with this disease and emerged victorious.
The current Indian cricket team had a pretty disappointing run in the ongoing 2021 ICCT20 World Cup as it was not even able to enter the semi-finals of the tournament. Recently, Yuvraj Singh shared a meme on his Instagram story in which Virat Kohli is seen thinking that if Yuvi had been in the team, the middle order would have been strong while Anushka Sharma feels that Virat is thinking about other girls.
Here is the meme: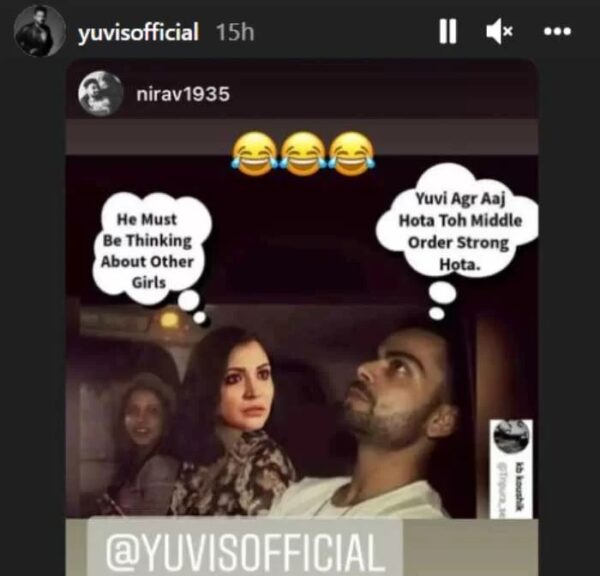 Yuvraj Singh played 40 test matches for India in which he scored 1900 runs including 3 hundreds and 11 fifties. He represented India in 304 ODIs in which he scored 8701 runs including 14 hundreds and 52 half-centuries. As far as the shortest format is concerned, the left-hander batsman played 58 T20Is for the country and scored 1177 runs which include 8 fifties.
We still miss Yuvi in the national team!
Share Your Views In Comments Below