Entertainment
Yuzvendra Chahal Said, "I Miss You Rohit Sharma". Got A Hilarious Reply From His Wife Ritika
India just finished playing the 3 match ODI against England; their defeat made us sad and we wished they played with some more aggressiveness.
Before this series, India played a T20 series against Ireland in Dublin and enjoyed victory. Talking about future, there's going to be a test series between India and England in August first week. Many cricketers won't be playing the test series and 2 of them are Chahal and Rohit Sharma.
Looks as if Rohit Sharma is totally relaxed after the tournament and is enjoying with his wife Ritika. He uploaded a solo pic on Instagram & Chahal couldn't stop commenting on the same; here's the pic…
Yuzvendra Chahal is missing Rohit Sharma a lot & he immediately expressed the same in the comments section below the pic.
Here's the screenshot of Chahal's comment…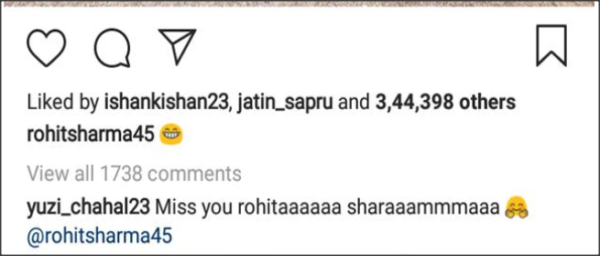 As soon as Rohit's wife Ritika noticed this comment, she immediately showed possessiveness in her comment. She wrote, "He's mine now :D"

Ritika is very happy that she has Rohit with her now. Guess this is the case with all wives, isn't it?
Share Your Views In Comments Below