Sports
Yuzvendra Chahal Shares Post Amid Rumours Of Rift Between Him & Wife Dhanasharee
The Indian cricketer Yuzvendra Chahal and his wife Dhanashree Verma have been making headlines for all the wrong reasons for a couple of days and various rumours are getting circulated in regard to their relationship.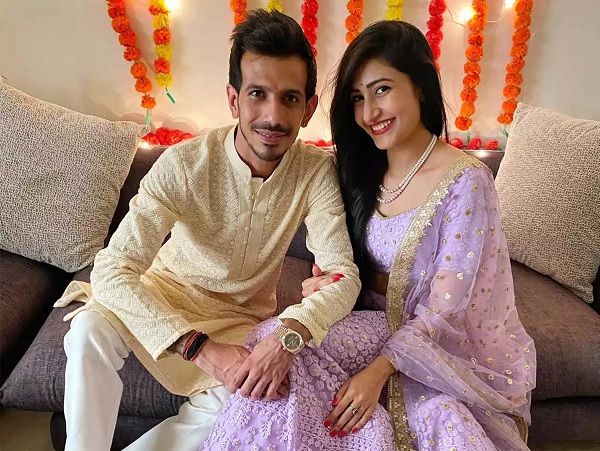 The couple got married in December 2020 and since then, everything seemed to have been going right for them as in the IPL 2022, Dhanashree was seen cheering for Yuzi and Rajasthan Royals in all the matches. However recently, the YouTuber created a storm when she removed "Chahal" surname from her Instagram bio and Yuzvendra Chahal also made a cryptic post stating, "New Life Loading…".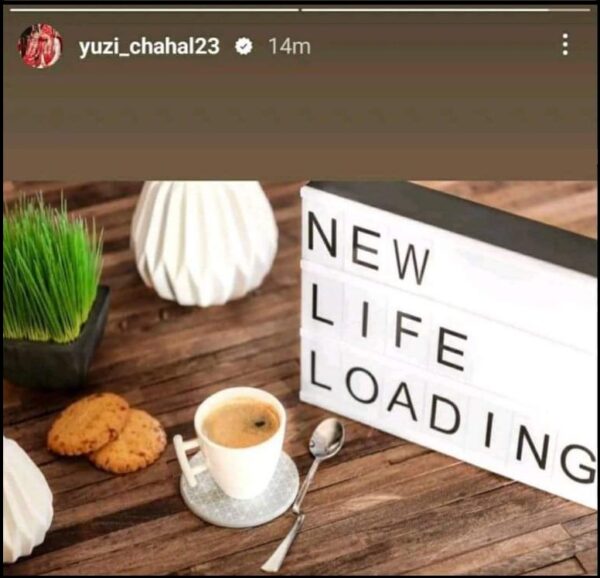 Soon social media platforms, especially the micro-blogging site Twitter got flooded with reactions and people started speculating that they both are getting divorced.
Some cheap comments were also posted on Twitter and here are some of the reactions:
#1
Chahal should get rid of that nachaniya asap. Imho she won't be having any difficulty in finding a better/bigger bakra than Chahal within few hours. Chahal did a huge mistake by marrying a nachaniya who frequently goes out with men & wears skimpy clothes

— Captain Alex (@H0reHI_Inter) August 18, 2022
#2
This Chahal – Dhanashree gossip is just disgusting. They are speculating divorce based on Insta stories ffs. Worst is , Shreyas Iyer is getting unnecessarily dragged into this.

— ` (@FourOverthrows) August 18, 2022
#3
The casual nature of social media basically deciding that Chahal and Dhanashree are getting divorced based on mere insta stories and profile names and blaming Iyer unnecessarily is just disgusting!

Stop making fun of someone's marriage

— Kaygee18 (@Kaygee1803) August 18, 2022
#4
Representing and winning India at International level can never be equal to Tiktok Influencer.
Aukat kiski badi hai public janti hai #YuzvendraChahal #dhanashree https://t.co/YELzWSZnPh

— Rajat Sengar (@SengaRajat) August 18, 2022
#5
Iyer watching Dhanashree & Chahal 's updates on Insta pic.twitter.com/DYSGaxqpUv

— 𝐊𝒖𝑙ᴅ𝗶𝗉 🐟 (@not_dhoni) August 18, 2022
#6
Dhanashree did what Twitter girls are doing on daily basis, use a famous guy to gain fame

— 🧘🏻‍♂️ | 🌈 (@night_wiing) August 18, 2022
#7
Yuzi to Dhanashree while divorce settlement:#Yuzvendrachahal #dhanashree pic.twitter.com/JBo96FwovZ

— Puru (@puru69) August 18, 2022
#8
No one knew Dhanashree before and she got married to Chahal, she was Chahal's wife to everyone and she is famous now she got what she needed. So suck it up 🤲

— Aditi. (@Sassy_Soul_) August 18, 2022
#9
Shreyas Iyer watching #dhanashree removing chahal from her name #YuzvendraChahal pic.twitter.com/EVBtF2DakG

— Aj (@AjessePinkman) August 18, 2022
#10
Single people giving advise to yuzi after divorce:#YuzvendraChahal #Dhanashree pic.twitter.com/pU9gzsN8y8

— Puru (@puru69) August 18, 2022
#11
Dhanashree to Yuzi Chahal after using his money and fame : pic.twitter.com/4OloZkHRE1

— UmderTamker (@jhampakjhum) August 18, 2022
#12
Not a meme
Just Chahal, Dhanashree and Iyer enjoying together. pic.twitter.com/kR6N6suOdq

— Preyesh Goyal (@PreyeshG) August 18, 2022
In addition, a photo was shared by another cricketer Suryakumar Yadav because of which the name of Shreyas Iyer was also dragged in the controversy.
Check out the image: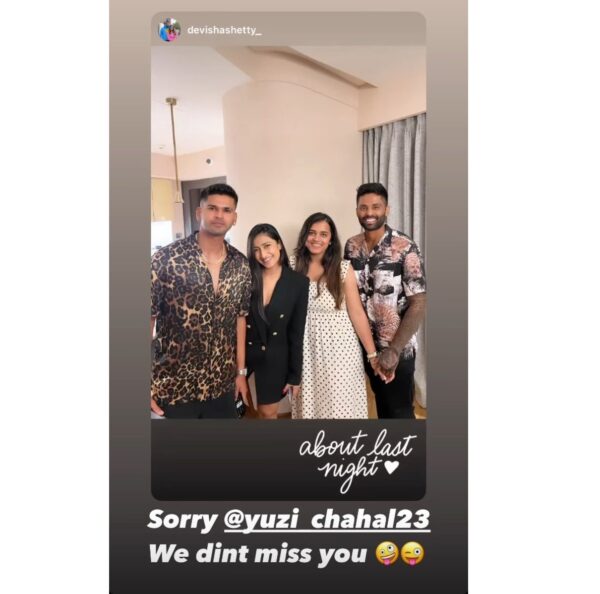 However, now all the rumours have been put to rest as Yuzvendra Chahal himself has made it clear that there is nothing wrong between him and his wife Dhanashree. He posted on his Instagram story, "A humble request to you all to not believe in any sort of rumours pertaining to our relationship. Kindly put an end to it. Love and light to everyone."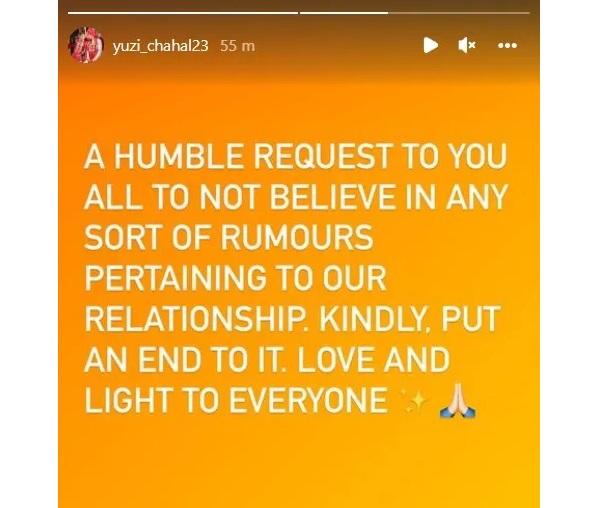 Everything seems to be going correct for Yuzi on the career front as he performed well in the IPL 2022 and then he also performed well in the matches that he played for the country. Chahal is a part of the Indian squad which will be playing in the Asia Cup 2022 and he will certainly like to perform well in the tournament because it will ensure his place in the team for the ICC T20 World Cup which is going to take place in Australia in October.
Hopefully all is well in the lives of Yuzvendra Chahal and Dhanashree!!!!
Share Your Views In Comments Below