Brands
Zara Just Changed Its Logo. Netizens Can't Keep Calm, Came Up With Hilarious Memes.
International brand logos are just as popular as their designer dresses and accessories. It's like they are the front face they are the true recognition of what they are representing.
Now, Zara updated their logo rather squeezed in all the letters in an overlapping manner. Brand loyalists couldn't differentiate this revamp by none other than Baron & Baron.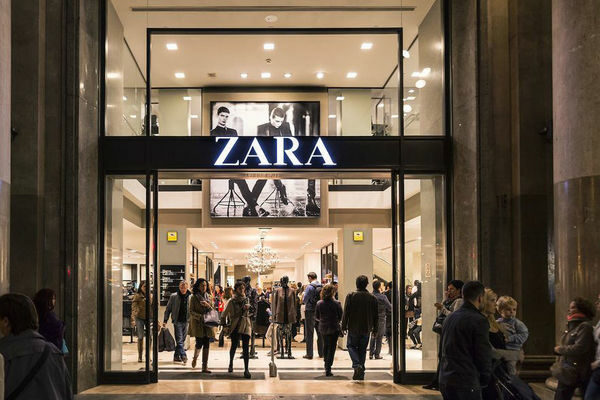 People all over could not help but point out that it seems the new logo is wearing a tight outfit and so happen to stick together like that. Loyal Zara shoppers are quite not pleased with it.
Zara updated their official logo and that too just for the second time in forty five years. Here check it out.
And soon twitterati can't keep calm and trolled the brand in most hilarious ways. Check these out.
#1
Thank-you for coming to my TedTalk #Zara pic.twitter.com/BqiJMWefmH

— Taya Try 🌈 (@soyuxr) January 29, 2019
#2
Well if it works for Louis Vuitton, why not? 🤔 having said that, the 'R' does look like a 'B', in which case it would spell 'ZABA' which means 'sacrifice' – makes sense if you take into consideration the skimping in sizes of clothing.. 😉#Fashion #Style #ZARA #ZaraLogo pic.twitter.com/ziJEAInDLp

— Corbynista Paddington 🌹 (@Real_Paddington) January 30, 2019
#3
#Zara logo is relatable as it's a size 14 trying to squeeze into in a size 8#zaralogo pic.twitter.com/2DacxRBIh5

— Michael Badham (Double Verífied) (@Badham) January 30, 2019
#4
Who approved this garbage…? #Zara pic.twitter.com/w1Snf6tg1D

— – */ (@brndnmllr) January 29, 2019
#5
I think we're all missing the true star of the #zara logo ~~~~~ pic.twitter.com/KhLIvMauaB

— Hunter McLean (@mcleancreate) January 30, 2019
#6
No way… (new Zara logotype) #zara pic.twitter.com/ilndYbhsjr

— Anatoly Vyalikh (@AnatolyVyalikh) January 28, 2019
#7
Evolution of #Zara's new logo explained. @Social_Samosa @adweak pic.twitter.com/KG5i19NBl0

— IMRAN KHAN (@imranmkkhan) January 29, 2019
#8
#ZARA Logo then, now and later. pic.twitter.com/OcCYDTdQv5

— Pankaj Ahuja (@panku_) January 29, 2019
#9
Seriously #ZARA, what the hell??
You forgot the spaces! #zaralogo #WhatHappened #failrebrand pic.twitter.com/cljuTrp8bS

— Silvia Sguotti (@SilviaSguotti) January 30, 2019
#10
Hey #ZARA, are you hiring for designers by any chance? #zaralogo pic.twitter.com/whW3XENjJX

— JAM•ART (@RealJamArt) January 31, 2019
#11
I memed #designerhumour #zara #zaralogo #brand #tracking pic.twitter.com/4C7VhYe2Uu

— Tim Davis (@holopress) January 31, 2019
#12
#ALDO after #ZARA changed their logo :p pic.twitter.com/0t1AVSUMcS

— Tal (@TALIKIAN) January 30, 2019
#13
I posted this on my IG story a couple of days ago. My eyes were assaulted! #ZARA #zaralogo pic.twitter.com/QmCkFFwFD4

— BabyBlue (@heybbblue) January 31, 2019
#14
The real reason behind the #ZARA logo is "Winter" pic.twitter.com/oBgL7H20oo

— Mandar Karane (@me_mandark) January 30, 2019
#15
Ummmm #Zara, you might wanna rethink that new logo of yours…
Because nobodys ever tried this before pic.twitter.com/7iXAmLLv3o

— BeneathTheStarsThatShine (@BeneathThat) January 31, 2019
So, what do you think about this new logo of international brand Zara?
Share Your Views In Comments Below