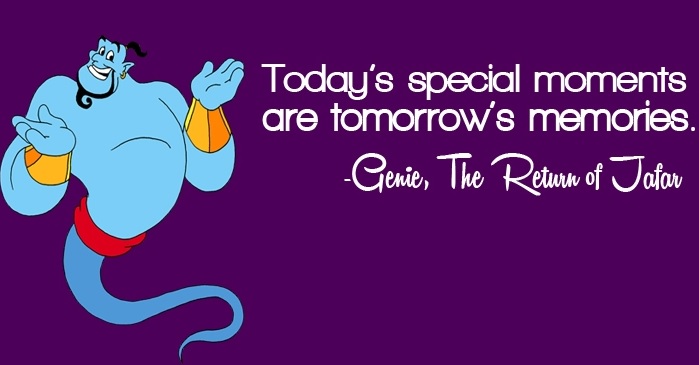 We all have grown up watching Disney. Disney has played a significant role in making every child's childhood wonderful. We are greatly influenced by what we see, in the same manner Disney has also made quite an impression on us. We all are somehow influenced by the Disney movies and characters. Disney has taught us so many valuable lessons.
So here are the 16 quotes from Walt Disney films that can teach you the most valuable life lessons.
1. We don't have to be the prisoners of our past. As a matter of fact our past can be our greatest teacher, we can learn a lot from it. But we should never let it hurt us.
2. Quite often we underestimate ourselves, we let others judge us. We must always have faith in ourselves even in the times of adversities. We must believe in ourselves even when no one else does.
3. Life can be a lot more funnier and awesome if we could learn to laugh at our own mistakes, instead of all the complaining and the blaming we mostly do.
4. You have to be a little crazy if you want to be a genius. Life is dull without craziness, it's our madness that makes us who we are. So spark yourself with a little touch of madness!
5. You know the old saying "Time and tide waits for none". Time flies so quickly and moments become memories. Life is just too short for regrets and to hold grudges. So don't waste your precious time.
6. Never ever say that you can't do something! You're powerful beyond your limits. You have it all inside you, you just have to look.
7. Never forget about your family. To have people in your life that care for you, who accept you for what you are, who stand with you at each and every step. Family is truly the life's greatest blessing.
8. Stars don't hold our destiny but we do. Surely we can't control everything, but we can choose the way to respond to the stuff that happens in our lives. We become what we choose to.
9. Life would be quite flat if it weren't for those ups and downs. Can we ever have a fun ride on a roller coaster that has no ups and downs? NO! And similarly that's how life works. Enjoy the ups and forget the downs.
10. Tough times never last, tough people do. Difficulties are there to instill the qualities in us like patience, perseverance and persistence. It's always the darkest before the dawn.
11. Good things come to those who wait. So always have patience and always keep your eyes open because miracles happen everyday.
12. You have to believe that something different can happen. You don't have to fear the unknown, you have to keep moving forward. All you need is faith, faith can move mountains, can cut through oceans.
13. You don't need the world's acceptance, you're special and unique. And if the world can't understand it, you're better off such people. Don't let the people bring you down.
14. Our conscience is the truest fabric of morality. You can tell lies to everyone, can cheat everyone, but you can never lie or cheat yourself. Your conscience knows you better than you know yourself.
15. No matter how hard things may appear now. There's always a promising tomorrow. You must not stop believing, be strong because things will get better.
16. Don't stop chasing your dreams, because dreams do come true. And never forget It was all started by a mouse…
Share Your Views In Comments Below