Extras
19 Amazing Facts About Indian Railways That Every Indian Should Know
11. Shortest and Longest Station Names
Situated in Thadukupeta, Chittoor district, Andhra Pradesh , Venkatanarasimharajuvaripeta railway station is the Longest Railway Station Name in India.
Ib Railway Station near Jharsuguda in Odisha is the Shortest Name of any Railway Station in India.
12. Longest Tunnel Track
Pir Panjal Tunnel Track in Jammu and Kashmir is the Longest Rail Tunnel in India with a length of 11.215 km.
13. Longest Platform
Gorakhpur Railway Station in Uttar Pradesh is the World's Longest Railway Platform, it is 1.35 km Long.
14. World's Highest Railway Bridge
World's Highest Railway Bridge is being built over Chenab in Jammu and Kashmir. It is 5 times the height of Qutub Minar and as a tall as Effiel Tower.
15. Indian Railways is serving 2.5 crore Indians as a Medium of Transport. It is almost the Population of whole Australia
16. Indian Railways is Home for over 1.6 Millions Employees
17. Train Drivers are Paid more than Software Engineers on an Average
They Get Salaries in the Range of 1 Lakh and More.
18. 
The Indian Railways website gets close to 12 Lakh hits per minute
Now you know why it is Nightmare to access IRCTC website.
19. Indian Railway Tracks Cover a Distance Equal to 1.5 Times of the Entire Earth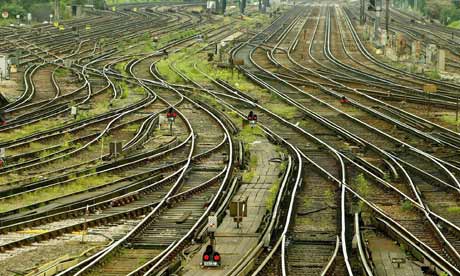 Source: TOI/Wikipedia
Image Source: Google Images.
Share your views in comments section below.
Share Your Views In Comments Below