News
2 Women Under 50 Enter Sabarimala Temple, Netizens Are Divided On Their Opinions
History was made yesterday when two women, under the age of 50, were allowed to enter the Sabarimala Temple. The two women, named Bindu and Kanakadurga, were finally allowed to enter the temple for their darshan.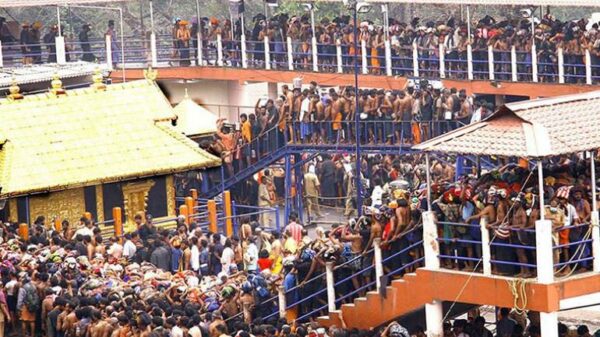 Afterwards, the temple had to be closed for purification. But that is another issue altogether. Netizens, are in fact, divided on their opinion regarding the fact that women are now allowed to enter the temple.
Some found the idea outrageous and spoke up on Twitter:
1.
Burkha Clan want to enter #SabrimalaTemple
These Jihadi Women's went on streets to slander the Hindu Tradition of #Sabrimala, name only one Ayyappa Devotee women want to enter Sabrimala Temple? No One Nahh! why don't these women's go to the temples where women entry is allowed. pic.twitter.com/drfAYJ4Sj3

— Aryan Singh (@balwan24x7) January 2, 2019
2.
Do not call these women Hindu devotees. They are not Hindus at all. And whoever done it they will face the consequences.

— M'Factor (@sanghashakthi) January 2, 2019
3.
WTF how can a burqa clad woman be an Ayyappa devotee..this is direct insult to Hinduism! Crap

— Aarohi Tripathy 🇮🇳 (@aarohi_vns) January 2, 2019
4.
Disgusting… they r playing with Lord and the sentiments of millions of real devotees

I wish I could Unsee the video

— Pinki Bhattacharya 🇮🇳 (@Pinkl10Bl) January 2, 2019
5.
What surprises me that your religion prohibits you to be open (wearing burka) but want to go worship in #SabrimalaTemple to stabbing the faith of other religion… Doesn't make furious to the intellectuals & media endorsing height of this CLASSIC NONSENSE ! pic.twitter.com/MXB23IE4cF

— Rupesh Shrivastava (@iRupeshS) January 2, 2019
However, a lot of people opened up and supported the move:
1.
Shame on people who thrive on such dirty politics and people who dont use thier brain in the name of empowermen#Sabrimala #SabrimalaTemple

— Druve (@EKNaikbanda) January 3, 2019
2.
2 Women entering a temple in India is our ACHIEVEMENT!!!

How more underdeveloped can we be???#SabrimalaTemple @CPIMKerala

— Avrajit Ghosh (@AvrajitGhosh) January 3, 2019
3.
sari auraton ko ek sth jana chahye dekhe ! toh in sanghiyo mei kitna dum hai auraton s ladne mei

— जितिन Mathew (@KaleenBhaiSpkn) January 2, 2019
4.
Purification of temple after women visited #SabrimalaTemple must be condemned. No tradition is cast in stone. Both genders are equal.

— Kartikeya Sharma (@kartikeya_1975) January 3, 2019
5.
Ayyappan will be ashamed for this purification.🙄 If only gods could speak!!!! #SabrimalaTemple

— ajay kumar (@Aj_boop) January 3, 2019
What is your take on this?
Share Your Views In Comments Below