Sooryavansham, released in 1999, a family drama movie. A story about an obedient and kind son Heera, played by Amitabh Bachchan. Heera is an illiterate, but a virtuous son. He is dispersed from his family by his disciplined and commanding father Thakur Bhanupratap Singh, whose role is again played by Amitabh. The story progresses, Heera with his strong determination and with the help of his intelligent supportive wife Radha becomes rich. Heera earns a reputation among the villagers, gains a social status. The climax of the movie is like any Indian masala drama movie; the bad guys plot a plan to kill the good guys, but the good guys win.
The movie as expected with its "INNOVATIVE" story was a blockbuster. But that's not it, this movie doesn't become famous simply as that. Set Max has been promoting and airing this movie for years now, resources say they are even planning to give this movie the "NATIONAL MOVIE" status. This movie airs almost every weekend. This helps the people to keep a track of the weekend in case if they don't remember what day it is.
So without further ado, here are the 9 Sooryavansham Jokes That Will Make Your Day!
1. This is how the Set Max decides what movie to air at the weekends. I am sure the higher officials at the Set Max wouldn't want to hear a NO for Sooryavansham.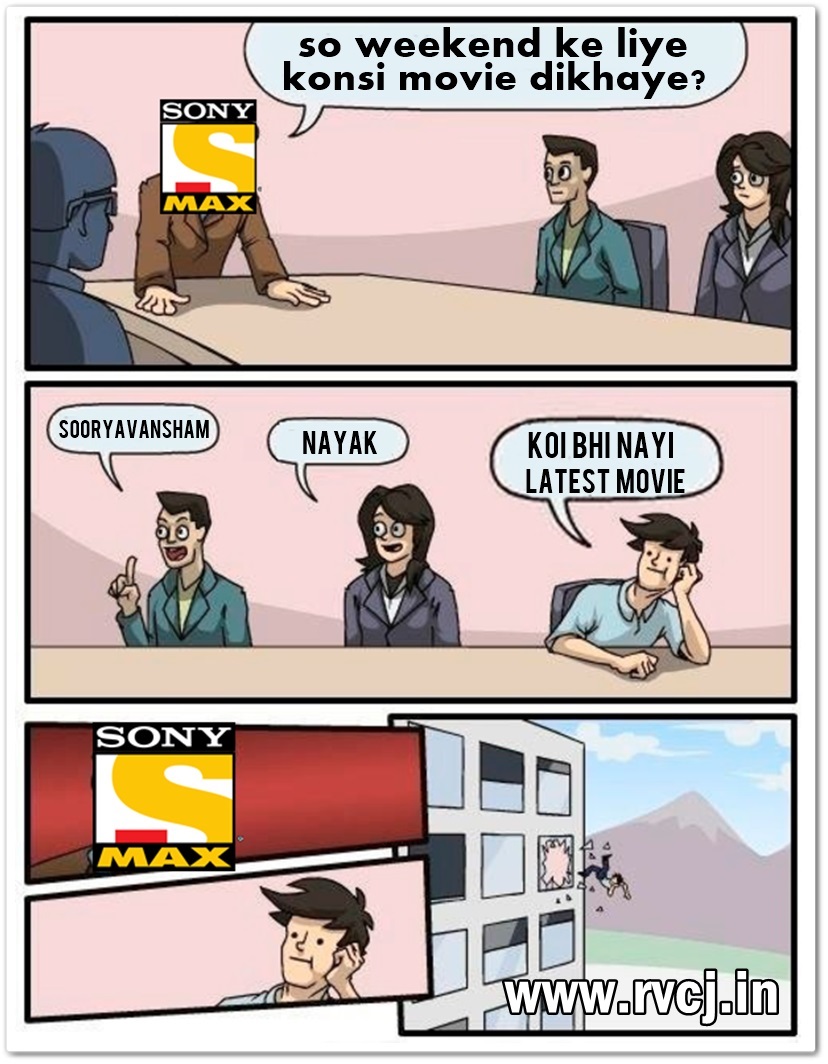 2. Here's the real reason why Bhanupratap banished Heera from his family. Heera wasn't really illiterate, he was an engineer, a synonym for illiteracy nowadays.
3. Kids these days be like "Nigga, got cool new games?" Thakur Bhanupratap is like WTF you little prick!
4. Back in the day, ACP Pradyuman would be like – GET DRUNK, AND HIT THE DANCE FLOOR WITH THE LADIES!
5. Things only relationship folks can understand! Achcha kiya Heera ki isse nahi diya kheera!
6. DAMMIT Set Max! You have a huge library of movies and you choose Sooryavansham most of the times to spoil the weekend. ACP isse achcha CID ke purane episodes hi dek le!
7. Woh din ab dur nahi…The weekend they won't air Sooryavansham on Set Max would become a BREAKING NEWS!
8. Then, Now, Forever…
9. It's Official.. Hira Is Abhishek's Brother
Share Your Views In Comments Below