Bollywood & TV
A Fan Asked Bruna Whether She Had Threesome Ever. This Is How She Dealt With The Creep
There are many gorgeous foreigner women in our Bollywood industry and the Brazilian model Bruna Abdullah is also one of those beauties.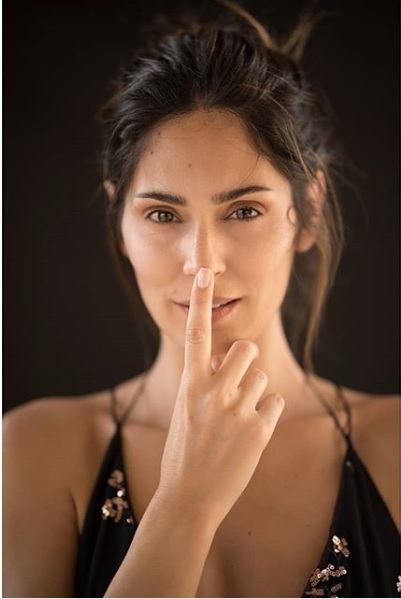 Bruna was first seen dancing to the tunes of song "Rehem Kare" in the 2007 released movie "Cash" that was directed by Anubhav Sinha. Later we saw her in "I Hate Luv Storys" and then she was noticed in one of the all-time hits "Subah Hone Na De" from Akshay Kumar starrer "Desi Boyz". Apart from these, Bruna was also seen in movies like "Grand Masti", "Jai Ho", "Mastizaade" and a Tamil movie "Billa 2".
She is very active on social media, especially the photo-sharing site Instagram, where she also posted a video of how her boyfriend Al proposing to her in Switzerland.
Last weekend, she decided to take up the 'Ask Me Anything' activity with her Instagram followers and the manner in which she handled the questions was pretty awesome.
One user asked her, "Have you had threesome ever?"
It's indeed praiseworthy on her part that instead of getting angry on one such question, she dealt it with wit and won the Internet.
Bruna replied,
"You mean a group of three people engaged in the same activity?
Sure!
Lunch with besties all the time!!!!"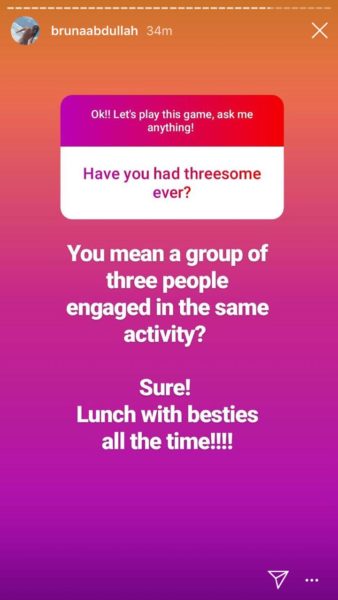 Another creep asked her, "What is your cup size?"
And she deserves a big round of applause for her answer!
Bruna replied,
"Depends! But let's say I go to Starbucks.. I usually ask for tall!"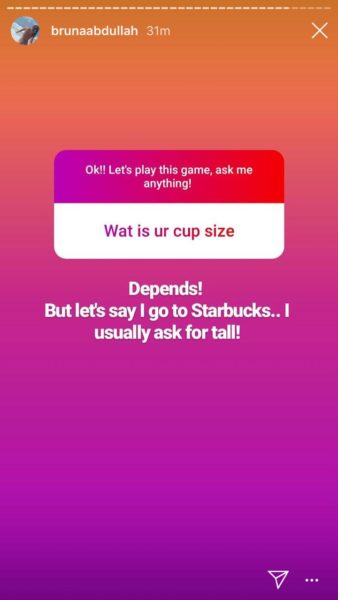 A netizen asked her, "Is there casting couch in Bollywood??"
To this, she replied, "Hahaha it's quite obvs!"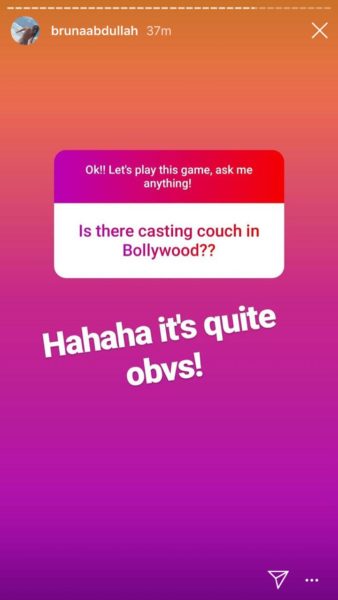 Last but not the least! A user questioned Bruna about her virginity and asked, "Are you virgin…. original?"
Her answer will again make you her fan! Here's how she responded, "Nope I'm a scorpion!"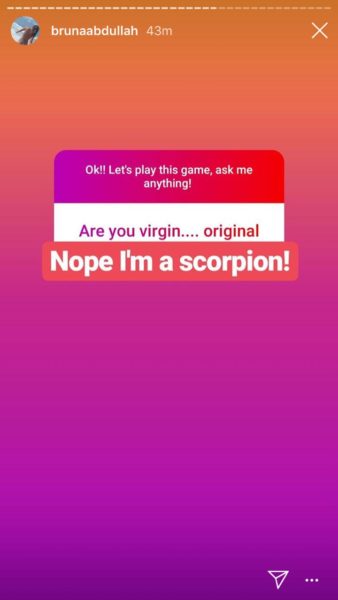 We must say that people can learn a lot from the lovely model turned actress. How did you find Bruna's replies to all the senseless and creepy questions?
Share Your Views In Comments Below