Humour
"Aag Lage Basti Me, Launde Apni Masti Me," Twitter On 2 Guys Floating In A Mattress On Flooded Road
It is rainy season in India and while rains bring joy, relief from hot weather and happiness in some parts of the country, few areas of the nation are facing flood situation and many people are compelled to leave their houses to save their lives.
The financial capital of India, Mumbai is also experiencing heavy rains and the Mumbaikars are facing many problems including the issue of water-logging. Roads filled with water is a common sight during the rainy season in Mumbai and it happens every year despite the fact that the state government assures its citizens before the rainy season that they have  made all arrangements and the citizens will face no problem this time.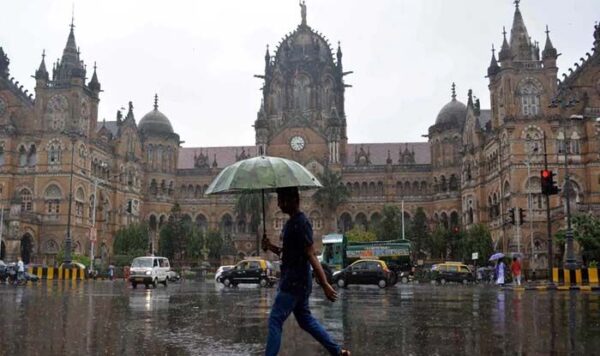 However, the situation is the same this year as well and not just the roads but the houses of people are also getting filled with water as Mumbai witnesses heavy rains. Usually, Indians have a fighting temperament and they encounter every problem with resilience; they don't let difficult times spoil their mood and always keep a smile on their faces.
A video is going viral on the Internet and social media which certainly defines the spirit of Mumbai as well as India. In this clip, two guys are seen having a great time while lying on a mattress which is floating on a flooded street.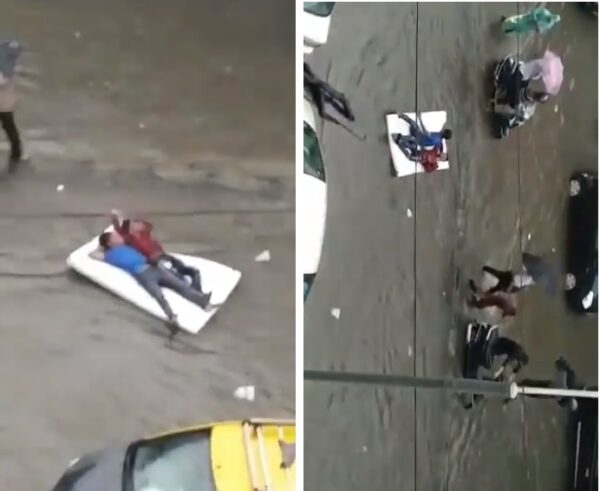 Though the location of the video is not confirmed, it is being said that the clip is from Mumbai.
Here is the video:
'Tu chill maar, tension na le'
Mumbai style pic.twitter.com/HfLBSlsov7

— Cherry Dimple (@realshailimore) August 6, 2020
Click to watch this video directly on Twitter
This video not only brought smile on everyone's face but also gave the power to deal with the critical situation. It went viral for obvious reasons and Twitterati reacted instantly as netizens showered praises on the two chill-out guys and their style of handling the crisis.
Check out some of the selected tweets:
#1
Jab office bed ke sath ja sakte ho toh Ola Uber kyun😂

— Kachra Seth (@Kachra_Se) August 6, 2020
#2
They : aapda ko awasar me badal ka samay aa gaya hai

— Vikash Kumar (@vkumar7796) August 7, 2020
#3
socho ke jheelon ka shehar ho
lehron pe apna ek bistar ho..😁

— Prakash (@satya_twt) August 6, 2020
#4
Aag lage chahe basti mein.. launde apni masti mein😂😂😂

— Dr. Ashish Belwal (@drsuperstar1680) August 6, 2020
#5
Carona hanged herself seeing this.

— no one (@SarathSarath4) August 6, 2020
#6
the really said https://t.co/OZP3LXu7XY pic.twitter.com/s7QFmdn4eF

— but (@galsunmeri) August 6, 2020
#7
this end the controversy !!

Jack could be safe, there was plenty of space for him and Rose and Jack could be alive today 😭

— ︎ ︎ ︎ ︎ ︎ ︎ ︎ ︎ ︎ ︎ ︎ ︎ ︎ ︎ ︎ ︎ ︎ ︎ ︎ ︎ ︎ ︎ ︎ ︎ ︎ (@________7789) August 6, 2020
#8
Bach gya salman khan nhi nikla tha car lekr😂😂😂😂😂

— 🇮🇳🇮🇳SHASHANK PATHAK🇮🇳🇮🇳 (@SHASHAN00177482) August 6, 2020
#9
Bas itni hi tension free life chahiye…😂😂

— Sumit Sinha (@googleoholic) August 6, 2020
#10
Manifesting- When life gives you lemons, make lemonades. https://t.co/CDpHPnUAZi

— Saswat Prusty (@saswat_prusty) August 6, 2020
#11
And then govt thinks log toh mazze hi kar rhe hain, kyu hi solution nikaalna iska

— Vishesh (@vishthecomic) August 6, 2020
What do you think of these two guys and did you chill out like them ever in your life?
Share Your Views In Comments Below