Brands
Ablu Rajesh Kumar – Hear His Roar Of Success, A True Josh Story
When life gives you lemons, you make lemonade, goes a popular saying. Ablu Rajesh Kumar did this and then some!
It all started on May 1st 2009, when 14-year-old Rajesh faced a situation that most of us cannot even imagine ourselves to be in. While traveling in a train, he had a mishap that suddenly led him to face a life without legs and an uncertain future. A life that could end in misery and a feeling of despair while taking away his joie de vivre.
Waheguru Ji Ka Khalsa, Waheguru Ji Ki Fateh!
While most would close themselves to the world with such a mishap, our Punjabi Munda from the holy city of Punjab, Amritsar, chose the most sacred of paths – being true to one's purpose and chose not to give up on his dream of pursuing dancing. Capturing where he was during this time, he says, "My whole life changed after this incident. I suffered tremendously and used to struggle while walking with artificial legs. Soon, I realized that the only way around this suffering is to either change the situation or accept it. I embraced my pain and decided to follow my passion for dancing."
Fuelled by his desire to continue his love for dancing, and determined not to get bogged down by his accident, Rajesh recovered to soon train himself by watching dance reality shows and later joined an academy in Amritsar to brush up his dancing skills. Moving to a path that he would never go back from and never let his disability come in the way of his rise to stardom.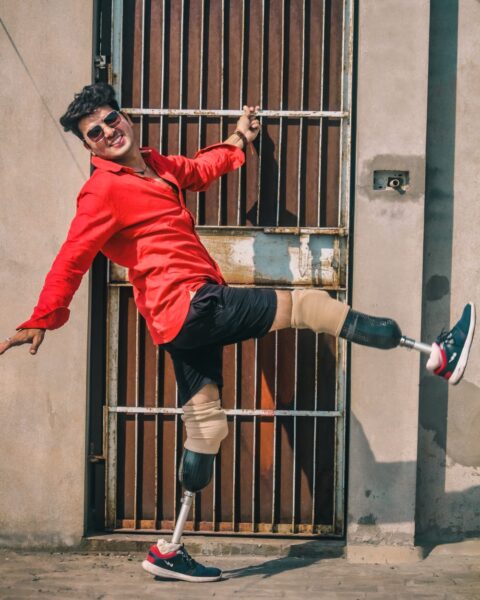 This paved the way to his rise to stardom during which time he appeared in popular TV reality shows like India's Got Talent Season 2 and Nach Baliye Season 9. He further gained fame by winning the second prize in Punjabi TV talent show 'Hunar Punjab Da'.
The Universe conspires to give to those who seek from the heart
Witnessing his strong will and extraordinary skills in dancing, Rajesh's peers introduced him to the Josh app and encouraged him to upload his dance videos regularly, which earlier were restricted only to his phone's gallery without the world ever seeing them.
As India shut down during the pandemic, people moved to short video platforms for content consumption and entertainment, leading to Josh becoming one of the "go-to" platforms for millions in India, thus gaining a sensational status.
Serendipity or not, Rajesh too joined Josh, one of the fastest-growing platforms unaware of what lies ahead in this journey. Showcasing his creativity through his dance videos on Josh, he soon started grabbing the eyeballs of the audience. As he won hearts, people noticed his talent, followed him and motivated by his performances, cheered him to go further than he ever thought he would. His popularity among his followers led the Josh team to approach him, followed by an official onboarding on the app as a verified short video creator.
When a lion roars, the forest listens
As Rajesh grows in his popularity, he already has over 4.4 million fans on Josh, no small feat by any standards in the world. Day after day, he gains hearts and minds with his own story of determination and passion. Choosing to roar with his talent and grit, he stands tall with his success. Yet, he humbly thanks his peers and the Josh team for providing him with a stellar platform to showcase his talents. He says, "Josh is truly the No. 1 short video app that is not only made in India but also promotes every talent on the app. Not only has Josh helped me gain traction and visibility, but it has also helped me develop holistically. Now when people recognize me, it's purely because of my talent and not my disability. I shall forever remain grateful to Josh for giving me a new life, for being the wind beneath my wings."
Today, Josh, the made-in-India, the short-video app represents a confluence of India's top 200+ best creators, the 5 biggest music labels, 15+ million UGC creators, best in class content creation tools, the hottest entertainment formats, and formidable user demographics that gives people like Ablu Rajesh Kumar, the wings they so rightfully deserve to reach heights never seen before.
Josh has been consistently rated as the leading short-video app in India on the Play store with 100 million downloads. Currently, Josh is the fastest growing and most engaged short-video app in India with 105+ million MAUs (Monthly Active Users), 51+ million DAUs (Daily Active Users) and 2+ billion video plays per day. As Rajesh rises above, we believe his story will inspire and motivate creators cutting across backgrounds, diversities, and abilities to chase their dreams, replicate more roars of success.
Be a part of Rajesh's success by checking out his Josh profile and encourage him Here
Share Your Views In Comments Below