Sports
After Azhar Ali, Newzealand Player Gets Runout In A Bizarre Fashion. Twitterati Is Laughing
Pakistan's Azhar Ali has created quite a buzz on the social media with the recent runout. It was an embarrassing situation not just for him but for every fan as he stopped in the middle of the pitch to have a discussion with the batting partner. All this while he was thinking that the ball he thinks has gone for four, without realizing that it was coming back to become a reason of his run out.
The ball stopped just before reaching the boundary and Australian fielder threw it back to the wicketkeeper who took no time in striking the wicket.
Azhar Ali was badly trolled on the social media for his attitude and lack of focus on the field.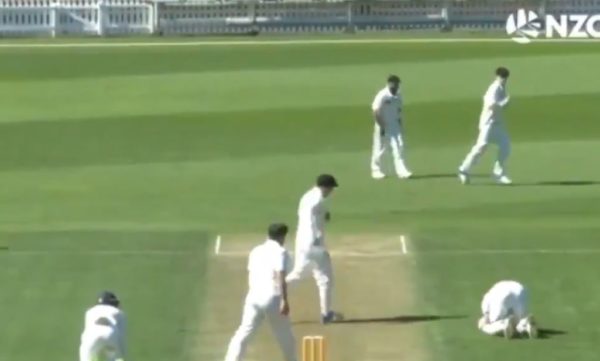 However, seems like he is not the last one to face this kind of runout on the field as something equally bizarre happened with Newzealand too.
After hitting the ball, both batsmen starting running for the score and that's when something weird happened. After reaching the crease on the other side and then while coming back, the player slipped up on the pitch. To the embarrassment of the fans, even 2nd player slipped while approaching the crease on the other side.
The bowling side took the benefit and gave the ticket of the pavilion to a batsman. Watch the video-
After Azhar Ali's run out, here it presents a dismissal from New Zealand Cricket.@TheRealPCB #PakvAus @CricketAus @AzharAli @BLACKCAPS pic.twitter.com/yfZuXRJLNq

— Ibrahim Badees (@IbrahimBadees) October 19, 2018
Click Here to watch the video directly on Twitter.
Twitterati had funny reactions to the incident Have a look at some-
#1
Crazy run outs happening. An epidemic!

— Behroze Telang (@motherrr) October 19, 2018
#2
Bizarre run outs everywhere 😛😛😜 pic.twitter.com/LQtyyE6Z7X

— Dheeraj Messi (@MessiDheeraj) October 19, 2018
#3
omg, this is brutal. 😂

— sanjay (@sansub12) October 19, 2018
#4
Aaj Kal run outs ka naya trend chal Raha Hai 😂😂😂😂😂

— Amir shahzad (@Amirnabi13) October 19, 2018
#5
Dancing on Ice?

— Gareth Hargreaves (@GHargreaves1168) October 19, 2018
#6
Hahahaha what the hell is going on there

— Jamie Mitchell (@js_mitchell92) October 19, 2018
#7
@SheffieldGunner music on this makes it a million times funnier 😂😂😂😂😂😂

— John 'Velvet Thunder' Poole (@JMPLovesyou) October 19, 2018
Isn't that funny?
Share Your Views In Comments Below