News
After Pakistan Released The IAF Pilot, Pakistanis Are Demanding Nobel Peace Prize For Imran Khan
Not more than twelve days after Pulwama's tragic incident, the Indian Air Force (IAF) carried out a successful air strike across the Line of Control (LOC). They crossed LOC on Tuesday at 3.30 in the morning and dropped 1,000 kg bombs on terror camps belonging to Jaish-e-Mohammed, completely destroying them.
Soon, the political and military tension escalated between the two nations. On Wednesday during Ariel combat IAF pilot Abhinandan's MiG 21 was taken down after he destroyed Pakistan's F-16 fighter jet. He crossed LoC and landed on Pakistani soil.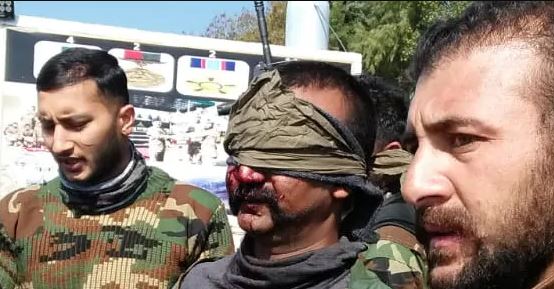 He was arrested by Pakistani forces and soon videos started doing the rounds where he was blindfolded and was also bleeding. Soon, our whole nation demanded to bring him back, safely and unharmed. And on Thursday Pakistan Prime Minister Imran Khan declared that they will release him as a 'peace gesture'.
And as we celebrated Indian Air Force Wing Commander Abhinandan Varthaman's return to his homeland after being in captivity for almost two days, our neighbor started an online petition to demand Nobel Peace Prize for their Prime Minister.
Yes, according to people of Pakistan, by releasing our IAF Wing Commander, PM Imran Khan has avoided war and has set an exemplary personality as a world class leader. They made the hastag #NobelPeacePrizeForImranKhan trending on Twitter. Here have a look.
#1
I demand @NobelPrize (Peace) for @ImranKhanPTI for keeping aside all the animosity and giving peace another chance@PTIofficial @ObamaFoundation @sardesairajdeep @BBC @BBCWorld @cnni @AJEnglish @Malala @realDonaldTrump #NobelPrizeForImranKhan#Abhinandan@USIP @pid_gov @NorwayUN

— Khalid Qurashi (@khalid_qurashi) February 28, 2019
#2
Ain't it Savage 😂#WelcomeBackAbhinandan #NobelPrizeForImranKhan #PakistanLeadsWithPeace pic.twitter.com/7XfOXjleo0

— Huma (@Diamantteee) March 1, 2019
#3
Hello lil bunny!
Congrats you're going to hug your Dad very soon. We're sending him back to you as a gift no matter if he came to bomb many like u.
But listen, kindly ask him,
"Dad dont Kashmiri kids have any right to live with their Dads?"
Stay blessed. #NobelPrizeForImranKhan pic.twitter.com/liPBqaPS04

— Murtaza Abro PTI 🇵🇰 (@MurtazaAbro11) March 1, 2019
#4
#nobelprizeforimrankhan. He is a real hero Muslim. We love people with bigger hearts

— اسماعيل (@tsunamisse) March 2, 2019
#5
MoIB @fawadchaudhry
submitted a resolution in the National Assembly in which he demanded #NobelPeacePrizeForImranKhan ✌ pic.twitter.com/97hCvgn2fN

— Syed Khaqan (@khaqan779) March 2, 2019
#6
#NobelPrizeForImranKhan Great leader in the whole world

— Ch.Ali Raza (Warraich) (@ARaza756) March 2, 2019
#7
#NobelPrizeForImranKhan
Dear Prime Minister @ImranKhanPTI The Courage, The Strength, The Resilience, The Empathy The Dignity, The Valor and The High Morals you have shown in the face of rising tensions with our war mongering southern neighbor duly deserves a Nobel Peace Prize

— Ahsan Aftab (@AhsanAftab6225) March 1, 2019
#8
Imran Khan should be awarded Nobel peace prize. #Pakistan #imrankhan #NobelPeacePrize #NobelPrizeForImranKhan

— Umair Shaikh (@UmairSh00) March 2, 2019
#9
#NobelPrizeForImranKhan
Being patient for Peace, even when stupid enemy self exposing it's Targets, is Peace man Spirit,.

— IftikharUS (@IftikharUS) March 2, 2019
#10
#PMIK Sir deserves the Nobel Peace Prize for his great and wise step towards peace…❤ #NobelPrizeForImranKhan @PTIofficial @ImranKhanPTI

— aaina_ayoub (@AainaAyoub) March 2, 2019
#11
great leader @ImranKhanPTI really deserve this nobel prize for peace #NobelPrizeForImranKhan

— vicky srk (@vickysrk1) March 1, 2019
#12
#NobelPrizeForImranKhan he is great leader and amazing human being he will change the world for peace.

— Sajil M Pasha (@nyr786) March 1, 2019
#13
This Man Deserved #NobelPrizeForImranKhan pic.twitter.com/dVpt5i4f4p

— Syeda Maha Jaffari (@SyedaPakeeza3) March 1, 2019
#14
Well done @ImranKhanPTI #NobelPeacePrizeForPMImranKhan #NobelPeacePrizeForImranKhan #NobelPrizeForImranKhan #GOModiback #GoModiGo

— Rao Farid Khan (@raofarid) March 1, 2019
#15
The death of innocent trees will be avenged by planting more trees!#PakistanLeadsWithPeace #NobelPrizeForImranKhan #PulwamaMartyrs #ecoterrorism

— Mariya Abdul Ghafoor (@Mariya_Abdul) March 1, 2019
#16
I demand Nobel peace prize for Prime Minister Imran Khan for his dedications towards peace between India and Pakistan #NobelPrizeForImranKhan#PakistanLeadsWithPeace #ImranKhanPrimeMinister #imrankhanPTI #NobelPrize

— Shujaat (@Shujaat66542137) March 2, 2019
What are your thoughts on this?
Share Your Views In Comments Below