Bollywood & TV
Alia Bhatt, Ranbir Kapoor, Ranveer Singh And Other Celebs Met Modi, Netizens Call Them Cowards
Do you remember that Bollywood delegation that met with the Prime Minister Narendra Modi a few days back? Modi and Bollywood received a lot of flak back then for not having invited any female members.
Karan Johar, Akshay Kumar and a whole lot of celebs had met with the PM in order to discuss certain important issues. For instance, GST on cinema tickets.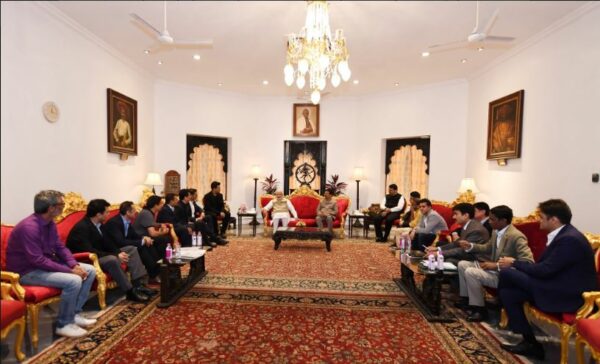 Recently, another Bollywood delegation met up with the PM and this time, they were cautious enough to include a number of women in the list as well.
The celebs included Alia Bhatt, Ranveer Singh, Ranbir Kapoor, Ekta Kapoor, Varun Dhawan, Ayushmann Khurana, Karan Johar and a number of other representatives were present.
Together, they also clicked an epic selfie with the PM. Check it out:
Karan Johar shared the selfie and captioned it saying – "Meeting the Honorable Prime Minister @narendramodi today was an incredible opportunity."
He also added, "Powerful and timely conversations can bring about change and this was one of what we hope will become a regular conversation."
He mentioned about GST as well – "The film industry would also like to send a huge thanks for the GST reduction in movie ticket prices that was implemented recently! Thank you so much for your time, Sir!"
#Hindi film industry delegation meets Prime Minister Narendra Modi… Various issues concerning the film industry were discussed. pic.twitter.com/qCGH6PsvHU

— taran adarsh (@taran_adarsh) January 10, 2019
This is how Netizens reacted:
1.
National award deserving pic.twitter.com/O6xKNMIPEE

— Bira..! (@mightytazwar) January 10, 2019
2.
No vivek oberai 😂

— भाईसाहब (@Bhai_saheb) January 10, 2019
3.
Bollywood meets another great actor in order to learn some acting skills from him. That's great

— daniyal ishaq (@daniyalishaq3) January 10, 2019
4.
happy to see ayushmann and rajkumar there….

— Man Mohan Singh (@isakht_ladka) January 10, 2019
5.
Log inke sath photo khichane ko line me lagte hai aur ye log modi ji k sath photo khichane ko line me lag rhe 🙂

— Urman Ratneshwar (@urmanr) January 10, 2019
6.
Modi has no tym to do debate with the reporters..
But he has tym to meet with these actors…
Common people's are facing problem by these people…
N he supports them…
Shame 😨😰😔 on our @narendramodi.
He has to think to himself what he doing is right or wrong.

— Md Akbar Noorie (@MdNoorie) January 10, 2019
7.
Jai Shri Ram …. Mandir wahin BANEGA…. with everyone's support 🙂 #BollywoodNews #BollywoodCelebs pic.twitter.com/PmjNUmXa6z

— NewsVilla Filmy (@NewsVillaFilmy) January 10, 2019
8.
Why Hollywood is Hollywood, and Bollywood is Bollywood? A bunch of cowards. https://t.co/DqL6WSLNfA

— Ashok Swain (@ashoswai) January 10, 2019
What do you think about this?