News
Amazon Is In Trouble For Selling Mats, Rugs And Toilet Accessories With Images Of Golden Temple
In the United States, Amazon got into trouble for selling doormats, toilet accessories and rugs with the image of the Golden Temple on them. This has received a lot of flak from the Sikh communities in the States.
The Sikh Coalition, which is a civil rights body, has contacted Amazon in order to notify them of the same and highlight how disrespectful it is to use the image of the Golden Temple for such decorative purposes.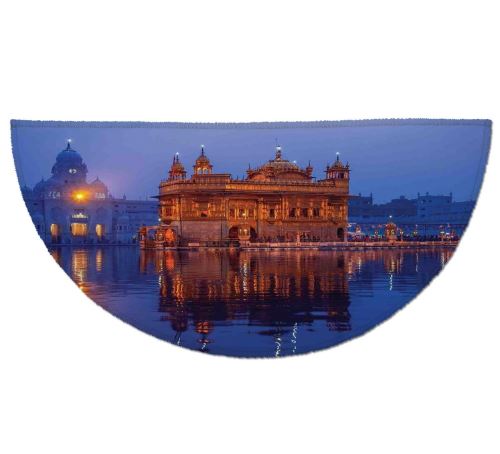 In a tweet, the Sikh Coalition wrote,
One of the most historically significant Sikh sites – the Darbar Sahib – is not a doormat. We will not tolerate this product being sold by @amazon. More updates coming soon.https://t.co/lqk7ibhmes pic.twitter.com/e13C4G9pov

— Sikh Coalition (@sikh_coalition) December 18, 2018
Apparently, this has been going on for a while, and there are numerous products which have the image on them. The Sikh Coalition also plans to contact Jeff Bezos in order to have the products removed.
Apparently several people have noticed these products:
There are many other products such as toilet seat covers, shower curtains with Golden temple on it across https://t.co/45shcLMYXB and https://t.co/OGhDB9Kbv6. Pls spread the word and get them removed @amazon @JeffBezos. Golden Temple is as holy for us as Vetican for you.

— Ravi Noor Singh (@ravinoor84) December 19, 2018
Religious sentiments must be respected. This is an instance of pure ignorance on Amazon's part.
From India over here …. Though a non Sikh I support your cause…… how Would people in the US feel if we have Jesus Christ on a toilet seat cover and doormat…..anyone ready to substantiate such things…… Hurting one's faith is a testimonial of spreading hatredness

— KS pradeep (@KSpradeep20) December 20, 2018
The products may have been removed, because the link in the tweet appears unavailable. However, stay tuned for more updates.
Share Your Views In Comments Below