Brands
Amazon Sells Coconut Shell At Rs 1300 With 55% Discount (Original Price Rs 3K). Twitter Is Laughing
After reading this article, you will be confused to a great extent as to what to throw and what to preserve because one thing that we Indians are habitual of throwing is being sold at exorbitant prices on the e-commerce giant Amazon.
Coconut is a pretty useful and healthy product but its outer shell is considered as waste and thrown away. Can you remember how many coconut shells you may have thrown in garbage till now?
Well, most of us would have become rich by now as Rs. 3000 is the price of one half piece of coconut shell.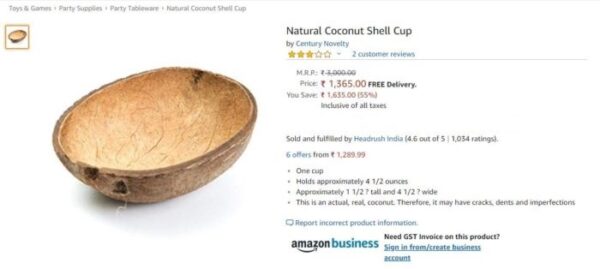 Yes, you read that right and we are not joking! This is the price on which it is being sold on Amazon.
However, there is a discount of 55% but still Rs. 1365 is a pretty good amount for half of the coconut shell. Don't you think so?
The credit of making Indians aware about this exciting deal goes to Twitter user @rama_rajeswari and what surprises us more is that people are more than happy to purchase half coconut shell and that too, at such a high price.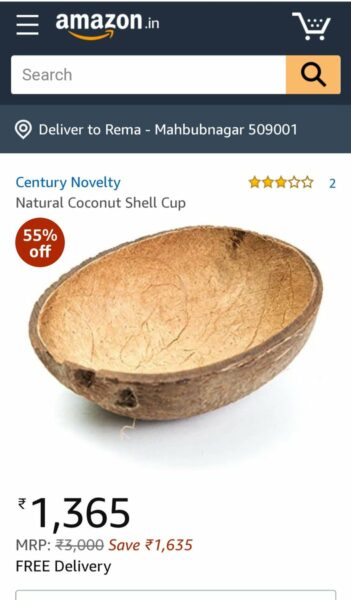 Check out her tweet:
Seriously? 🤷‍♀️ pic.twitter.com/btViUdhFbJ

— Rema Rajeshwari IPS (@rama_rajeswari) January 15, 2019
In fact, the reviews of product are very positive and users seem to be happy with what they are purchasing.
However, the desi Twitter has gone crazy after this revelation and people are cursing themselves for throwing these coconut shells.
Here are some Twitter reactions that will make you go ROFL:
#1
I will be a crorepati soon. Found the trick .

— Anand Abhirup ଆନନ୍ଦ ଅଭିରୂପ୍ (@TheCrazy_Freak) January 15, 2019
#2
Hahaha…and we thought Apple had the best profit margins!

— Sri (@r_sridharan) January 16, 2019
#3
55% discount! Wow ! I'll sell some property and invest in coconut shells.

— FreeTradeParty (@FreeTradeParty) January 15, 2019
#4
If at all I knew this earlier, I would have been a millionaire by now 🙁

— Aneel Kanuri (@myflyingthought) January 15, 2019
#5
— Hardik Pandya (@Gaaandya) January 15, 2019
#6
Oh no.. means my mother burns around 8 to 10 k every morning.. 😥

— whysoserious (@Ramkrushna96) January 15, 2019
#7
Maybe its the covering of the coconut that Neil Armstrong brought from moon.

— Saurabh Warudkar (@WarudkarSaurabh) January 15, 2019
#8
Gold plated? 😇

— meenakshisundaram (@meenakshisundr) January 15, 2019
#9
@amazon Plz visit any temple located at any part of India! You'll get it for free!!💐

— 🇮🇳MP (@ThatsItF0lks) January 16, 2019
#10
anythings and everything can be sold online at these atrocious prices and we have smart customers buying the same

— Rama Venugopal (@ramavenu) January 15, 2019
#11
Looks like I'm going to be rich in near future and buy Amazon by offering 65% discount on coconut shells 😂😂

— Sushan Poojary 🇮🇳 (@sush_pdb) January 15, 2019
Taking a look at this, I can say only one thing, i.e., most of us would have become a millionaire so far if we knew the worth of the coconut shells that we had thrown in our lives till now. Agree?
Have you come across similar products on e-commerce sites? Share with us.
Share Your Views In Comments Below