Entertainment
Avengers: Endgame Review Out. Magnum Opus Is Fully Entertaining & Words Fall Short To Praise It
"Avengers: Endgame" is one of the most awaited movies of the year 2019 but the good part is that now we don't have to wait much as the flick is going to release on 26th April, 2019. There is no doubt that this film is going to be a magnum opus, especially when we have seen the grandiose of "Avengers: Infinity War" (2018).
The movie will showcase some other superheroes along with the OG 6 (Captain America, Thor, Iron Man, Black Widow, Hawkeye and Hulk) who will fight together in the final battle against Thanos. The premiere of "Avengers: Endgame" took place in Los Angeles yesterday and some fans and journalists along with the cast got the chance to delight themselves with the magnificent experience.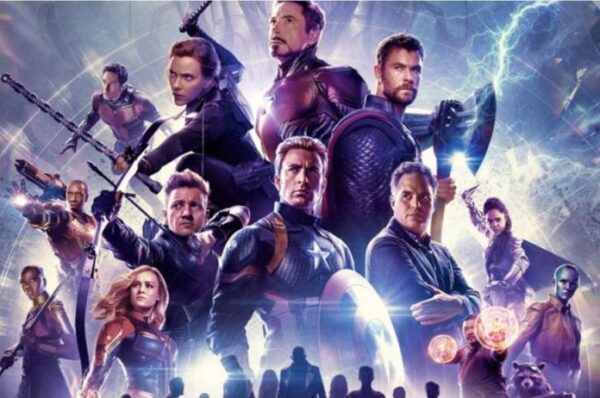 If we go by the Twitter reactions, we can say that it is something which has never been seen before. As per the fans, "Avengers: Endgame" will make you cry, laugh and cheer so much that you will be short of words.
Here are some reactions:
#1
Just watched Avengers: Endgame. I don't believe hyperbole is possible for this movie. It is the ultimate Marvel movie in every way possible and words cannot describe how epic it is. And yes, Hawkeye is a rockstar.

— Rob Keyes (@rob_keyes) April 23, 2019
#2
Imagine the best possible version of #AvengersEndgame and somehow the film still surpasses all expectations. I cried 5-6 times. It's the most emotional, most epic, MCU film. A tribute to ten years of this universe and holy shit the great fan service in this movie. Soooo good.

— Peter Sciretta (@slashfilm) April 23, 2019
#3
I just can't remember a cinematic experience like the one I just had with #AvengersEndgame. Simply blown away. I feel like that movie was made for every Marvel fan, everywhere.

— Brandon Davis (@BrandonDavisBD) April 23, 2019
#4
It's incredible. I'm speechless. #endgame

— Ryan Parker (@TheRyanParker) April 23, 2019
#5
#AvengersEndgame is every bit the masterpiece it deserves to be. It's extraordinary. It is a conclusion worthy of the greatest cinematic saga of all time! Congratulations to everyone who had anything to do with this film, or the 21 films before it. I am emotionally spent. pic.twitter.com/2Yiu3ZIimC

— Sean Gerber (@MrSeanGerber) April 23, 2019
#6
All I'm going to say about @Avengers #EndGame is that I am an emotional wreck and can't stop crying

— Maude Garrett (@maudegarrett) April 23, 2019
#7
#AvengersEndgame is filled with so much comic book awesomeness that you may not be ready! Great blend of action, emotion and humor while keeping the stakes high throughout. Truly an achievement in blockbuster filmmaking.

— Dennis Tzeng (@ThinkHero) April 23, 2019
#8
#AvengersEndgame is a masterful epic – a true culmination of 22 films that not only concludes the story, but expands upon it. You'll learn more about the other movies while this one unfolds. If Infinity War is the brawn, Endgame is the brains. And wow, what an ending! pic.twitter.com/94ttBUQKJ0

— Erik Davis (@ErikDavis) April 23, 2019
#9
Just came out of the #AvengersEndgame premiere!! I'm at a lost for words!! I witnessed cinematic history. I've never cried, laughed & cheered so hard at a movie ever. Y'all are in for a heck of a ride!! This movie will forever change the MCU & how cinematic universes are seen!!

— Captain Kathir (@MegaLucarioX) April 23, 2019
#10
INCREDIBLE!! #AVENGERS #ENDGAME brings the entire MCU to a rousing, exciting, deeply moving & wholly satisfying conclusion! It's a *BEAUTIFUL* film! Fun, smart, clever, BRILLIANT! Perfect blend of action, heart & humor! This is as good as it gets! Greatest superhero movie EVER! pic.twitter.com/dMeLtvO7Gy

— Scott Mantz (@MovieMantz) April 23, 2019
#11
This can't be understated: #AvengersEndgame is everything you want it to be and more. I am absolutely floored. A perfect reflection on the last 11 years that pays off everything in the best way possible. Without question my new favorite Marvel Cinematic Universe film. Stunned. pic.twitter.com/5LvFw9UEBQ

— Eric Eisenberg (@eeisenberg) April 23, 2019
#12
Just got out of the world premiere of #AvengersEndgame. Have a lot of feels. pic.twitter.com/Ayv3eOfNpP

— Steven Weintraub (@colliderfrosty) April 23, 2019
#13
#AvengersEndgame thoughts. Still processing: I laughed, I cried (multiple times), I screamed, but overall an EPIC ending to the Infinity Saga. #EndgamePremiereLA #Avengers #Endgame #whateverittakes

— Umberto Gonzalez (@elmayimbe) April 23, 2019
#14
Wow. #AvengersEndgame is staggering. It's surprising in ways I never saw coming and satisfying in ways I didn't realize I needed. It's kind of the ultimate gift to fans of the MCU. It's very long and has a few hiccups, but is everything you're hoping for and more. pic.twitter.com/RO97kw9fs5

— Germain Lussier (@GermainLussier) April 23, 2019
#15
#AvengersEndgame is an astonishing, amazing film. I've never seen anything like it. This movie is everything I wanted to be and SO much more. Amazing.

— Brandon Davis (@BrandonDavisBD) April 23, 2019
#16
Don't know how any @MarvelStudios fan walks out of #AvengersEndgame disappointed. Movie is loaded with incredible set pieces and tons of small character moments that leave you wanting more. An epic conclusion to 10 years of Marvel movies. Thank you to everyone that worked on MCU. pic.twitter.com/HbXkwuYL5y

— Steven Weintraub (@colliderfrosty) April 23, 2019
#17
Man #AvengersEndgame kicked my ass. It was an epic conclusion to 11 years of films. It had laughs, incredible action and absolute emotional rollercoaster. It was the series finale for these cast of characters that I had been hoping for. Congrats to all for pulling off the feat.

— Kristian Harloff (@KristianHarloff) April 23, 2019
"Avengers: Endgame" has leaked online and it is being said that the leaked portion has some important scenes of the movie; however, the makers have made an emotional appeal to the audiences to watch the flick in cinema halls. We also feel that a lot of hard work has gone in making the film and we can at least show respect to their devotion and dedication by watching it on big screen only. So have you booked your tickets in advance?
Share Your Views In Comments Below