Politics
Bihar Education Minister Got Trolled Mercilessly For Singing Jana Gana Mana Incorrectly, Resigned
Nitish Kumar, the JD (U) leader, has become the chief minister of Bihar for the seventh time and with him, his 14 ministers also took the oath of serving the nation. However, soon a controversy erupted regarding the inclusion of Mewalal Choudhary in the cabinet as the opposition raised the matter of the corruption case which has been filed against him.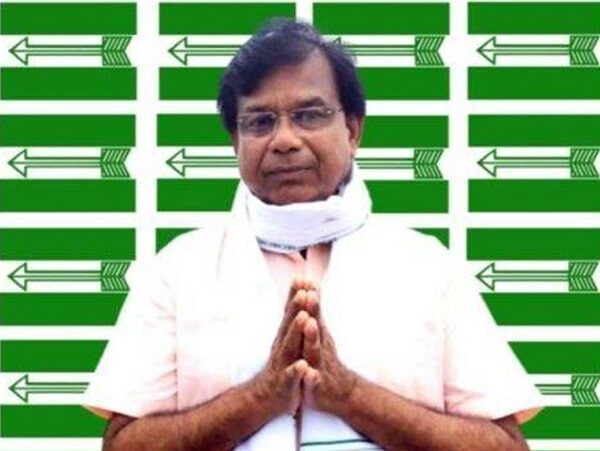 As a consequence, Mewala Choudhary who was appointed as the new Education Minister of the state had to resign just three days after he took the oath. What made the matter worse for Mewalal Choudhary was an old video in which he is seen singing the national anthem "Jana Gana Mana" incorrectly. The matter was posted on the micro-blogging site Twitter by the official Twitter handle of political party Rashtriya Janta Dal.
The video was captioned, "भ्रष्टाचार के अनेक मामलों के आरोपी बिहार के शिक्षा मंत्री मेवालाल चौधरी को राष्ट्रगान भी नहीं आता। नीतीश कुमार जी शर्म बची है क्या? अंतरात्मा कहाँ डुबा दी?"
It loosely translates to, "The Bihar education minister Mewalal Choudhary who is accused in many corruption cases doesn't even know the national anthem of the country. Has any shame left in you, Nitish Kumar, where have you drowned your conscience?"
Here is the video:
भ्रष्टाचार के अनेक मामलों के आरोपी बिहार के शिक्षा मंत्री मेवालाल चौधरी को राष्ट्रगान भी नहीं आता।

नीतीश कुमार जी शर्म बची है क्या? अंतरात्मा कहाँ डुबा दी? pic.twitter.com/vHYZ8oRUVZ

— Rashtriya Janata Dal (@RJDforIndia) November 18, 2020
Click to watch this video directly on Twitter
In the video, Mewalal Choudhary is heard singing, "Punjab Vasant Gujarat Maratha" while he should have sung, "Punjab Sindh Gujarat Maratha". The video soon went viral and till the time this article was written, it was retweeted by more than 5k times and had been liked by over 19k people.
Twitter users are outraged by this and here is how people reacted:
#1
One who doesn't know the National Anthem is the education minister of Bihar. Accha hua pehle hi resign kar diya warna logon ki laat alag se padti

— Shaurya Agnihotri (@Dominator_343) November 19, 2020
#2
https://twitter.com/tadipaar_hun/status/1329394309150302209
#3
Have seen a video in which BIHAR Education minister was not able to sing the national anthem.
Don't you think ki exam and public debate of these politician are necessary before election?#chaloyebhithikhain.

— Parth Barvaliya (@parth1808) November 18, 2020
#4
"Vindhya himachal gaye ganga " have you ever heard this line in our national anthem. if you not, then you should definitely watch the education Minister of bihar who has recently sang.😄
How can i imagine that education system will be improving.@NitishKumar @CEOBihar

— Ravindra Mehra (@_ravindra_mehra) November 19, 2020
#5
Looks like Bihar's Education Minister was so in hurry to devour Samosa Jalebi post flag hoisting that he forgot the National Anthem. Good work #NitishKumar We won't forget your contribution when we reach 5 Trillion dollars Economy.

— Shubham Shukla (@AKAShubbham) November 19, 2020
#6
OMG he doesn't even know the National Anthem and he is the education minister of Bihar. Instead make me the education minister, I will give my best to Bihar and will not do any corruption 😂

— Krish Gohil (@krishg0608) November 18, 2020
#7
If there is a test between all MLA's and MP's to recite the National Anthem, not even 50% will clear it… just saying..https://t.co/Km0X8aE3m7

— Vikram Pareek 🇮🇳 (@vikram_pareek) November 18, 2020
#8
Just pathetic !! #Bihar Education minister cant even recite the National Anthem @BJP4Bihar ?? https://t.co/gkCn70Z3mR

— Ruma_Deb (@Ruma_DSG009) November 18, 2020
#9
The system is flawed. What's the minimum qualification for an Education Minister? The ability to breathe. And what's the minimum qualification for a chaprasi? 10th pass! #Bihar #NationalAnthem #JanaGanaMana https://t.co/BqCdjG1GQc

— Common Cense (@commoncens) November 18, 2020
#10
An education minister, who doesn't know country's national anthem. #Bihar #Democracy @NitishKumar @AmitShah @PMOIndia #Modi https://t.co/hXP2AGEu3l

— Shivi Sanyam (@ShiviSanyam) November 19, 2020
#11
Bihar's New Education Minister Struggles to Recite National Anthem, Trolled on Twitter Netizens …
Minister ji did you go to the actual school? Or not?#No1_dubakoor_Modi #bihargovtformation pic.twitter.com/3aPoX8cUDA

— Das Vanthala (@DasVanthala) November 19, 2020
There is no doubt that the national anthem is something which every person should know by heart including the politicians. Though Mewalal Choudhary has already resigned, do you think that a person who doesn't know the national anthem should be allowed to hold any public office? Let us know your views.
Share Your Views In Comments Below