News
Biker Blindly Overtakes Bus From Right, Gets Crushed. See Video To Know How You Should Not Ride
Every year, many people lose their lives due to accidents but still we get to see instances where the drivers don't follow traffic rules properly. If we observe carefully, we will notice that majority of accidents take place due to the drivers' carelessness and the accidents could have easily been avoided with little caution.
Here is a video of an accident clip which shows how careless driving results in a fatal accident.
Watch The Video:
For More Videos, Subscribe Us Now
Click here to watch this video directly on YouTube
This accident has taken place on a road near Ramanattukara bus stand in Calicut, Kerala. In this clip, we can see that the biker with the pillion rider was trying to overtake the bus from the right side when the bus suddenly takes a U-turn without any indication and hits the bike and crushes one rider.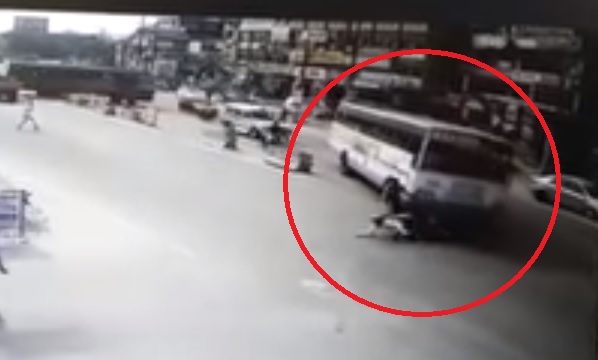 We can have a debate on the topic of who made the mistake but there is no doubt that the biker should have been more alert while driving, especially when a big vehicle was near him. What's more, he should have kept a check on the bus.
The bus driver made a mistake as he turned without giving an indication. However, this is also a fact that it would have been difficult for the driver to see the biker as visibility for him would have been low because his seat is on a high position. Nevertheless, he should have kept a control on his speed while turning.
We request our readers to be more careful from the next time so that they don't have to face any unfavourable situation. Who do you think is guilty here? Let us know your views.
Share Your Views In Comments Below