Entertainment
Captain Cool Helps Bangladesh's Team With Fielding, Sets Twitter Buzzing Again
M.S. Dhoni aka Captain Cool is known for his godly calm behavior and his knowledge. He is more of a mentor for the youngsters than a player from team India. Dhoni is one of the few who believes in fair play and stands his ground for it. Recently in IPL he lost his cool and ran on the ground upset with the Umpire's decision. He later apologized for his misbehavior.
Dhoni is always in the news for his calmness and his quick thinking. He is always in the motion on how he can improve his game and others to it seems! World Cup 2019 is on its way and a series of practice matches are going on. Yesterday there was a practice match between India and Bangladesh.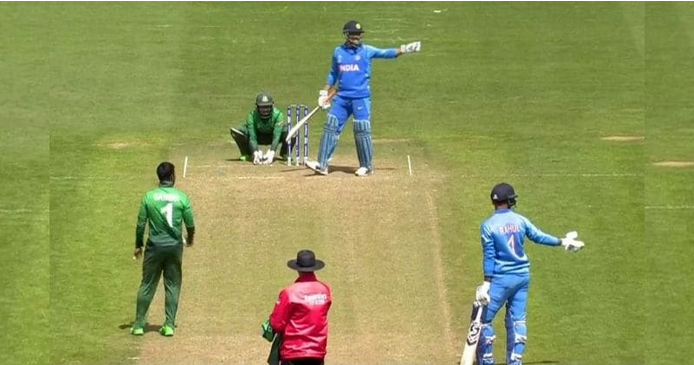 During the match, Dhoni came to bat and he kind of overpowered the Bangladesh team. Noticing this, in the 39th over he stopped the bowler and helped the fielder to set up his own fielding! See the video here.
— Dev D🧜‍♂️ (@devame207) May 28, 2019
This incident took social media by storm and everyone could not stop appreciating Dhoni's positive attitude and fair play!
Best thing in ICC World Cup till now! 💙

M.S.Dhoni batting in 39th over, asks the Bangladeshi Bowler to stop bowling and tells him to move his fielder wandering near mid wicket to square leg, and Bangladesh Team says okay and moves that fielder! 😂😂😂

Mahi mentoring EVERYONE! pic.twitter.com/dZ5PbGxcwv

— DJ Prithvi (@djprithviindia) May 28, 2019
Bahut hard bhai dhoni

— Kodi (@Kodi01186533) May 28, 2019
Did it really happen? This could well be the biggest news of the World Cup History if it did. I will like to have more details.

— Saif awan (@Saifull63461949) May 28, 2019
Love this one!

— Uncommon Sense (@AurindamPaul) May 28, 2019
This is what cricket is about, fair play and sportsmanship!
Share Your Views In Comments Below