News
Car Gets Stuck On Speed-Breaker In MP, Owner Satirically Lauds Engineer, Pic Goes Viral
Every year many people lose their lives in road accidents and what is even sadder is that the number of road accidents can reduce considerably if people start being more careful and sensible while driving. The road traffic authorities and the governments come up with different measures to make drivers drive in a proper manner and construction of speed-breakers is also one of these measures.
However what will you say when a speed-breaker becomes a huge problem for commuters because it not just reduces the speed of a vehicle but sometimes vehicles also get stuck on it?
A bizarre incident took place recently in the city of Bhopal where a speed-breaker is so high and wide that a car (KIA Seltos) got stuck on it. As per the reports, the name of the car's owner is Abhishek Sharma and while posting the photo of the car which got stuck on the speed-breaker, he took a dig at the engineer and the administration.
He wrote, "A big salute to the excellent engineer who made this speed breaker. Cars often get stuck on this but the administration is mum".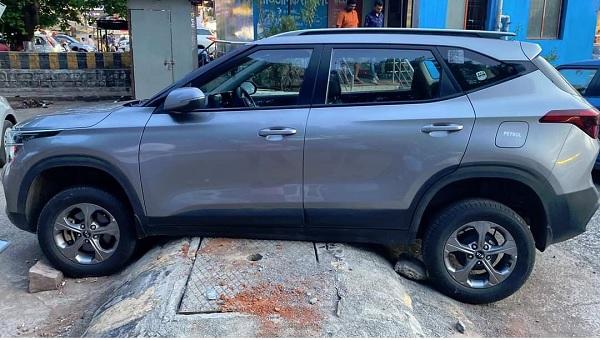 It is being said that the car was stuck in this manner for quite few hours and it was towed later on. While this model had a good ground clearance of 190mm, the situation would have been worse for the low-hanging vehicles as there must be chances of their engines getting damaged.
The photo went viral on social media and many people demanded that the person responsible for it should be punished and those who have suffered because of this speed-breaker should be paid compensation.
One Twitter user shared the photo with the caption, "How to build speed-breakers? This photo is not just for laughing but the representative of people and authorities should take notice of it and ensure that whoever contractor-engineer is responsible for it should pay for the damages".
स्‍पीडब्रेकर कैसे बनाए जाएं ?
तस्‍वीर सिर्फ हास्‍य के लिए नहीं, बल्कि देश में उच्‍च स्‍तर पर बैठे जनप्रतिनिधियों और जिम्‍मेदार अधिकारियों के संज्ञान के लिए है
जिसने भी इसे बनाया, ठेकेदार-इंजीनियर से नुकसान की भरपाई होना चाहिए @ChouhanShivraj @bhupendrasingho @CMMadhyaPradesh pic.twitter.com/upy5aO7yyd

— D. Gopaal Rao (डी. गोपाल राव) (@activistDGR) June 20, 2022
Check out some other reactions:
#1
This is engineering marvel…The main aim of speed breakers is to prevent accidents..If the vehicles gets stuck and don't move, the chances of accidents becomes zero…

Madhya Pradesh: Car Gets Stuck On Speed Breaker In Bhopal !!@nitin_gadkari @OfficeOfNG @ChouhanShivraj pic.twitter.com/XAxoNEWxLi

— Mukund Bagaria (@MUKUNDBAGARIA) June 27, 2022
#2
Madhya Pradesh: Car Gets Stuck On Speed Breaker In Bhopal, Owner Salutes 'Excellent Engineer' Who Made It pic.twitter.com/a4OCIXCWeE

— Anita Rego She/Her (@RegoAnita) June 28, 2022
#3
Dear @ChouhanShivraj@drnarottammisra@prahladspatel face the same problem in Damoh. We should take action against the responsible people. This is causing lot of accidents..https://t.co/TZULdkNwHR

— बड़गुर्जर (@mukeshn20292764) June 27, 2022
#4
Speedbreaker of the year award. Kia Seltos stuck in Bhopal.
Source: https://t.co/vgJVCwhq8J pic.twitter.com/6tQ91IIup1

— Rajesh Bijlani (@bijlanirajesh) June 28, 2022
#5
That's a car breaker, not a speed breaker.

— அஞ்ஞானி (@pirate_kabali) June 29, 2022
#6
This is clear example to give Noble prize in Engineering to this Engineer who designed this Speed breaker. https://t.co/lLs2oGkwSo

— vishwanath reddy K (@CA_kvreddy) June 28, 2022
#7
Speed breakers are so badly designed and so randomly placed. https://t.co/rIMUADWDio

— Anirudh Menon (@kabeermenon) June 27, 2022
#8
KIA Seltos Gets STUCK on Speed Breaker is Really scary for KIA owners!https://t.co/GvjSc3mSsm

— Sunjiv Rao (@2raosanjiv) June 28, 2022
#9
leave aside building international class roads, indians don't even know how to construct a speedbreaker…indians think speed breaker means CARBREAKER…🤣🤣🤣🤣🤣🤣🤣🤣🤣🤣🤣🤣🤣🤣🤣🤣🤣🤣🤣🤣🤣🤣🤣🤣🤣🤣🤣🤣🤣🤣🤣🤣🤣🤣🤣🤣🤣🤣🤣🤣🤣🤣🤣🤣🤣🤣🤣🤣🤣🤣🤣🤣INDIAN BABU..🤣🤣🤣🤣 pic.twitter.com/jTuZnX05Bk

— signor (@signor14833907) June 27, 2022
How can the authorities remain inactive on this matter because it is impossible that they had no knowledge about it? What is your take in regard to the whole matter? Share with us.
Share Your Views In Comments Below