News
Congress Manifesto 2019: A Series Of Well Constructed Promises Guided By Hopes And Aspirations.
With the lok Sabha elections 2019,about to start from April 11, we are presented with an official manifesto by our ruling party BJP's strong political opposition, Congress.The election is almost knocking at every Indian citizen's doorstep, with an honest promise of fulfilling every individual's right to choose their own government representative and in turn also showing a possibility of power shift.
On Tuesday, Congress released their fifty five page political manifesto for the 2019 Lok Sabha elections. The official release was announced in the presence of big leaders of the party. On stage we saw former Prime Minister Manmohan Singh, Congress President Rahul Gandhi, UPA Chairperson Sonia Gandhi, Priyanka Gandhi and other senior party heads as well.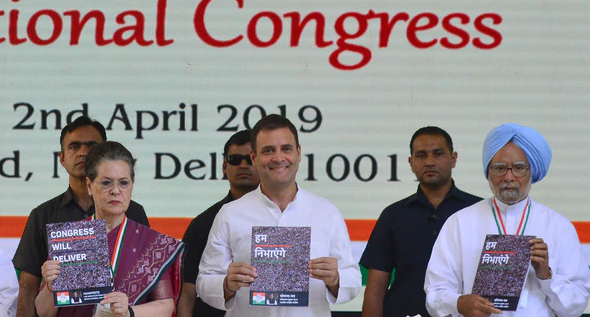 According to reports, this manifesto is a successful outcome after fifty three closed door discussion and consultations. Even one hundred and twenty one public consultations were held before that, taking in, public's hope and aspirations. The manifesto committee was headed by former Finance Minister P Chidambaram.
Speaking during the occasion, Rahul Gandhi stated that their proposed 'Nyay' scheme will bring in new economical developments, which were 'jammed' by BJP's infamous demonetization move. He even gave the slogan, 'Garibi pe Waar, 72000'. His key focus are on these significant areas-
1.Kaam:Employment
2.Daam:Economy
3.Shaan:Pride
4.Sushashan:Good Governance
5.Swabhimaan:Self Esteem
6.Samman:Self Respect And Dignity
The 2019 Congress Manifesto has few highlights, describing a promising future guided by good governance, implementation of anti corruption laws and employment facilities. Rahul Gandhi made GST modification and farmer's distress, his key focused area too.
1.NYAY
According to their 2019 manifesto, they will introduce a new scheme, called Nyuntam Aay Yojana(NYAY). Under this government sanctioned program, every year seventy two thousand will be given to the twenty percent of poorest households in India. And most significantly the woman will be receiving that amount every year.
2.Jobs
They promised to fill four lakh vacancies in the Central Government sector, including Judiciary and Parliament by March 2020. Even they will ask every State governments to fill up their estimated twenty lakh vacanies in the local bodies too.
3.Farmer's Welfare
They stated that they will modify BJP's failed Fasal Bima Yojana and will also introduce a new scheme by the name 'Kisan Budget'. They will also restore the former original Land Acquisition, Rehabilitation and Resettlement Act of 2013 by bringing in a National Commission on Agriculture and Planning.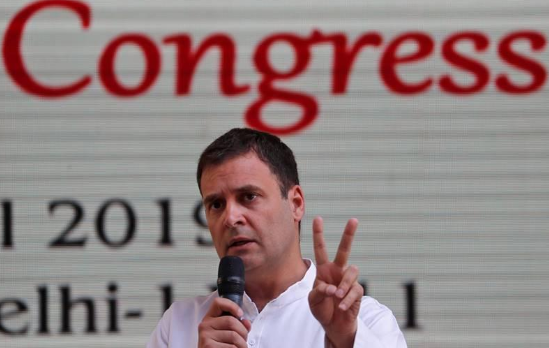 4.Education
Congress promised that they will double the annual allocation for education to six percent of GDP.
5.GST
Congress said they will share a portion of GST with the municipalities and the panchayats. They will also simplify the whole GST regime by moderating tax rates and exempting essential goods and services.
6.AFSPA
Congress even promised to review and modify the controversial AFSPA, with respect to the growing military and political tensions. They stated that they will look into the unprecedented power structure in the disturbed zones, with respect to the security forces.
7.Reservation
Congress promised a thirty three percent of seats, in the State Legislative Assemblies and even in the Lok Sabha , just for women. They will reserve seats for women in Central Government jobs too.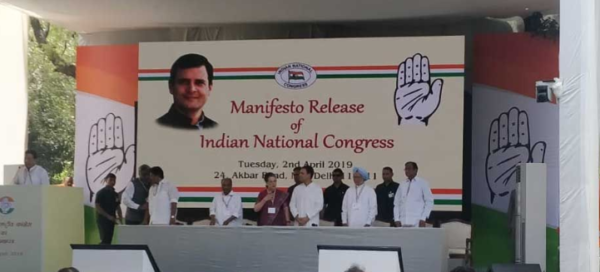 8.Aadhaar
Congress promises to look after the bridge in commitment with respect to the original purpose of the Aadhar Act. They will instead restrict the use of Aadhar by passing a law on privacy.
9.Anti Corruption
Congress said rather promised through their manifesto that they will create and enforce laws with respect to anti corruption.They will immediately come into force without any discrimination and will in turn investigate BJP's several deals over the past five years.
10.Public Infrastructure and Urban Policy
Congress promised to upgrade and in turn modernize every public infrastructure including the railways. They stressed on Right to Housing and Urbanization too. They will introduce a new form of governance by a directly elected mayor with a tenure of five years.
So, keeping up with Chidambaram's choice of words 'how to marry wealth and welfare', we wish for a better tomorrow.
Share Your Views In Comments Below