Humour
Dad Roasts Son In An Epic Way After He Scores Perfect 10 SGPA In Exams, Twitter Is Loving It
Gone are the days when parents used to be strict with their kids so that they learned discipline and stayed in limits. In the present era, parents prefer to act like friends with their children so that they share everything with them instead of hiding due to fear or hesitation. In fact, parents nowadays are trying to adapt the modern lifestyle and keeping themselves updated with technology or new trends so that they can communicate with their kids in their language. In the process, parents seem to have become adept in the art of roasting their kids with unique comments and one-liners.
In one such interesting incident when a guy named Aradhya who got perfect 10 SGPA in his examination told his dad about it, his father hilariously roasted him by asking, "Setting kar li".
Here is the screenshot of Aradhya's chat with his father: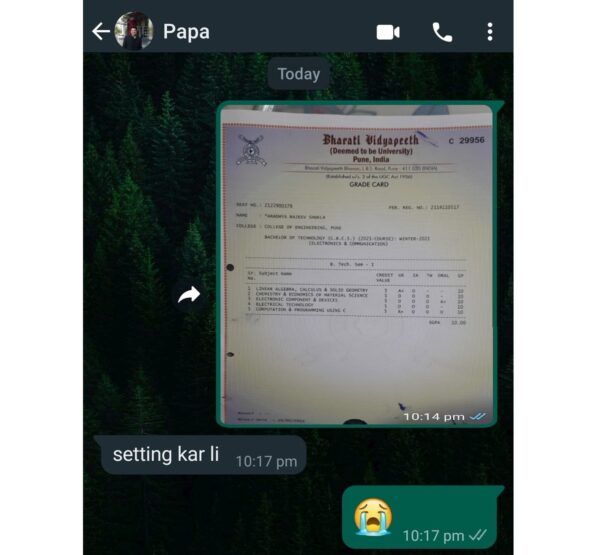 The guy shared the screenshot on the micro-blogging site Twitter and wrote, "I got 10 sgpa and this was my dad's reaction😭👍".
I got 10 sgpa and this was my dad's reaction😭👍 pic.twitter.com/wEdgoCd7Y2

— aradhya (@Alfastrek) July 7, 2022
Twitter also loved father's response and this is how they reacted:
#1
Baap baap hota h🔥

— Artist (@Artist49052119) July 7, 2022
#2
Uncle savage pic.twitter.com/PcQbpTwbKs

— Arnab Mandal (@Hi_its_Arnab) July 7, 2022
#3
same reaction from my side (kahaan se kari setting?)

— Madiha J Siddiqui (riya stan acc) (@madihajsiddiqui) July 7, 2022
#4
Bad burn man 😶

— Shreyan Datta (@trying_so_hard9) July 7, 2022
#5
Uncle ji…. Bharosa nahi hai kya ?🤣

— Girish :): (@iamgirishk25) July 7, 2022
Well, this is not the first time an Indian dad roasted his son like this and just few days ago, a hilarious incident came to light in which a father trolled his son for incorrectly ordering food online. When the son told his father that he got refund from Swiggy because the order got delivered on the wrong address, his father gave a savage response, "Tu bhi galti se hi order hua tha, leking mujhe toh refund nahi mila" (You were also ordered by mistake but I didn't get refund).
Did your parents also react in similar way on any of your achievements? Share with us.
Share Your Views In Comments Below