News
Daddy On Rent – Man Posts Epic Ad Offering Father's Services For Kids Having Busy Dads
There is no denying the fact that parenting is a very tough job and parents need to be pretty responsible and disciplined if they want to nurture their kids in a right manner. However, there are some parents who are not able to give proper attention on their children due to some reasons, such as busy office schedules, etc.
While a person may make new friends if his old friends start ignoring him or misbehave with him, this he can't do with parents. But now a person from New South Wales, Australia, has decided to help kids of his city if they are not happy with the manner in which their fathers are taking care of them.
The name of the man is Jake James and he wants to switch his career from trucks to renting parental services. Sounds weird and unbelievable but true! Jake is quite serious about renting himself as a professional father and he has also posted an ad on social media networks in this regard.
In the ad, he has written that he will be available for 1-2 weekends in a month and he will be participating in three activities which can be chosen by the kid. He is also ready to appear in all the sporting events and will also provide coaching on car maintenance and lawn mowing.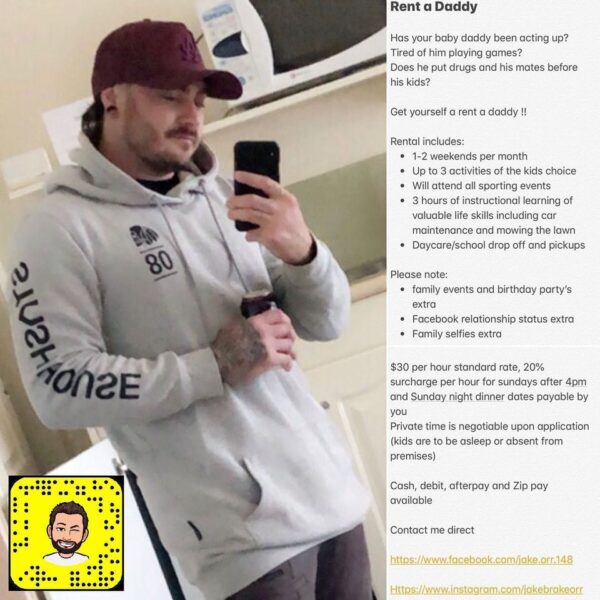 He will also be doing school drops and pickups but his services come at a pretty good rate of $30 (around Rs 2,188) per hour. He has made it clear that he is going to charge extra for family events, birthday parties and also for selfies and Facebook status.
Here is the complete advertisement:
Well, we have heard about many things which are available for rent but father on rent is something we have come across for the first time, what about you?
Share Your Views In Comments Below