Bollywood & TV
Daisy Shah Apologized After Being Heavily Trolled For Smiling While Posing With A Tragic Novel
The social media networks have become a very strong medium of communication between celebrities and their fans. Because of this, the celebs ensure that they are pretty consistent in posting their photos, videos and updates about their professional as well as personal lives in order to keep their fans happy and excited.
Bollywood actress Daisy Shah doesn't need any introduction and we have seen in Salman Khan starrer "Jai Ho", "Race 3" and "Hate Story 3". Recently, she took to social media and posted a photo in which she is seen smiling while holding a book. However, she had no idea that having a big smile on her face while posing with this particular book will make her an object of mockery and abomination on the virtual world.
First of all, take a look at the pic: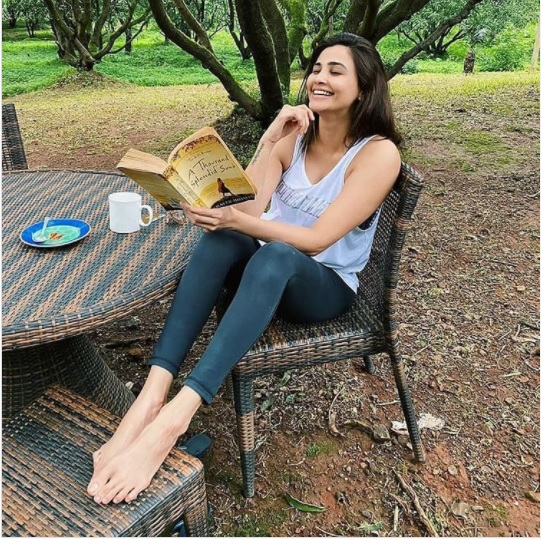 The book that Daisy is holding is "A Thousand Splendid Suns" by author Khaled Hosseini and it is based on the story of an illegitimate kid who suffers a lot of agony and abuse in her life. It is impossible to smile while reading this book and the social media users soon understood that Daisy Shah knows nothing about the book, she is holding it just for giving a pose and this made them quite angry.
There were zero (0) comedy scenes in my copy of 'A Thousand Splendid Suns' 🥺🥺🥺🥺🥺🥺🥺🥺🥺 pic.twitter.com/ezBSsKtPfW

— Indravadan Sarabhai (@02geeta) September 3, 2020
Twitterati soon started trolling the actress for her illogical and insensible behaviour and asked her to hold the correct book which at least goes right with the pose. Here are some selected reactions:
#1
Who said she is reading it da! 🤣🤣 diff btwn ppl who read and pose!

— Soubia Kulsum (@soubia_kulsum) September 4, 2020
#2
A Thousand Splendid Suns is a 2007 novel by Afghan-American author Khaled Hosseini. It is his second, following his bestselling 2003 debut, The Kite Runner. Mariam is an illegitimate child, and suffers from both the stigma surrounding her birth along with the abuse she faces

— Siddhartha Gupta (@sid_g3) September 4, 2020
#3
I literally cried while reading😭😭https://t.co/tJ7oGdwWXA

— Ex-Cancer Now Gemini 😒😒 (@Anchesis_) September 4, 2020
#4
A thousand splendid suns a really sad read. It's not just sad but heart shattering

— خراب عورت (@KharabAurat) September 4, 2020
#5
Bollywood has the audacity to even pass smiles while reading brothers karamzov. The way they portray themselves as elites, how many of them have evn read the works of dyotvosky? Just pick a novels nd then Pose. Pity

— RAJAT SHARMA (@rjt84097762) September 4, 2020
#6
Sahi baat hai it's the most heartbreaking book I have ever read.. why is she laughing??

— so so Punjabi ❤️ (@desidilli1) September 4, 2020
#7
I finished this book within a week and I still remember everytime I read it I feel sorry for the protagonist girl who had to suffer a lot, how she will escape, how will be her life in future.. I read this some 8 years ago and I am still that sensitive,this is a no nonsense book

— Swati Pathak (@swatip2106) September 4, 2020
#8
https://twitter.com/TravellingJyoti/status/1301772944863944706
#9
@SyedaZainabKaz4 @SyedaIfrah7 why this jerk is laughin' i mean it's filled with tragedies and violence. This writer gave us sleepless nights and she is😴, isn't it bizarre?

— Stuart (@SawairaBashir) September 4, 2020
#10
I cried buckets… Wrong book to pose to

— bedika (@rbedika) September 4, 2020
#11
What person in their right mind reads a Khaled Hosseini book and laughs as if reading an article written by Rahul Gandhi.

Also those legs look like floaters.

— Suri (@surye_bhardwaj) September 4, 2020
#12
If at all this book makes u think n feel sad idk what is she laughing about or is it just to look smart she was given a book to hold without any knowledge of what the book is about 😒

This is one of my fav books

— Dr Khushboo 👛 (@khushbookadri) September 4, 2020
#13
Let me assume she's laughing at the photographer. But the sadness in this book won't even let you laugh like this to anything funny around you.

— Maryam (@maryamaminu) September 4, 2020
#14
This is one of the saddest books. It leaves one disturbed for a few days after reading it. I Probably didn't read it right, it seems

— মধুলিকা (@heartgoesboop) September 4, 2020
#15
I think we all read some other book by this name 😳 I cried so much reading this one 😥

— V (@ivivek_nambiar) September 4, 2020
When the actress realized that she was getting trolled, she made a tweet in which she tried to school the trollers, saying that they have no idea about her, whether she is a reader or not. She also said that she smiled because of the conversation that she was having with someone, adding that she doesn't care about what other people think. However later on, she deleted the tweet.
Here is what she wrote in the tweet, "You don't know me or my life. Am I a reader or am I using things as a prop or was I also having a conversation with someone at the very same time or maybe not. So you know what, make your own stories about whatever you want."
Nevertheless after some time, Daisy Shah took to Instagram stories and apologized to all those who got offended. She said that she was laughing on a joke cracked by someone and the photo was posted just because of the happiness that it was showcasing. She added that as she has read 4-5 pages, she has realized that it is a very intense story and she will be careful in the future. Daisy also says that she will ask her team to remove the photo and also makes it clear that she has not apologized because she got trolled, she apologized because she felt the pain after reading the book.
Check out her Instagram stories:
#1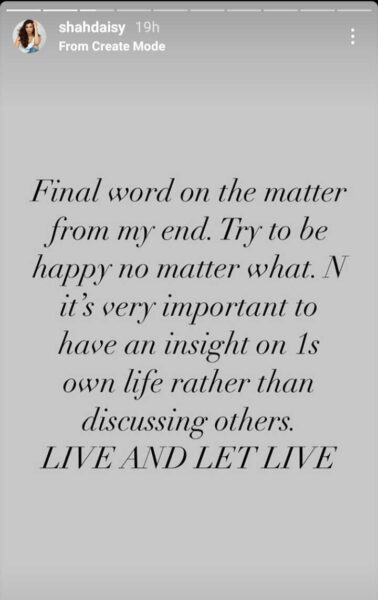 #2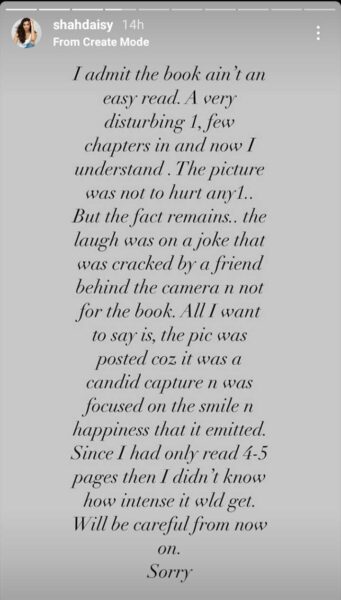 #3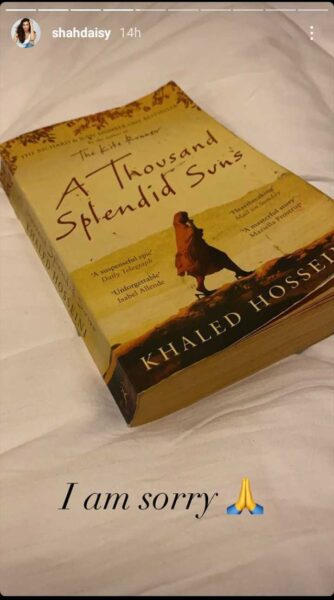 #4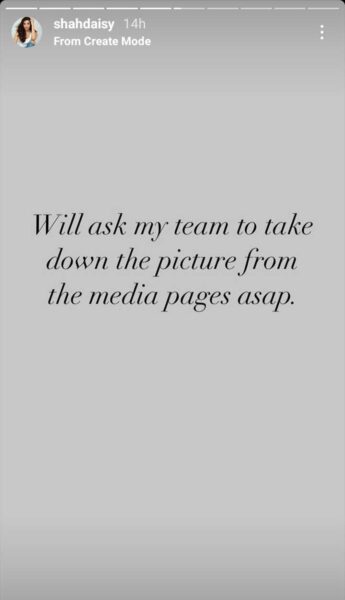 #5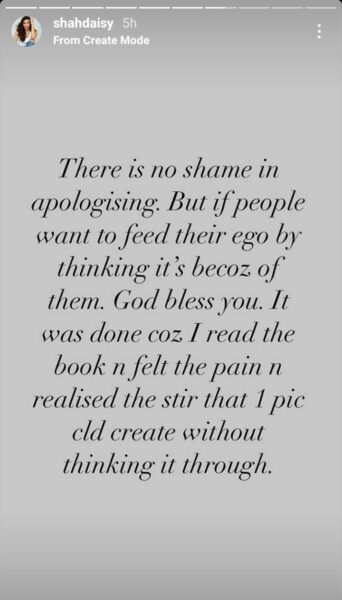 What is your take on this matter? Let us know.
Share Your Views In Comments Below