Entertainment
Deepika Padukone's First Look As Acid Attack Survivor Laxmi Agarwal Is Here. You Will Be Stunned.
This morning is different, not because of the undying IPl season spirit, but because we got to see a picture which is powerful, brave and captivating at the same time. We see photo shots of models and actresses, where they look breathtaking, but here is a picture which will give you hope and that desire to live and fight on.
Yes, one of the most awaited film of Deepika Padukone is Chhapaak, directed by Raazi director, Meghna Gulzar and now we got to witness Deepika's first look as acid survivor Laxmi Agarwal. Deepika Padukone herself shared this powerful first look from her film on her official Instagram and Twitter profile. Here take a look.
A character that will stay with me forever…#Malti

Shoot begins today!#Chhapaak

Releasing-10th January, 2020.@meghnagulzar @foxstarhindi @masseysahib pic.twitter.com/EdmbpjzSJo

— Deepika Padukone (@deepikapadukone) March 25, 2019
When Deepika announced that she will be portraying the life of acid survivor Laxmi, we were stunned, not because it is Deepika but because finally we got someone as a team, brave enough to portray such a powerful and sensitive topic on screen. After Raazi we should definitely trust Meghna Gulzar that she will do justice with this film.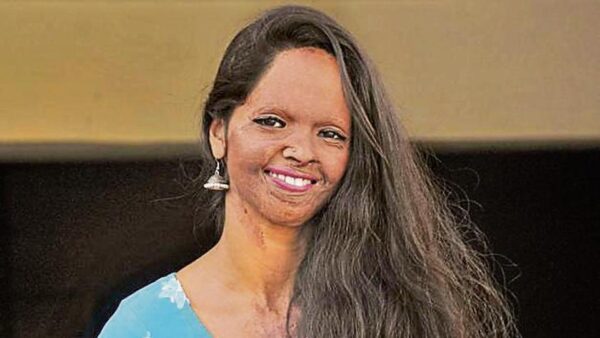 Fans and followers are captivated instantly by that lingering sadness and hope against all odds that Deepika so gracefully portrayed just with her eyes. Praises are from all over.
#1
You're going deliver something beyond phenomenal, looking forward to it!! 💙

— sagacious (@sane_tiago) March 25, 2019
#2
Thank you for using your celebrity status to shine a light on this very important topic in India's society from yesterday and unfortunately even today! 🙏🏽

— Ruchi (@theruch7) March 25, 2019
#3
This is POWERFULL!!! 🙏
Already giving me so much Strength. Thank you so much Deepika. ❤
You are making we Crazens proud. 😘 All the Best and Love you! 💝#Chhapaak

— Sankit (@Motichoor_Laddu) March 25, 2019
#4
We can see that pain in your eyes 😭😭
So Proud of u Queen #DeepikaPadukone 👏💪
All the best for #Chhapaak 👍❤

— Deepika Padukone Indian FC (@TeamDeepikaIN) March 25, 2019
#5
LOVED IT! Incredible❤❤ Can't wait to watch this film. All the best love 😭❤

— TaaaRaa…. (@RKs_lovely) March 25, 2019
#6
A Character that will most probably stay with us too.. can not wait to watch… #Chhapaak

— Aneeta (@AneetaRadoja) March 25, 2019
#7
This is life altering. Can't wait to see what nuances you bring to Malti❤️

— Tushar Joshi (@TusharrJoshi) March 25, 2019
#8
Wishing you my love and blesses. Thank you so much for doing this, we're extremely proud of you mam and very happy to have you in our lives.

— Rohan Dutta (@RohanDu75449573) March 25, 2019
#9
Untouched issue by any celebrity.. But you did it… Awesome 👌 all the luck..

— sadique_mss (@salim_sadique) March 25, 2019
#10
The smile says thousand things.

— Aditya (@Adityaspeakss) March 25, 2019
#11
Best of luck Deepika ❤️ I hope you'll make a milestone to the society by doing a movie of this sensible topic

— Rahul (@Errorxhul) March 25, 2019
#12
I'm so proud of you, can't wait to watch this movie.. All the best ❤️❤️❤️❤️

— Nadya (@NadyaSRK) March 25, 2019
While talking about the film, director Meghna Gulzar said "It was a moment of serendipity when I asked for a meeting with Deepika. I had many conversations with myself that she just may not be interested in doing the kind of film that I was taking to her. And she wasn't. She was looking to do something lighter after three intense films. But I didn't have a light, romantic script for her. My film was based on acid violence. Of a woman who epitomized immense courage and strength, in the face of crippling adversity. It felt like a perfect fit. Deepika took on the film, the character, and me, in a heartbeat".
This much awaited film is all set to release on 10th January, 2020, starring Deepika Padukone and Vikrant Massey. This is also her home production, under KA Entertainment.
So, how excited are you about the film?
Share Your Views In Comments Below