Humour
Delhi Govt Cleans Yamuna's Toxic Foam By Sprinkling Water On It, Netizens React With Memes
The condition of the Indian rivers is not quite good as various chemicals along with sewage water are being released in many of them and though everyone understands that water pollution is very much detrimental for all of us, still very fewer measures have been taken in order to cleanse the rivers.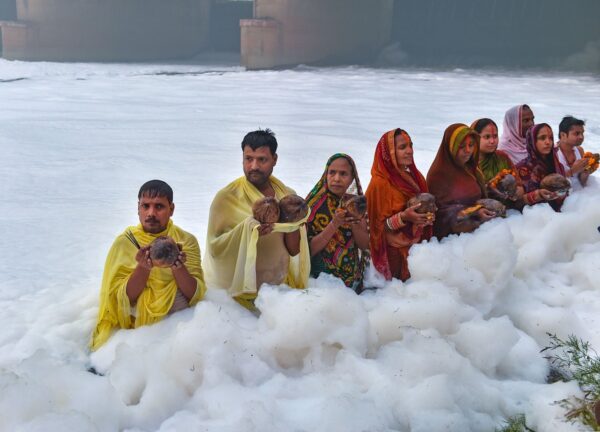 The condition of the Yamuna river in Delhi is pathetic as the water not only contains harmful chemicals but foam has also developed on the surface which is toxic in nature.
The festival of Chhath has once again exposed the reality of Yamuna in Delhi as in this four-day festival, the devotees worship Sun God and Chhathi Maiyya and they also visit the banks of the rivers in order to offer their prayers.
Many devotees visited the banks of Yamuna where the water got contaminated to such an extent that the medical experts had to issue warnings that if the devotees take a dip in Yamuna, they may suffer from skin problems. The rising levels of ammonia have also posed problems in the water supply of the city and soon photos from the Yamuna banks started going viral on the Internet.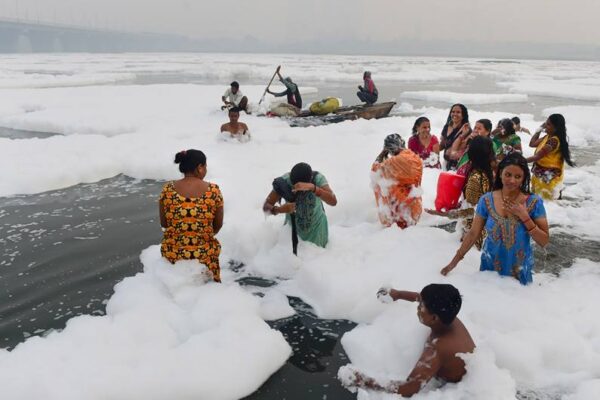 In order to show that the government and authorities are not inactive in this regard, employees of Delhi water board were sent to set up barricading in the river so that the foam can be kept away from the ghats and 15 boats were also deployed to dissipate toxic foam.
Delhi: Ahead of 'Chhath Puja', boats being used to clear-off toxic foam from Yamuna river. Visuals from Kalindi Kunj.

Delhi govt has deployed 15 boats in the river to dissipate toxic foam. pic.twitter.com/rhcnSok4U5

— ANI (@ANI) November 10, 2021
#WATCH | Barricades being placed in the Yamuna to stop toxic foam from floating towards the ghat. Visuals from Delhi's Kalindi Kunj. pic.twitter.com/QIvun5LPMJ

— ANI (@ANI) November 10, 2021
However, what really amused the online users was Delhi water board's employee who was assigned the duty of sprinkling water for dissipating the toxic foam.
#WATCH | "We are sprinkling water in the Yamuna to dissipate toxic foam," says Ashok Kumar, Delhi Jal Board employee pic.twitter.com/4waL2VsM7T

— ANI (@ANI) November 10, 2021
Soon netizens began reacting on it as they were quite upset with the seriousness shown by the government for cleaning the rivers. This is how people mocked the Delhi government:
#1
Kal aasman mein ice cubes phekenge to fight Global Warming. https://t.co/cTeqvXdXjG

— Sahil Shah 🇮🇳 (@SahilBulla) November 10, 2021
#2
Washing a river ?!.Does it make Yamuna clean?. Please share this newest tech. We will wash our village ponds 😔 https://t.co/zqdR7LrAT6

— Vishnu (@MVRaoIPS) November 10, 2021
#3
Would it not be easier to fold up the Yamuna and put it through a car wash? Must think scientifically about these things… https://t.co/zOhWobWyq0

— Kabir Taneja (@KabirTaneja) November 10, 2021
#4
Kejriwal 😭😭😭 pic.twitter.com/OGguDcBQ3F

— Minty Sharma🍹 (@MintOminty) November 10, 2021
#5
Close Enough 🤣🤣🤣 pic.twitter.com/47z1Al8X0b

— दलीप पंचोली🇮🇳 (@DalipPancholi) November 10, 2021
#6
— Keh Ke Peheno (@coolfunnytshirt) November 10, 2021
#7
— Nehr_who? (@Nher_who) November 10, 2021
#8
What an idea! Mix ganne ka juice to sea water to make it sweet next https://t.co/gaVoX1orwF

— Babumoshai (@Bong_in_Delhi) November 10, 2021
#9
— Rajesh Pantula (@pantularajesh) November 10, 2021
#10
— ⒶⒶⓀⒶⓈⒽ🇮🇳 (@lndian_PoIitics) November 10, 2021
#11
yep. clean water with water. what a messed up state of affairs. https://t.co/znLWGjrYtD

— Copylation (@twitface27) November 10, 2021
#12
Same Energy pic.twitter.com/JT244I860Q

— Parth (@humorscientist) November 10, 2021
#13
Don't shoot the messenger..😊 pic.twitter.com/COUTCHi7o3

— पहाड़ी_𝕸𝖆𝖓𝖉𝖆𝖑𝖔𝖗𝖎𝖆𝖓 (@pahadi_mando) November 10, 2021
#14
Same vibe 😆 pic.twitter.com/i5unWcWc3B

— 🇮🇳 Akshay (@akshayrantss) November 10, 2021
#15
Very soon a flame will be shown to sun for increasing temp in Delhi, it will protect people from cold.

— #Durvasa Akhand Anand 😁🚩 (@godoftrolls1) November 10, 2021
#16
Iske baad air pollution kam karne ke liye Kejriwal sir khud hawa mein foonk maarenge

— PuNsTeR™ (@Pun_Starr) November 10, 2021
#17
Big brain moment! And how will dissipating toxic foam make water any less dangerous?

Next they'll spray oxygen from oxygen cylinders in the air to disperse the smog.

— THE SKIN DOCTOR (@theskindoctor13) November 10, 2021
#18
I thought cleaning up the river and penalising polluters was the way to go. This is more like slapping bandaid on a blocked artery.

— Biju P (@BijuPil60266303) November 10, 2021
#19
Centre gave Rs. 2,400 crores to Delhi govt for cleaning of Yamuna. And this is the state of Yamuna today.
Did this money also go into advertising on TV and newspapers?

— Dominic Prasanna (@DominicPrasanna) November 10, 2021
#20
A complaint must be filed against @DelhiJalBoard for wasting water to hide a ruling political party's blunders… @ArvindKejriwal ji you cannot run from your responsibilities. @NGTribunal #ngt #JusticeAdarshKumarGoel sir #NGT #Delhi #DelhiPollution please look into the matter 🙏

— Bhrigu Suraj Wadhwa (@BhriguSuraj) November 10, 2021
Meanwhile, the Delhi police also tried to send back some devotees citing that offering prayers at the banks of the river is not allowed.
Delhi | Chhath celebrations are not allowed at Yamuna ghats. Few devotees who came here have been asked to leave by the police: Vikas Rai, President, Chhath Pooja Samiti, Kalindi Kunj pic.twitter.com/n5gClXymTy

— ANI (@ANI) November 10, 2021
The big question which arises is why such important issues are not given any attention by the government despite the fact that we all know water is very important for living beings to survive. What is your take in this regard?