Sports
"Disrespectful & Pathetic," Naseem Shah Slammed For Mocking & Body-Shaming Azam Khan
The incidents of body-shaming or fat-shaming are quite common in our daily lives despite the fact that we all know it is a very wrong practice as it may affect the confidence of a person in an adverse manner.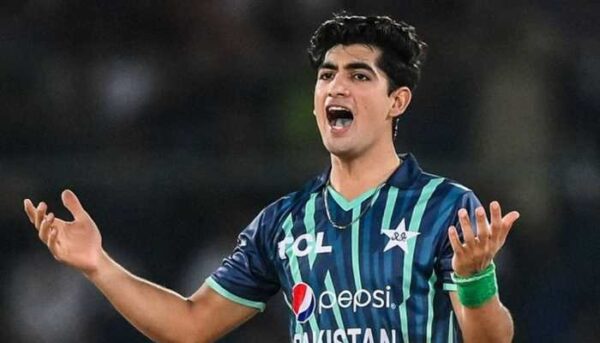 As cricket is one of the most loved games of the world, many cricketers are quite popular among the youngsters of their country and some even follow them because of which cricketers should be very careful in regard to their actions whether they are related to personal lives or professional lives.
Recently, the Pakistani cricketer Naseem Shah created a controversy after he body-shamed his fellow Pakistani cricketer Azam Khan in a match in the ongoing Bangladesh Premier League. A good number of Pakistani cricketers are taking part in the BPL and in a match which was played on 31st Jan 2023 between Khulna Tiger and Comilla Victorians, Naseem Shah said something to Azam Khan when he came to bat and then Naseem tried to hug Azam but the latter pushed the former away. After that, Naseem Shah was seen copying the walking style of Azam Khan and it was clearly visible that he was fat-shaming Azam.
Here is the video of the incident:
Naseem Shah 😅#BPL2023 pic.twitter.com/rr2VNi8kRx

— Grassroots Cricket (@grassrootscric) January 31, 2023
Click to watch this video directly on Twitter
This incident didn't go well with majority of the viewers, though there were few who defended the 19 years old Naseem Shah citing that he is innocent and he just wants to have some fun. Check out some selected reactions:
#1
It's not funny. One is pushing and other one is body shaming.
Disgusting.

— Aqeel Uz Zaman (@aqeelxaman) February 1, 2023
#2
Naseem Shah mocking his country fellow Azam Khan isnt good even for fun sake
Meanwhile Azam Khan makes 12 runs off 4 balls with 1 six & 1 four #NaseemShah #AzamKhan #BPL2023 pic.twitter.com/JGjj0LlELu

— Mission Daily Updates (@Mishi827) January 31, 2023
#3
we all know how mature and innocent Naseem shah is, he might have done wrong but I'm sure he didn't mean for it to go as body shaming. On a side note, I didn't see any bad/negative tweet when shadab khan literally did the same thing. Don't be so harsh on naseem, he will learn. https://t.co/az7ZQxCR0Z

— Joweria (@JoweriaMalik_) February 1, 2023
#4
To me appears a naseem shah is implying he is "macho "with lots of power and how he pushed him so easily- Naseem keeps enjoying and doesn't seem to change mood. I think viewers are misinterpreting the gesture here.

— Sulaiman Sultan, MD (@SSultanMD) February 2, 2023
#5
Quite disrespectful imo

— Uzair (@uzairsayied) January 31, 2023
#6
yede naseem

Dusare players ki ijjat karna sikh le bacche

— SAM S (@SAMS40308903) February 1, 2023
#7
This is pathetic

— Fahir Maithutty (@fahir_me) February 1, 2023
#8
These 10 seconds would've been forgotten as many others there and then, but no, our love for making a shit out of a nothing is inevitable…

— what a shot (@hahsdajmasaqaw) February 1, 2023
#9
Something to laugh about , it's disgusting actually, body shaming 🚩

— AyeshaArif (@AyeshaA76184532) January 31, 2023
What is your take on this incident? Do let us know.
Share Your Views In Comments Below