Humour
Dr Got Vaccine Without Wife & Picked Her Call When He Was Live. Their Funny Chat Is Viral Now
The coronavirus pandemic may have brought many nations on their knees but India fought valiantly. Though we lost many lives, it is very less in comparison to other countries if we calculate by keeping in mind our huge population with the population of other nations. While the Indian frontline warriors (doctors, medical staff, police, etc.) work pretty hard in order to control the pandemic, the researchers and scientists left no stone unturned and came up with vaccine in the record time and now the Indians are getting vaccinated all over the country.
Recently, a doctor got himself vaccinated but what happened next was something which happens almost in every house but this time, it got public because the doctor was live online.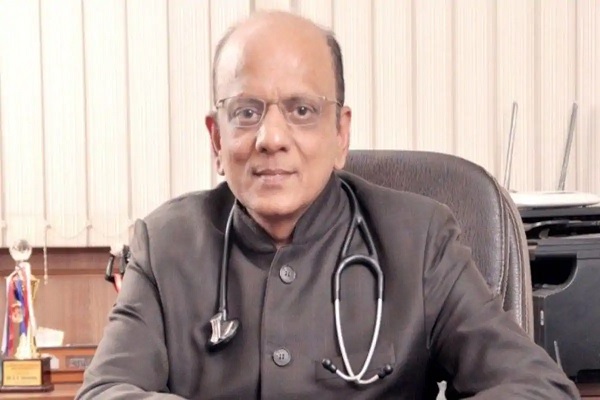 We are talking about Dr. K K Aggarwal, a cardiologist who has also been awarded with Padma Shri. He was recorded when he was having a conversation with his wife in regard to getting vaccinated against COVID-19 and the clip is going viral for all the hilarious reasons.
In the video, Dr. K K Aggarwal told his wife that he just went to enquire about the vaccine and the people over there told him that he could get vaccinated so he got the shot. His wife was not happy with it and she asked him why he couldn't take her with him for the vaccination and kept on repeating not to lie to her. Dr. K K Aggarwal tried to calm her by telling that she could get it on Monday but when she didn't calm down, he told her that he was live but that too did not have any effect on his wife.
Twitter user Tarun Shukla shared the video with caption,
"Doctor KK Agarwal got himself vaccinated without his wife.
Note to self : don't ever pick-up phone while you are live on tv :)"
Here is the video in which you can hear the funny conversation:
Doctor KK Agarwal got himself vaccinated without his wife.

Note to self : don't ever pick-up phone while you are live on tv 🙂
#forwarded. pic.twitter.com/uhIQYvZ4IO

— Tarun Shukla (@shukla_tarun) January 27, 2021
Click to watch this video directly on Twitter
Social media users also enjoyed the conversation and this is how people reacted:
#1
Dr. must find a vaccine for wives' temper. Generations have sufferred the hallabol, aao naa taao dekhti hai bas bhid jaati hai yaar. Upaay nikaalen Dr ji.😄😄😄

— 卐✁❦—Cut Here—❧🔇 (@Vasanthambika2) January 27, 2021
#2
You got some explaining to do once you come home! Lol. This is so funny!

— Vilakshan Jakhu (@vjakhu) January 27, 2021
#3
His action will increase trust of normal people for vaccine. Leaders should set example by action, not just words. Thnx Dr. Agarwal for this. However Few lessons 1) Never pickup phone while on live, 2) When wife called, you can not cut, no matter who you are & all the best to him

— Virendra khanna (@virendrakhanna) January 27, 2021
#4
🤣🤣🤣😂😂bhai itna sakoon mila , seerf main hee pidit nahin hun ye jaankar 😭😭😭😭😭😭😭😭😭😭 @RoflGandhi_

— T Singh (@Singh_T007) January 27, 2021
#5
Message for everyone, don't go alone for vaccination.. 😃

— Vivek Mahendradev Sharma (@VivekMahendrad1) January 27, 2021
#6
Mrs Agrawal has shown who is the real boss.
Dr Sahab ki to halat kharaab kar di.😁😁

— WELL_FLR (@ftmtbatt) January 27, 2021
#7
"aao wapas tumhari aisi ki taaisi karti hun ,," hahahahahahahahaha pic.twitter.com/ktDwGBaSfr

— Romeo Sierra (@sierraromeo98) January 27, 2021
#8
Just hear the last lines

मैं अभी Live आकर तुम्हारी ऐसी की तैसी करती हूँ

Wives will be wives

🤣🤣🤣🤣🤣

— Gautam Aggarwal (@gauaggbjp) January 27, 2021
#9
He's a padma shree awardee. A leading doctor.

But look at the terror he has on his face courtesy his wife.

If a man was heard saying main teri aisi taisi karta hun, people be shedding tears for the woman, wanting husband to be arrested. Here, he's a laughing stock

— Deepika Narayan Bhardwaj (@DeepikaBhardwaj) January 27, 2021
#10
Isn't it one of the side effect of vaccine is that
" Man gets over confident and pick up the wife's call even on live camera "

— chirag patel (@chirag24576) January 27, 2021
After the video went viral, Dr. K K Aggarwal also reacted, saying that he is aware of the clip which is going viral and he is happy that people are getting to laugh in such tough times at his expense. However in regard to his wife's rant, he said that it was just her concern regarding his health and safety. He also expressed his happiness over the fact that he has educated many about the importance of vaccine and at one fell swoop, also mentioned that not taking the vaccine is a bigger reason to laugh.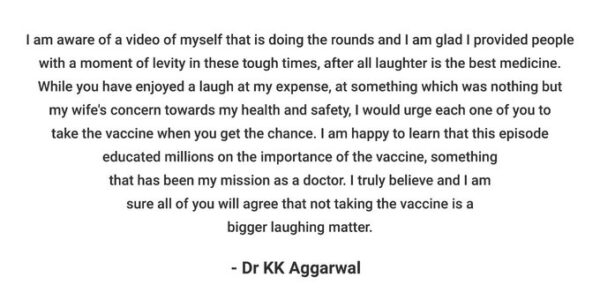 Here is the tweet made by Dr. K K Aggarwal, though the account is unverified:
#GetVaccinated #COVID19 pic.twitter.com/M5KQNyUNJh

— Dr K K Aggarwal (@DrKKAggarwal) January 27, 2021
This video also makes one thing clear that it doesn't matter how much a person has achieved in his professional life, he will always need to bow down in front of his ultimate boss – his wife, warna aisi ki taisi ho jayegi….
Share Your Views In Comments Below