Bollywood & TV
Fans Came Up With The Best & Epic Memes After Game Of Thrones 8 Trailer Released
Game of Thrones was first aired in the year 2011 and since then, it has gained immense popularity. In fact, it won't be wrong to call it one of the most watched and loved television shows. The fans must be excited as well as a little sad as in this month of April, the final season of GoT will be aired.
However, the good news is that HBO has released the trailer of Game Of Thrones 8 and it has given a lot of indications that this season will be full of fights, actions sequences and many characters will lose their lives.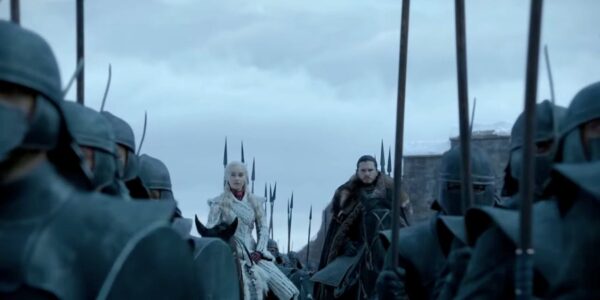 The show is going to premiere on April 14 and fans have loved the trailer a lot; however at one fell swoop, they have also become more eager to know whether their favourite character will survive or not. The trailer shows that Jon Snow, Daenerys Targaryen and dragons are coming together with Arya Stark for fighting the Battle of Winterfell and there is no doubt that it is going to be an epic battle.
The final season will have only six episodes and while the trailer has been loved by majority, some have used it as a base to create some funny moments by making jokes and memes.
Here are some of the selected tweets:
#1
Me trying to get my friends and family to watch #GameofThrones before April 14 pic.twitter.com/pSLoDVLrtN

— Yahdiel Lobo Ortiz (@YahdielOrtiz) March 6, 2019
#2
ghost when jon is riding rhaegal #gameofthrones pic.twitter.com/J0MjOaEOQe

— 𝐤𝐚𝐭𝐢𝐞 (@stormbornjedi) March 5, 2019
#3
me training to fight against the white walkers after seeing GoT trailer pic.twitter.com/74qhxXDYfK

— maia (@amidalastark) March 5, 2019
#4
Me calling up the Lord of Light if Arya dies #GameofThrones⁠ ⁠ pic.twitter.com/etQJCu6vws

— Free Folk Memes (@FreeFolkMemes) March 5, 2019
#5
"How many times have you watched the #GameOfThrones⁠ ⁠trailer today" pic.twitter.com/kCRT8sWixx

— 金童 (@PNDShayo) March 5, 2019
#6
Me pausing the trailer every 0.5 minutes to analyze the scenes#GameofThrones pic.twitter.com/obF6wo5dS4

— Bea (foi salvar Tony) (@JackPearsonsBae) March 5, 2019
#7
Trying to make out what's happening in the #GameofThrones trailer because they light the sets with one (1) tealight candle pic.twitter.com/NEU0rlXkWe

— Disown the Throne (@DisownGoT) March 5, 2019
#8
Me after watching the trailer of #GameOfThrones 😂 pic.twitter.com/q5pq9Uircg

— Kamran Ijaz (@camranijaz) March 5, 2019
#9
Oh my god the GOT final trailer😭😭😭😭😭😭😭😭 all my faves are going to die yoh this is tew much 😟😭😭😭😭😭😭 #GameOfThrones pic.twitter.com/rmI4pyVk6l

— Mamacitttaaa (@theeunknownzo) March 5, 2019
#10
#GoT fans after watching #GameOfThrones trailer. pic.twitter.com/yGk5nHrW1a

— Sir Jadeja fan (@SirJadeja) March 5, 2019
#11
#GameofThrones
Why are you running aryaaaa pic.twitter.com/L1KKRWwERL

— y (@yousef96fhh) March 5, 2019
#12
#GameOfThrones me, in this moment pic.twitter.com/BVHAn0HreF

— 〽ilenna (@Milenna_0501) March 5, 2019
If you have not watched the trailer yet, here it is:
For More Videos, Subscribe Us Now
Click to watch this video directly on YouTube
Can't wait to watch the show, what about you?