Entertainment
Fans Were Worried About Diljit After "Kylie Jenner Pregnant" News. Finally He Responded
Punjab based singing sensation Diljit Dosanjh has made millions of females fall for her, but it's not like he owns his heart. It's a known fact Diljit has a huge crush on American reality television personality Kylie Jenner and he has been quite expressive about it too.
Diljit who is super active on social media has been seen commenting like a fanboy several times on Kylie's Live Instagram sessions. So recently when there was news about Kylie being pregnant, fans here in India suddenly started feeling worried about Diljit.
Several tweets emerged on Twitter in which fans' curiosity for Diljit was visible. Have a look-
1
Kylie pregnant a.. Diljit da ki bano hunn 😁 😁

— Manpreet (@PreetSaran) September 23, 2017
2
I wonder how Diljit Dosanjh is going to react to kylie Jenner getting pregnant

— …breathing… (@DazedRita) September 23, 2017
3
Diljit's soni kudi got pregnant. I want his opinion.

— 🌹jes 💙 (@ranbirskhaleesi) September 22, 2017
4
https://twitter.com/57NGH/status/912018765214310400
5
Diljit Dosanjh might be affected the most if Kylie's pregnant.

— V. (@CupOfToffee) September 23, 2017
Owing to the fan tweets, Diljit Dosanjh had to respond and he was as witty as he always is.


His reaction garnered some more reactions from fans which eventually resulted in more tweets from Diljit-
1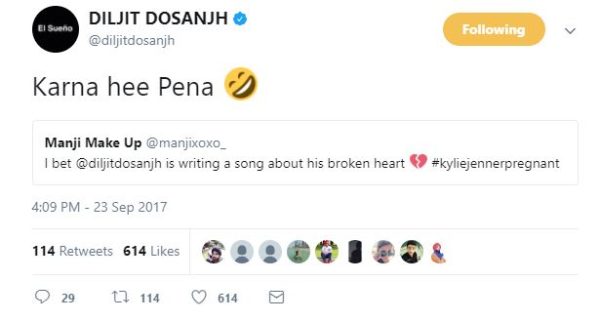 2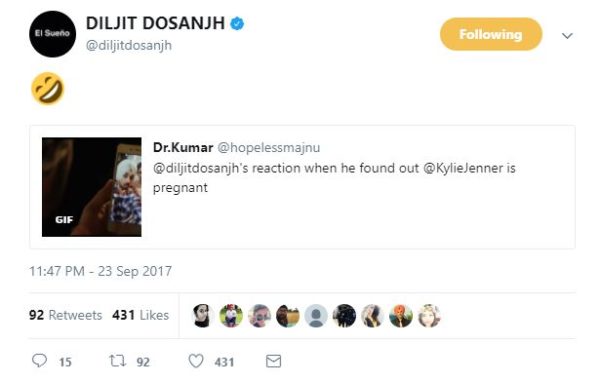 From the reaction tweets of Diljit, it seems like he is trying his best to keep the sanity and survive the heartbreak in lightest way possible. We are also glad to see that he has maintained the sense of humour in this difficult time. May the force be with you, Bro!
Share Your Views In Comments Below