Bollywood & TV
From Fat To Fit: Sanjay Gupta's Transformation Is Too Good. Even Hrithik Roshan Tweeted
Weight loss is very difficult but once achieved, there is no better moment than it. We have come across many weight loss journeys but some are way too inspiring and fill our hearts with happiness. Extreme efforts are needed to turn IMPOSSIBLE into I M Possible. Kaabil director Sanjay Gupta is one such example and is driving the internet crazy with his amazing transformation.
He has lost a tremendous amount of weight and we must appreciate his discipline and dedication. Sanjay Gupta took to Twitter to share a before-after pic and we were stunned. The picture is a proof that the director has struggled a lot to lose weight.
He achieved this weight loss goal in just 6 months. Seeing this transformation, even Hrithik Roshan couldn't stop himself from tweeting.
Here's the tweet;
THEN & NOW.
This is where six months of discipline and dedication gets you.
Still a long way to get to where I wanna be. pic.twitter.com/WEhwgTv2Qh

— Sanjay Gupta (@_SanjayGupta) October 4, 2017
This is the pic in case the tweet isn't loading;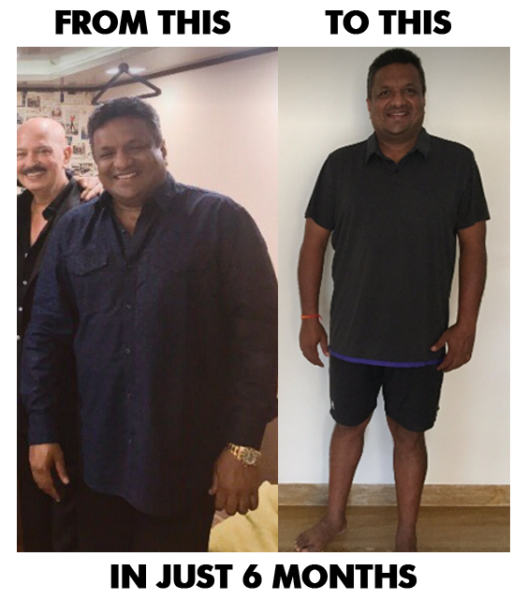 He also shared his workout schedule, according to which he exercises for 6 days a week, INSPIRING!
And another month bites the dust. Missed only one day except Sundays. pic.twitter.com/sv11peqY3I

— Sanjay Gupta (@_SanjayGupta) October 2, 2017
And after seeing this, this is what Hrithik Roshan tweeted…
Well done Mr director ! https://t.co/g7Lork6MJC

— Hrithik Roshan (@iHrithik) October 4, 2017
He said, "Well done Mr director !"
Soon, even others started praising him for his efforts!
Hats off!
Ek baar commitment kar Diya toh kar diya…hats off.

— N R Pachisia (@nrpachisia) October 4, 2017
More power to you!
Truly amazing Sanjay sir. more power to u. 👏👌👍

— ✴Hrithik's forever💖 (@iSangitaC) October 4, 2017
Truly commendable!
Your dedication & determination truly commendable!
I hope you reach your goal very soon! Much power!👍😊 Respect! 🙏

— ᴴʳⁱᵗʰⁱᵏ♥निशा ( Offline ) (@iNisha) October 4, 2017
Inspirational!
Thanks for the post. Inspirational. Hope to be able to put out a similar post in 6 months.

— Aumlaan Bishshaash (@aumlaan_tweets) October 4, 2017
Superb stuff!
Doffs helmet & toots me horn! Congratulations on this phenomenal transformation & incredible commitment to make it happen 👏 Superb stuff 🙌

— Tanmay V. Pangam (@theangrysaint) October 4, 2017
Any comments on this transformation?
Share Your Views In Comments Below