Food
Foodies Hilariously React After Pic Of Paneer 'Labrador' Instead Of 'Lababdar' Goes Viral
Whenever we attend a marriage function or go for eating out, one thing that vegetarian people look out for in dinner is a paneer dish because almost every Indian loves to have paneer on a regular basis or at least on special occasions. The good thing is that there are many tasty dishes which are made using paneer such as Shahi Paneer, Kadahi Paneer, Palak Paneer, Paneer Pasanda, Paneer Lababdar, Paneer Butter Masala, etc. and this gives a lot of options to paneer lovers to choose from.
Though the names of these paneer dishes are not very tough, still one restaurant has misspelled the name of a paneer dish and the result is really hilarious. Nandita Iyer, an author, columnist, singer and doctor took to the micro-blogging site Twitter and posted an image from a restaurant in which Paneer Lababdar was misspelled as Paneer Labrador.
Check out the pic: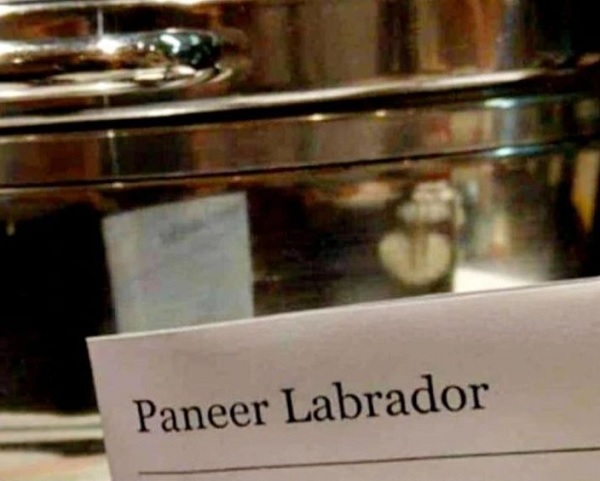 She captioned the image as, "The perils of autocorrect".
The perils of autocorrect pic.twitter.com/jYYqkzNlrj

— Nandita Iyer (@saffrontrail) December 13, 2022
As Labrador is a dog breed so a person who is unknown to paneer dish Paneer Lababdar may think that this dish is made by mixing paneer with the flesh of a dog of Labrador breed. However, the good thing is that Indians are very well aware of this dish, though the mistake could have taken place because of autocorrect, still the restaurant should have checked it once before putting the label.
As of now, the tweet has been liked by more than 4k people and it has been retweeted for more than 250 times. This is how netizens reacted after the tweet went viral:
— Kalyugi / कलयुगी (@AvinavPandey_) December 13, 2022
And a lack of proof reading!

— Ajay Kamath (@ajay43) December 13, 2022
Is that just a cute term for Veg Hot Dog?

— FCPUI 🇮🇳 (@Rnb129) December 13, 2022
It's an authentic Chinese dish

— Madsman (@ElGujjju) December 13, 2022
Was this found in the veg or non veg section?

— Neil Dev (@neildevv) December 13, 2022
Bhaiyya 1 Paneer Labrador aur 2 Rumali Rotviller dena

— itsnoteasy (@_nomadic_11) December 13, 2022
tbh its a dish https://t.co/p1rS4uSPtr

— Godman Chikna (@Madan_Chikna) December 13, 2022
Does it mean paneer made out of Labrador milk?

— Brown bread (@VikashS53573221) December 14, 2022
Another one pic.twitter.com/2T31uboKxo

— teddy (@SajalTeddy) December 14, 2022
Could be a french dish…Paneer La Brador 😃

— The Inder (@the_inder) December 13, 2022
Hilarious 😀 though my Labrador is not going to like this.

— Rachna Parmar – Author Air fryer Recipes Cookbook (@rachnaparmar) December 13, 2022
After hearing about Paneer Lababdar, I am feeling hungry, what about you?
Share Your Views In Comments Below