Extras
Forbes Released India Rich List 2017. Want To Know Who Topped It?
Forbes has released the 2017 Forbes India Rich List and in this we can see that India's rich have become richer. Even though the economy is slowing down a bit, wealth of Indian businessmen have shown a growth. The growth was basically owing to the rise in the stock market.
Want to know who topped the list this time? Well, it is none other than Mukesh Ambani, the chief of Reliance Industries who has achieved the first position with net worth of USD 38 billion.
As per Forbes, Ambani has added around USD 15.3 billion this year, which is why he has emerged as the richest. Not only is he is in the richest Indians' list but has also made it to the Asia's top 5 richest people. This increase in the net worth was possible because Jio's boom in the telecom market.
Second on the list is Azim Premji having a net worth of USD 19 billion. Last year, he was on the 4th position and now, he's on No.2.
Hinduja Brothers have attained the 3rd position with net worth of 18.4 billion.
Have a look at the list of top 10 richest Indians.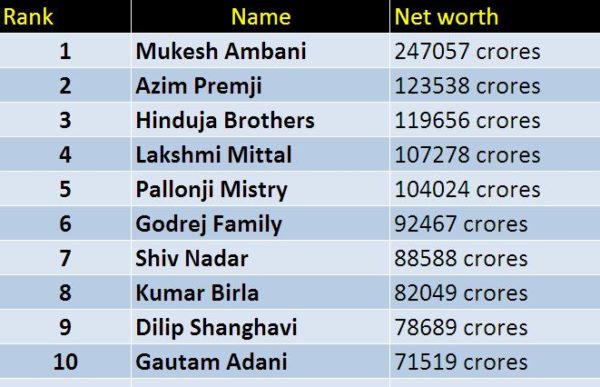 So guys, whom did you expect on the first position? Guess, Mukesh Ambani is not going to leave it anytime soon.
Share Your Views In Comments Below