News
Son Makes It To Forbes List & Informs Dad, Father's Reaction Leaves Twitter In Splits
Every kid loves to be appreciated from their parents for their achievements but the Indian parents, especially fathers, don't prefer to praise their children in front of their kids as they believe that appreciation may spoil them. However, the same fathers can be seen boasting about their kids' achievements in front of their friends when their kids are not around.
Recently Harish Uthayakumar, the co-founder of BlueLearn, posted a screenshot of his chat with his father on the micro-blogging site Twitter in which he was seen telling his father that he made it to the prestigious "Forbes List of 30 Under 30". However, it is his father's reaction that has gone viral for all the funny reasons because he simply reacted with two thumbs up emojis as if it is pretty normal.
Here is the screenshot: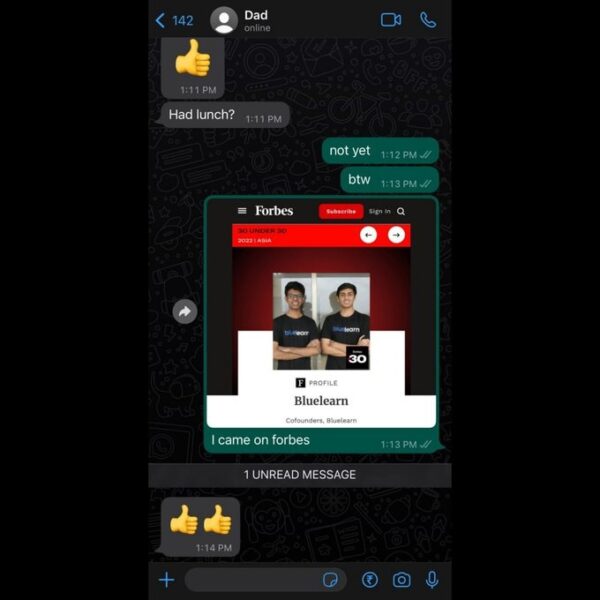 Harish posted the screenshot with the caption, "Drop some 👍 in the chat".
Drop some 👍 in the chat pic.twitter.com/O537xv9DJ0

— Harish Uthayakumar (@curiousharish) May 27, 2022
The tweet soon went viral and netizens started sharing their reactions, while some opine that every dad reacts like this, few talk about the obsession that the fathers have for the government jobs.
Here are some selected reactions:
#1
Forbes chodo sarkari naukri ki tyaari karo 👍🏻

— Ankit Gupta 🍀🧑🏻‍💻 (@ankitguptx) May 27, 2022
#2
Government job 👌👌
Anything else 👍👍

— Ratan chahar⚡ (@Ratan_chahar) May 27, 2022
#3
Dad be like " Han yesb theek hai kuch intresting bta "

— Raj Singh (@Fin_Raj) May 27, 2022
#4
Dad pov: paper mai photu aane se kya hoga govt job thodi hai 👍

— N I K H I L (@nikhilistic_24) May 28, 2022
#5
Dad be like yeh sab to thik hai upsc kab deh rahe ho 😂

— Tirth shah (@Tirth485) May 27, 2022
#6
Yeh sab theek hain but Sharma ji ka ladka TCS me job kar raha 👍👍

— Vineet (@Vynyth) May 27, 2022
#7
Dad: Par Government job nhi hai naa

— Nikhil Kumar  (@imnikkkhill) May 27, 2022
#8
He knows there will be many more milestones like forbes in the future :-), main question is if you had lunch or not! isn't it great 🙂

— Akash N (@akashn63) May 28, 2022
#9
Literally every Dad's keyboard be like pic.twitter.com/068VKswr9b

— Ashish Mohite (@asheeesh_) May 27, 2022
#10
Dad's are the real chill OG's man🙃

— Aman Rath (@AmanTweetsDaily) May 27, 2022
#11
From the chat it seems like getting in Forbes in normal….😂

— Om Sonawane (@sonawaneom12) May 27, 2022
How did your father reacted when you achieved something big in life? Do let us know.
Share Your Views In Comments Below