Entertainment
Former Miss India Namrata Shirodkar Slammed A Troll For Calling Her Depressed
In today's date, everybody gets just judged by how they look or trolled for something or the other on social media. The person sitting behind the laptop or computer screen think if they don't like something up on the social media, it's their right to judge them and really cool to comment on it cause their eyes weren't pleased.

No celebrity is spared from hatred on social media for every alternative reason. Recently former Miss India Namrata Shirodkar and Mahesh Babu's wife was a victim of public scrutiny.

When she posted a series of pictures on Instagram celebrating the success of Mahesh Babu's recent film 'Maharishi' with director Vamsi Paidipally his wife and her sister among others. It was a happy celebratory picture.

An Instagram user by the name Gaurav Sharma decided to give one insignificant opinion and he commented: "Why don't you apply some makeup on are you suffering from depression?"



However, Namrata didn't let the troll flee away without learning a lesson. She shut down the troll with a dignified reply: Gaurav, you might love women with makeup maybe you should follow someone who is always made up and suits your criteria! You're not going to find it on this page. So maybe you should get off it. Sincere request!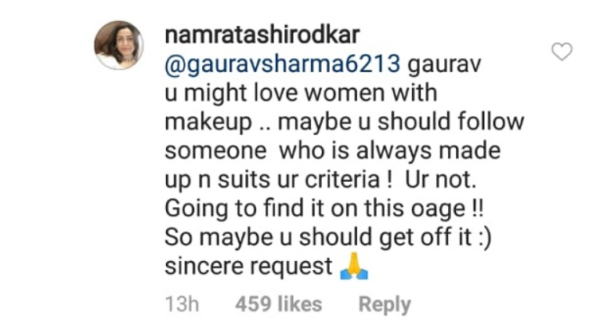 I mean how is it even relevant if a girl doesn't have her make up on she is depressed?
Share Your Views In Comments Below