Bollywood & TV
From Amitabh To Madhuri Dixit, This Is How Celebrities Paid Tribute To Legendary Saroj Khan
The year 2020 has given one more big blow to Bollywood and the country as the famous choreographer Saroj Khan left the world at the age of 71 due to cardiac arrest. The legendary dance choreographer started her career as a child artist when she was just three years old and then she started working as a background dancer in the 1950s. In her illustrious career of 40 years, she worked with many actors and actresses and gave many superhit and memorable dance songs.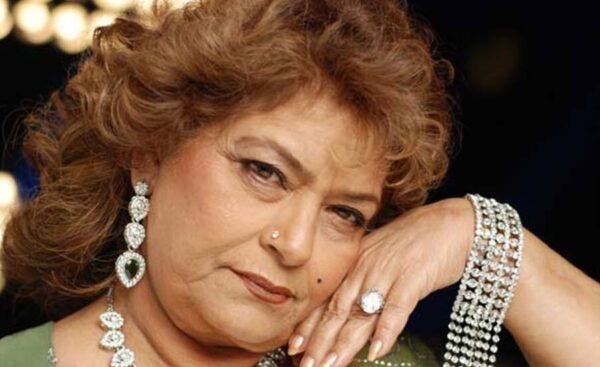 Saroj Khan's departure is certainly quite a big loss to the film industry because with her, an era has come to an end and it won't be wrong to say that she was a complete dance school in herself. Saroj Khan became famous after she choreographed Sridevi in "Hawa Hawai" in "Mr. India" (1987), songs of "Nagina" (1986) and "Chandni" (1989). Her association with Madhuri Dixit produced some really great songs such as "Ek Do Teen", "Tamma Tamma", "Dhak Dhak", etc.
Saroj Khan also had a pretty good television career as she worked as judge in some reality shows as well. Bollywood is mourning the loss of great Saroj Khan and here we bring you the tweets in which celebs have expressed their sorrow and despair while paying tribute to the legendary choreographer:
Amitabh Bachchan
T 3582 – Prayers .. 🙏 ..
हाथ जुड़े हैं , मन अशांत

— Amitabh Bachchan (@SrBachchan) July 3, 2020
Akshay Kumar
Woke up to the sad news that legendary choreographer #SarojKhan ji is no more. She made dance look easy almost like anybody can dance, a huge loss for the industry. May her soul rest in peace 🙏🏻

— Akshay Kumar (@akshaykumar) July 3, 2020
Abhishek Bachchan
My first ever song was choreographed by Saroj ji. And then so many more. You taught me so much. I will miss you, Saroj ji. May you rest in peace. 🙏🏽

— Abhishek Bachchan (@juniorbachchan) July 3, 2020
Madhuri Dixit Nene
I'm devastated by the loss of my friend and guru, Saroj Khan. Will always be grateful for her work in helping me reach my full potential in dance. The world has lost an amazingly talented person. I will miss you💔 My sincere condolences to the family. #RIPSarojji

— Madhuri Dixit Nene (@MadhuriDixit) July 3, 2020
Riteish Deshmukh
Rest in Peace Saroj Khan ji. This loss is immeasurable for the industry & film lovers.Having choreographed more than 2000 songs she single handedly changed the landscape of how songs were shot. I had the pleasure of being Choerographed by her in Aladin. One tick off my bucketlist

— Riteish Deshmukh (@Riteishd) July 3, 2020
Nimrat Kaur
Saroj ji's name introduced the word 'choreographer' to my life. A genius who immortalised stars and the music that defined an era with her iconic work. May her loved ones find strength and courage at this terrible hour. There'll never be another…#RIPSarojKhan #Legend #Masterji pic.twitter.com/EffYUvX7Ca

— Nimrat Kaur (@NimratOfficial) July 3, 2020
Neha Dhupia
RIP … #SarojKhan ma'am … you paved the way and we're a force to reckon with … our industry lost another legend today… my condolences to the family 🙏

— Neha Dhupia (@NehaDhupia) July 3, 2020
Farah Khan
Rest in peace Sarojji.. u were an inspiration to many, myself included. Thank you for the songs🙏🏻 #SarojKhan

— Farah Khan (@TheFarahKhan) July 3, 2020
Remo D'souza
#RIP SAROJI YOU WILL BE MISSED …. big loss to dance fraternity ….. pic.twitter.com/1Kv5B6CpKv

— Remo D'souza (@remodsouza) July 3, 2020
Neil Nitin Mukesh
Really sad to hear that Saroj Khan ji is no more between us. Her Grace , her simplicity her iconic moves and her legacy are immortalised. My condolences with Raju sir, and entire family. 🙏🏻🙏🏻 #RipSarojKhan

— Neil Nitin Mukesh (@NeilNMukesh) July 3, 2020
Suniel Shetty
You are loved … You are irreplaceable … A true GURU … #RIPSarojKhan @ pic.twitter.com/Nn2jBslZlN

— Suniel Shetty (@SunielVShetty) July 3, 2020
Genelia Deshmukh
RIP Saroji … I thank God I got a chance to be choreographed by you.. Prayers and Strength to the Family..#SarojKhan

— Genelia Deshmukh (@geneliad) July 3, 2020
Madhur Bhandarkar
Woke up to the news that Saroj Khan is no more with us, Most talented trend setter choreographer of Film industry, My condolences to her family members & admirers. We will miss you. #RIP 🙏 pic.twitter.com/xlON9X3Emu

— Madhur Bhandarkar (@imbhandarkar) July 3, 2020
Tamannaah Bhatia
Woke up to the heartbreaking news of the legendary choreographer #SarojKhan's demise. Her iconic dance moves inspired me at a very young age. Rest in peace Saroj Ji 🙏🏼
You are truly irreplaceable.

— Tamannaah Bhatia (@tamannaahspeaks) July 3, 2020
Kunal Kohli
#SarojKhan #Masterji every song we did together whether Chui Mui Si Tum,Saanson ko saanson mein,Chand Sifarish,we argued,discussed. I'll miss her presence. Her voice on the mike. Her Adaa. I would tell the actors Male & Female,do 50% of how she does a shot & you'll be a star

— kunal kohli (@kunalkohli) July 3, 2020
I lovingly called her 'HumarePyaareMasterji'.Her loud seeti on set.I would find the shot with the most adaa & make sure she showed that herself,many actors on seeing it would say 'now how can we match that?' She had Adaa like no one else. #SarojKhan Hindi Cinema has lost its Adaa

— kunal kohli (@kunalkohli) July 3, 2020
Taapsee Pannu
Atleast I had a chance to dance in your company. I am going to hold on to those memories tight…. real tight.
❤️ we lose another star to the sky. Your songs will make every girl remember you for ever n ever. https://t.co/QWiG0FaP6j

— taapsee pannu (@taapsee) July 3, 2020
Sanjay Dutt
Kajol
Subhash Ghai
Malaika Arora
Kareena Kapoor Khan
Shilpa Shetty Kundra
Ekta Kapoor
Sonam Kapoor
Saroj Khan once stated that Madhuri Dixit was her best student and the actress had the ability to copy her to the perfection. In Saroj's opinion, Hrithik Roshan was a perfect dancer and it was almost impossible to find mistakes in his dance. She considered Sridevi as a very good dancer and thought that Aishwarya Rai is a very graceful dancer.
RIP Saroj Khan!
Share Your Views In Comments Below