News
From PM Modi To Sachin To Big B & SRK, The Whole Nation Pays Heartfelt Tribute To Milkha Singh
The second wave of the coronavirus pandemic has been quite harsh on us as it has taken lives of many people including few of those who made the country proud with their accomplishments. One such person is the legendary Indian athlete Milkha Singh who was given the nickname of The Flying Sikh as he used to run very fast.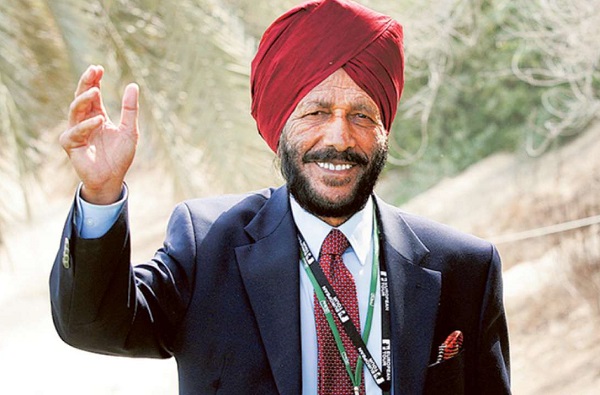 The 91 years old legend took his last breath on Friday in the Post Graduate Institute of Medical Education & Research (PGIMER), Chandigarh, where the doctors were treating him for the post-COVID complications. The four time Asian gold medalist who had been awarded with Padma Shri by the Indian government for his immense contribution towards the Indian sports tested COVID-19 positive on May 19 and he was admitted into a private hospital in Mohali on May 24 because of COVID pneumonia. On June 3, Milkha Singh was moved to PGIMER and things started looking better after he tested negative on Wednesday, June 16. However, the destiny had other plans and things turned ugly after Milkha Singh developed complications as his oxygen levels went down and he also had fever.
A statement was issued by Milkha Singh's family after the legendary sprinter bid good bye to the world in which they informed people of this unfortunate happening. This is certainly a very difficult time for Milkha Singh's family as his son and three daughters lost both their parents just within 5 days. Earlier Milkha Singh's wife Nirmal Kaur (85) took her last breath on Sunday and the reason behind her departure was also COVID-19.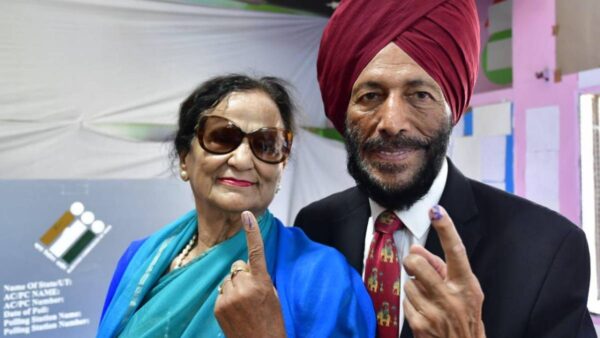 The departure of Milkha Singh shook the whole nation and not just the common public but the Indian leaders, politicians, sportspersons and many Bollywood celebs took to the micro-blogging site Twitter to pay their heartfelt tribute to the great Indian athlete.
Check out the tweets:
President of India, Shri Ram Nath Kovind:
The passing of sporting icon Milkha Singh fills my heart with grief. The story of his struggles and strength of character will continue to inspire generations of Indians. My deepest condolences to his family members, and countless admirers.

— President of India (@rashtrapatibhvn) June 18, 2021
Indian Prime Minister Shri Narendra Modi:
In the passing away of Shri Milkha Singh Ji, we have lost a colossal sportsperson, who captured the nation's imagination and had a special place in the hearts of countless Indians. His inspiring personality endeared himself to millions. Anguished by his passing away. pic.twitter.com/h99RNbXI28

— Narendra Modi (@narendramodi) June 18, 2021
Congress leader Rahul Gandhi
Shri Milkha Singh ji was not just a sports star but a source of inspiration for millions of Indians for his dedication and resilience.

My condolences to his family and friends.

India remembers her #FlyingSikh pic.twitter.com/dE70KmiQJz

— Rahul Gandhi (@RahulGandhi) June 19, 2021
Punjab Chief Minister, Capt. Amarinder Singh
Upset and saddened to hear of Milkha Singh Ji's demise. It marks the end of an era and India & Punjab are poorer today. My condolences to the bereaved family & millions of fans. The legend of the Flying Sikh will reverberate for generations to come. Rest in peace Sir! pic.twitter.com/7yK8EOHUnS

— Capt.Amarinder Singh (@capt_amarinder) June 18, 2021
Uttar Pradesh Chief Minister, Yogi Adityanath
सुविख्यात धावक, 'पद्मश्री' से सम्मानित 'फ्लाइंग सिख' श्री मिल्खा सिंह जी का निधन खेल जगत की अपूरणीय क्षति है। उनका जीवन राष्ट्र के लिए अप्रतिम प्रेरणा है।

प्रभु श्री राम दिवंगत पुण्यात्मा को अपने परम धाम में स्थान व शोकाकुल परिजनों को यह दुःख सहने की शक्ति प्रदान करें।

ॐ शांति!

— Yogi Adityanath (@myogiadityanath) June 19, 2021
Cabinet Minister, Ravi Shankar Prasad
Sad demise of the legendary #MilkhaSingh Ji brings an end of an era.
Popularly known as the Flying Sikh, he will always be remembered for his immense contribution in the Indian athletics.
Om Shanti

— Ravi Shankar Prasad (@rsprasad) June 19, 2021
Indian politician Kiran Bedi
Legendary of all Times. pic.twitter.com/ucO8YvcIUB

— Kiran Bedi (@thekiranbedi) June 19, 2021
Here are tweets made by some former and current Indian sportspersons
P T Usha
Dark clouds of sadness prevail with the demise of my idol and inspiration Milkha Singhji. His story of sheer determination and hard work inspired millions and will continue to do so. As a tribute to him, students of Usha School paid homage to the legend.
Rest in Peace 🙏 pic.twitter.com/mLBQQ2ge3v

— P.T. USHA (@PTUshaOfficial) June 19, 2021
Sachin Tendulkar
Rest in Peace our very own 'Flying Sikh' Milkha Singh ji.

Your demise has left a deep void in every Indian's heart today, but you shall keep inspiring several generations to come. pic.twitter.com/ImljefeUEN

— Sachin Tendulkar (@sachin_rt) June 19, 2021
Sunil Chhetri
We may not have seen you compete, but every time we ran fast as kids, we ran 'like Milkha Singh'. And for me, that will always be the legend you leave behind. You didn't just run, you inspired. Rest in peace, sir. #MilkhaSingh pic.twitter.com/SbwrqJJHx9

— Sunil Chhetri (@chetrisunil11) June 19, 2021
Anil Kumble
Deeply saddened to hear the passing of Milkha SinghJi. His legacy will live on… a true legend and an icon. Condolences to his family and friends. 🙏🏽

— Anil Kumble (@anilkumble1074) June 19, 2021
Jasprit Bumrah
A hero, an inspiration, a legend. His legacy will live on for generations to come. Rest in Peace, Milkha Singh sir.

— Jasprit Bumrah (@Jaspritbumrah93) June 18, 2021
Suresh Raina
Extremely saddened to hear about the demise of legendary Milkha Singh Ji. May his soul rest in peace. My condolences to friends & family. pic.twitter.com/s8sRuA9AeY

— Suresh Raina🇮🇳 (@ImRaina) June 19, 2021
The Bollywood fraternity also tweeted to pay homage to Milkha Singh:
Actor-director Farhan Akhtar who played the lead role in Milkha Singh's biopic "Bhaag Milkha Bhaag" wrote an emotional post on the departure of the legend.
❤️🙏🏽 pic.twitter.com/Ti2I457epP

— Farhan Akhtar (@FarOutAkhtar) June 19, 2021
Amitabh Bachchan
T 3940 – In grief .. Milkha Singh passes away .. the pride of India .. a great athlete .. a greater human ..
Waheguru di Mehr .. prayers 🙏🙏

— Amitabh Bachchan (@SrBachchan) June 19, 2021
Shah Rukh Khan
The Flying Sikh may no longer be with us in person but his presence will always be felt and his legacy will remain unmatched… An inspiration to me… an inspiration to millions. Rest in Peace Milkha Singh sir.

— Shah Rukh Khan (@iamsrk) June 18, 2021
Riteish Deshmukh
Shri #MilkhaSingh Ji's name was and will forever be synonymous with speed. He inspired generations to run & never give up. Extremely saddened to know about his demise. My deepest condolences to his family and loved ones. #LongLiveFlyingSikh pic.twitter.com/0vAvGORe7d

— Riteish Deshmukh (@Riteishd) June 19, 2021
Taapsee Pannu
And he flew away 💔

— taapsee pannu (@taapsee) June 18, 2021
Madhur Bhandarkar
Sad to hear demise of #MilkhaSingh ji 💔
Been a great inspiration will remain in our hearts forever. #OmShanti 🙏 https://t.co/AcfhenauhC

— Madhur Bhandarkar (@imbhandarkar) June 18, 2021
Milkha Singh was born in British India in 1929 in Govindpura village, Muzaffargarh, which is in Pakistan now and he had a very difficult childhood. However, his life changed completely after he joined the Indian army and now his fans have started a campaign on Twitter in which they are demanding the Indian government to award Milkha Singh with the highest civilian award of the country, i.e., Bharat Ratna.
Om Shanti.
Share Your Views In Comments Below