Entertainment
From Washing Cars & Streets To Saving Ronaldo's Penalty, Alireza Is The Latest Hero Of Football
The Portuguese footballer Cristiano Ronaldo is known for many things but definitely not for missing penalties and when he misses one, it becomes news.
Ronaldo missed a penalty against Iran and the man who is responsible for it is Iran's goalkeeper Alireza Beiranvand. There was some controversy though regarding the save but what matters is that the penalty was saved.
Alireza's story can be an inspiration for many as there was a time in his life when he didn't have money for food and place to sleep but today he is an idol for a number of people.
He took birth in a nomad family in Sarabias, Lorestan, and his first job was to take care of a herd of sheep when they graze on the grassy land. He used to play football in spare time with friends. He was a striker in the beginning but when the goalie of his team got injured, he played as a goalkeeper and was found to be good at keeping.
His father was against his playing football so Alireza came to Tehran after running from house. On the bus, he met a football coach who offered to train him for 200,000 Toman which Alireza didn't have. However after some days, the coach got ready to train him for free and Alireza worked in a dress making factory owned by father of a teammate so that he could afford a place to sleep.
He worked in a pizza shop as well as washed cars; he was known for washing SUVs as could reach the roof of the car because of his height. He kept on playing for local sides while doing part-time jobs, such as cleaning streets and park, but his time changed when he was selected by an under-23 club.
Since then, he has not looked back and the road ahead seems great for him. Iran is out of the World Cup now but we are hoping to see some saves by this Iranian goalkeeper.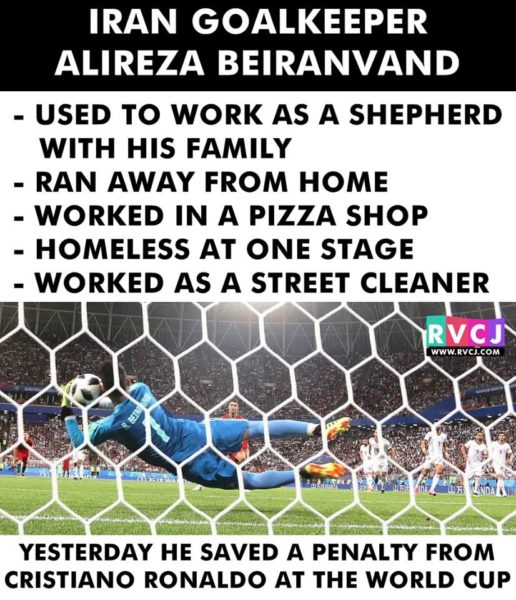 Share Your Views In Comments Below