Entertainment
Game Of Thrones 8 First Footage Out & Twitter Can't Wait For The Show To Start
There is no doubt that Game of Thrones is one of the most watched and popular shows of television and now fans are eagerly waiting for its eighth and final season. The show has been able to maintain its high ratings for seven seasons and something special is being expected from the last season.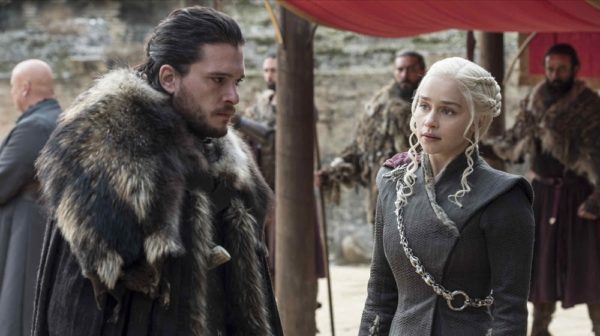 To tease the fans of Game of Thrones, HBO has released a glimpse of the final season that shows footage of Jon Snow, Sansa Stark and an angry glare by Cersei.
Watch The Video:
For More Videos, Subscribe Us Now
Click here to watch this video directly on YouTube
The teaser includes not just Game of Thrones but the clips from other shows as well, such as Big Little Lies, True Detective, Flight Of The Conchords and others. However, the clip that excited the viewers the most is the one of Game of Thrones.
We know that the series is going to end with this season but there is news that the makers will be back with a prequel of the show very soon. It is also being said that in 2019, the telecast of Game of Thrones will not be done between March and April as all the seasons have been aired in this duration.
Twitter is very excited for GoT season 8 and can't wait for it to start; however, users are not at all happy with the fact that the show will be ending this season. This is how Twitter reacted:
#1
OMFG THIS IS TOO MUCH 😭😭

— Violet Benson (@Daddyissues__) August 27, 2018
#2
Seeing this? It really hurts! #GOT pic.twitter.com/CGFHX58A5K

— Maicon Ferreira (@maiconauta) August 27, 2018
#3
. It's gonna be iconic isn't it?👏🏼 pic.twitter.com/njbMxSNQbz

— Marie🦒 (@DuhMeryl) August 27, 2018
#4
I'm glad it's not too long now for the FOTC special, even though I feel like I can't wait any longer but damnit this wait for Game of Thrones is the worst.

— Heather (@Heatherandahalf) August 27, 2018
#5
STOP playing with me, this lil sneak peaks.. 😩 I need more.!!

— Mo💋 (@SlimGoody1982) August 27, 2018
#6
I honestly can't fucking wait for game of thrones

— Bryan Rangel (@Bryan82898) August 27, 2018
#7
Final season #GoT WTF? 😒 Make more seasons and while you making them, please run only one episode from the upcoming season every year! I'm not ready to let you go!!!

— capt. Slygor (@avengermaindeck) August 27, 2018
#8
FINAL SEASON FOR GAME OF THRONES!!!?!?? 😭 nooo

— Angie Castillo (@angiecastillo59) August 27, 2018
#9
Bring this thing quick. We can't wait.https://t.co/MwmSHdtA7k

— ACEworld Publishers (@AceworldP) August 27, 2018
#10
— Alejandro Ramírez. (@alejandrormz_0) August 27, 2018
Are you excited to watch Game of Thrones season 8?
Share Your Views In Comments Below