Food
Girl Eats Maggi & Juice Like Dal-Chawal Using Hands Along With Chocolate As Papad. Twitter Goes WTF
It is being said that every person in this world is unique so it is quite obvious that their taste and food preferences are also different from each other. However, there are some people who have distinctive taste which might seem weird to other people and today we will tell you about one such girl.
A female online user took to the micro-blogging site Twitter and posted an image in which Maggi is served in a plate with pastry, chips, chocolates and orange juice. Well, all these food items are quite delicious but the combination of the platter seems a little strange.
Take a look: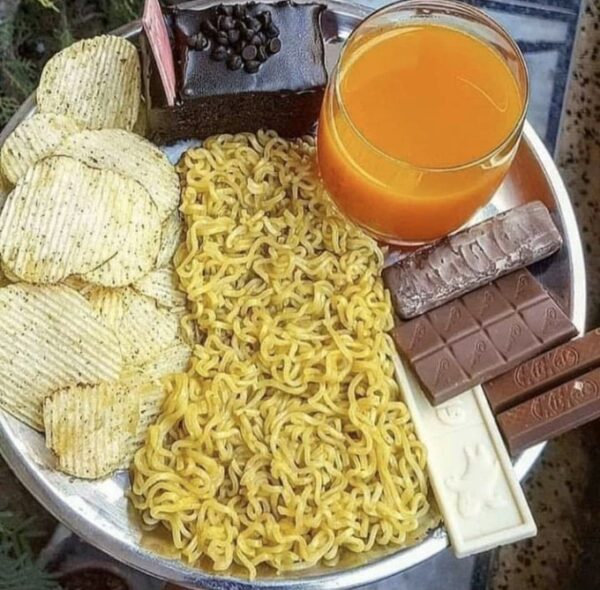 Here is the tweet:
y'all like my charcuterie? 😋😋 pic.twitter.com/frSakCw8cC

— babli (@radasfuccc) August 10, 2020
People are quite shocked to see all the food items in one plate as these food items should have been served in different plates. What has made it more difficult to bear was the revelation that she eats Maggi like Dal-Chawal and consumes chocolates in between just as other people consume Papad. After this, she drinks the juice like Chaas.
i eat the chocolate like papad and drink the juice like chaas after eating the maggi like daal bhaat with my hands

— babli (@radasfuccc) August 10, 2020
In another tweet, she tells that she put Maggi in juice and then eats the chocolate like Papad:
i put the maggi in the juice and then eat the chocolate like papad

— babli (@radasfuccc) August 10, 2020
Twitterati soon got in action and started expressing their shock, annoyance and disbelief over the manner in which the girls consumes all these food items. Check out some of the selected reactions:
#1
Why did this remind of birthday parties I used to go to when I was in second class???

— Nandini (@dumbichenergyy) August 10, 2020
#2
maggi alongside sweet stuff is bothering me

— shubhi overly emotional era (@dm___who) August 10, 2020
#3
The Maggie? The chocolate? Orange juice? All touching? Girl 😭😭

— sumubai (@galaxydove_) August 10, 2020
#4
My eyes….. pic.twitter.com/9jP88Y9MLz

— Jitender N. Bhardwaj (@jitenderNB) August 11, 2020
#5
Send me ur address I'm gifting you this. pic.twitter.com/UTjSVa7Z5k

— 🐦 आत्मनिर्भर हुआ नौजवान (@linguisticevil) August 11, 2020
#6
just saw this before ordering dinner pic.twitter.com/W2cd7hU4t3

— aakash 🐱 (@iamindividual) August 11, 2020
#7
— Sam 🕵🏻‍♀️ (@dosthoe) August 10, 2020
#8
Needs some tomato ketchup in the juice.

— Blueangel180 (@Blueangel180) August 10, 2020
#9
This is just so much pain in a single picture.
WHY ARE ALL FOOD ITEMS TOUCHING EACH OTHER 🤮 https://t.co/ODegM4Gzkq

— Nowhere Man (@varchas44) August 11, 2020
#10
Wtf is this combination I can feel my stomach hurting already 😭😭😭😭 https://t.co/xbLUU8liOG

— doofusshmirtz (@_subiiii_) August 11, 2020
#11
why is everything touching omg 😭 how will you eat the sides

— MJ (@mohini_jk) August 10, 2020
Maggi has become an integral part of our lives because it is not only tasty but easy to cook and cheap as well. We are quite sure that this post must have disturbed you a little as you must be having some good memories with Maggi. Deal with it!
Share Your Views In Comments Below