Bollywood & TV
Girl Shares Amrish Puri's Golden Banana Gun From "Ilaka" Movie, Twitter Goes Crazy
Bollywood is one of the biggest movie industries of the world and a true Bollywood fan will agree to the fact that Hindi movies and logic rarely go together. While there are some moviemakers who are very particular in regard to making a flick realistic and authenticity, some others have no problem in showing anything in name of creative liberty or masala entertainer. The era of 70s and 80s is filled with masala entertainers and there are so many instances from these movies which will make you laugh. In fact, you will even wonder as to how these movies were loved by audiences.
Recently, a Twitter user Aditi Sen shared a photo of a golden handgun which was embedded with colored gems and its handle resembles a half banana.
Take a look: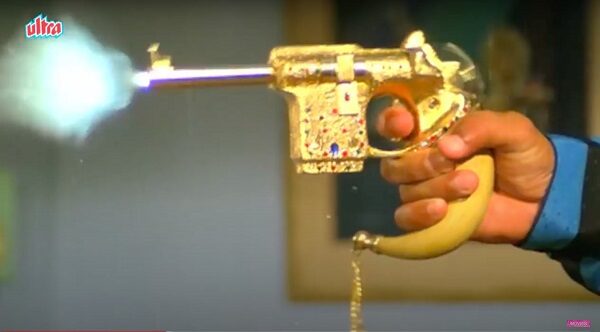 This revolver was used by the actor Amrish Puri in the movie "Ilaaka" in which he played the role of a villain. The film was released in 1989 and it also starred Mithun Chakraborty, Sanjay Dutt, Madhuri Dixit, Amrita Singh and others.
The caption that Aditi Sen used while sharing the gun's pic read, "Amrish Puri's revolver from Ilaka deserves its own movie. What a marvellous object."
Amrish Puri's revolver from Ilaka deserves its own movie. What a marvellous object. pic.twitter.com/vYNkQYlQ99

— Aditi Sen (@senaditi) October 6, 2020
Soon the Indian Twitterati came into action and responded with hilarious reactions. While some loved the gun, few others named it as golden banana gun and several others called it a product of Jugaad. Check out some of the selected tweets:
#1
It isn't a revolver, as there's no cylinder.
It's more of a Golden Katta.

— 𝘿𝘼𝙍𝙆 𝙀𝙉𝙀𝙍𝙂𝙔 🌌 (@Quark_GluonP) October 6, 2020
#2
Vasco Da Gama ke gun ka koi competitor aaya hai pahli baar.

— Abhishek (@Dumberdol) October 6, 2020
#3
When you run out of money half way

— एनोनिमस (@abhi_khandu) October 6, 2020
#4
Wen its intact, its banana gun. U fire if n it becomes vasco da gama's gun. pic.twitter.com/YgbNjJ7W86

— Shounak Ghosh (@Shounak9325) October 6, 2020
#5
Man with a golden banana gun…😂😂

— Ivan Arnab Gomes (@arnabgomes) October 6, 2020
#6
This revolver deserves its own Twitter Handle!

— Gaurav Mahendru 🇮🇳 (@g_mahendru) October 7, 2020
#7
It's a blend of a gas lighter, banana and a jewellery box 😆

— सिद्ध्यर्थम् 🇺🇳 (@siddhyarthaM) October 6, 2020
#8
Pappu saw this when he said, aalu daalo, sona niklega… he didnt knew, it was a kela. pic.twitter.com/WYNOhBo4jL

— Young India (@Tweelak) October 6, 2020
#9
A prop guy did a jugaadd and used a banana too. Genius.

— Ankit Desai (@ankitrajdesai) October 6, 2020
#10
hey @MarvelStudios, would Thanos be jealous of this? 😉

— BhavnoorSB (@BhavnoorSB) October 6, 2020
#11
Maybe the handle has a concealed flask for whiskey 😅

— Sukhada (@appadappajappa) October 6, 2020
Well, this gun truly deserves a movie of its own! What do you say?
Share Your Views In Comments Below