Humour
Girl Shares How Her Mom Is Not Impressed When Father Sings Ghazal For Her, Twitter Is Amused
Gifts such as flowers, chocolates, stuffed toys, etc. for birthdays or anniversaries are pretty common nowadays but if you really want to make the moment memorable for the other person, you should do something which makes that person feel special. While some choose to take their loved one for a surprise trip or candle light dinner, going out somewhere in the times of COVID-19 is absolutely impossible but still there are ways by which a person can be made feel special; for instance – singing a song for the concerned person.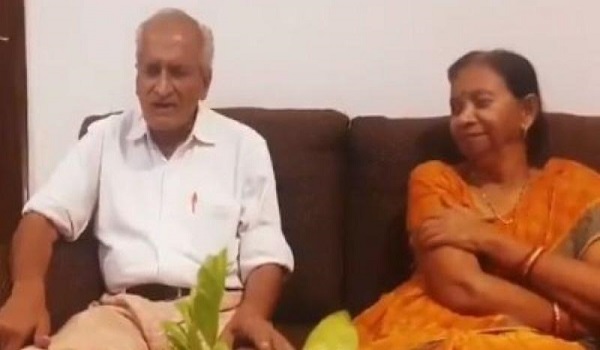 Recently, a Twitter user Rakhi Tripathi posted a video in which her father is seen singing a ghazal (song) for his wife and Rakhi's mother as it was her birthday. While Rakhi's father who is retired from IIT as a professor was singing beautifully, Rakhi's mother was seen sitting in a serious manner and did not seem to be much impressed.
Rakhi Tripathi tweeted, "It's mata shree's bday today. Papa singing a beautiful ghazal but why so serious? Mommy, papa is singing for you… plz dont make faces, These oldies I tell you".
Its mata shree's bday today. Papa singing a beautiful ghazal but why so serious? 🙄
Mommy, papa is singing for you…plz dont make faces 🤦‍♀️
These oldies I tell you 😂😂😂 pic.twitter.com/pojiX5FhLw

— Rakhi Tripathi (@rakhitripathi) June 15, 2021
Click here to watch this video directly on Twitter
The video was soon noticed by Twitterati and while some praised the singing skills of Rakhi's father, few others stated that her mother is not much impressed with her father's singing. However, there were some who indicated that the old lady was tapping her fingers and this is how the old generation enjoys music and special moments. Few people also pointed out that she may be camera shy and doesn't know how to react.
Here are some selected reactions:
#1
Hey! Happy Birthday to Dear Aunty 🎂💐

Tripathi Sir ki aawaz aur dil se gana gaane ka andaz waisa hi hai jo maine 17 saal pehle suna tha. I still remember that Qawwali "Kirpa Karo Maharaj"..
On my spl request, Sir sang few lines for my documentary 🙏😊

— Jaya Kaushik (@jayakaushik123) June 15, 2021
#2
It is nice to see Tripathi ji singing. Being his colleague for 35 years has been a wonderful experience. He is a excellent singer and does beautiful SARAYI. DO not go by the facial expression of oldies…but.feeling …

— Bodh Raj Mehta (@MehtaBodh) June 18, 2021
#3
Ma is like : Cake wagera khilaao , ghazal to baad mein bhi sun lenge.
Happy Birthday to her ✨✨

— Pracool (@thehighmonk) June 15, 2021
#4
Probably she has listened to it innumerable times 😀

— Sakshi Joshi (@sakshijoshii) June 15, 2021
#5
Dekha aadmiyon ke liye kitna mushkil hai impress kerna….

Aaj bhi aunty ne edge rakhaa hua hai… 😀

A very happy birthday to Aunty…

And uncle hamare waise bhi zabardast hain….

Loads of respect to him….

— MG (@gulatimanish21) June 15, 2021
#6
Has any husband in this world ever been successful in pleasing his wife?? Ma'am's response is pretty natural and wifely!! 😁😁

— Rajiv Ranjan (@RajivRanjan2017) June 18, 2021
#7
Sorry..😂😂 pic.twitter.com/tmztf3PHE4

— ROFL_SELMON (@car_wala_banda) June 15, 2021
#8
Ma : jao main nahi hansti…gift to laye nahi 😝

— Praveen suleman khan (@praveen_suleman) June 15, 2021
#9
Wah! Wah! 👌🏽 soo cute mummy bless her probably shy doesn't know how to react on camera

— UmmYusuf (@ummyusuf30) June 15, 2021
#10
She is smiling towards the end…embarrassed and camera shy more likely😊. https://t.co/oS6OkNRKEI

— Priya (@priyaspotpourri) June 15, 2021
#11
Awww 😍 how sweet is that!! Love how your mom is trying so hard to 'not blush' 🥰❤️
Happy Birthday to your Mom 🌹🌹🌹🌹

— AMJ —Queen of typos 🇺🇸🇮🇳 (@MalikAvni) June 15, 2021
#12
she's tapping her fingers. this is how ppl their generation express love and appreciation. uppar se all hmm nothing effects me..lol this is so cute. many happy returns of the day to your mom. may god bless you all.

— reader_giggles (@reader_giggles) June 15, 2021
#13
Bechari, husband is lost in his song, the cam is on her. She's wondering what to do with her hands, her face, her mouth…

— Shobna S. Iyer (@shobnasi) June 15, 2021
#14
Wife's appreciation is well seen in her hand movement & smile.
Appreciation doesn't need to be shown everytime rather it needs to be felt.

— Sabyasachi (@Sabyasa87800263) June 18, 2021
#15
Mam is so sober and respectful… She is not making faces don't blame your mom. And very beautiful singing by respectful sir. 🙏🙏🙏

— Nikhil Himanshu (@nikhil_himanshu) June 19, 2021
Have you ever made someone feel special by doing something like this or has anyone made you feel special? If yes, how? Share with us.
Share Your Views In Comments Below