Humour
Girl Wrote Professor's Name As 'Brain' Instead Of 'Brian'. Professor's Reply Left Twitter In Splits
Some people are very particular about their names and they don't like if someone misspells their name or call them by wrong name. We also feel that a person should be called by his/her correct name that is a person's identity but sometimes mistakes do happen.
A student Jazmin Rojas got a little late in sending her study questions to her professor who likes to be called with his first name. She made a spelling mistake in the name of her professor Brian Fonken and wrote it 'Brain' instead of 'Brian' while sending the email; however, she got to realise it only after she received an epic reply from him.
After getting the reply, Jazmin took to Twitter and shared the screenshots of the two emails.
The first email shows the girl's mistake in writing the professor's name while in his reply, the professor has uploaded the photo of human brain in place of his name.
Take a look: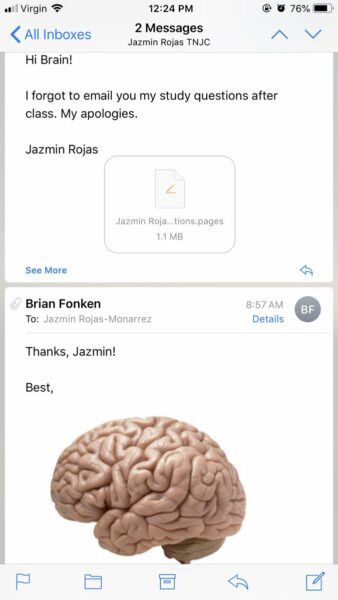 Jazmin shared it with caption, "MY PROFESSOR ONLY LIKES TO BE ADDRESSED BY HIS FIRST NAME AND I PUT BRAIN INSTEAD OF BRIAN!!!!!!!"
Check out the tweet:
MY PROFESSOR ONLY LIKES TO BE ADDRESSED BY HIS FIRST NAME AND I PUT BRAIN INSTEAD OF BRIAN!!!!!!! pic.twitter.com/AVWsh2739n

— jazmin (@fukeryyy) January 31, 2019
Jazmin's tweet has gone viral with more than 50K retweets and 2 lakh likes. While some social media users are praising the professor for his sense of humor, several others are thankful to the girl as they needed a good laugh and her tweet served the purpose.
Here's how Twitterati reacted:
#1
OKAY BUT I ACTUALLY WHEEZED LMAOOO pic.twitter.com/rBou4cBp4I

— miriam (@_mimixgarcia) February 1, 2019
#2
i feel like that he only likes to be addressed by his first name just so that when students make this typo, he can respond like this

— succubus✨ (@lovescatsalott) February 1, 2019
#3
This is also what happens when you date a Brian 😂 you'd think autocorrect would figure it out eventually

— Jesse Pettibone (@JessePettibone) February 1, 2019
#4
Omg I'm laughing way too hard 😂😂😂😂😂😂😂😂😂😂😂😂

— Sidney Nash (@sid21298) February 2, 2019
#5
OMG hahaha wow lol I remember when my school always send me mail it always said brain Martinez hahaha🤣🤣🤣

— Brian M (@BrianM54726765) February 1, 2019
#6
He has a good sense of humor though!! 😂

— miranda✨ (@mem_510) February 1, 2019
#7
This is immediately what I thought of 😂😂😂 if u know u know pic.twitter.com/djMyNnxjuv

— rachel (@rschneiderrrs) February 1, 2019
#8
Omg my dads name is Brian I do this all the time too 😭😂

— alyssa (@alyssaaksilva) February 2, 2019
#9
Her professor gon have enough of it one day… pic.twitter.com/uc5Hl5zlam

— UndercoverWhitegirrrl (@sueissuecool) February 2, 2019
#10
Haha thanks for that, needed a good laugh 😂😂😂

— SK ♔ (@SAriahKx) February 2, 2019
A good dose of humour is something we all need. Agree?
Share Your Views In Comments Below