Fashion
Gucci Just Launched These Red Shorts For Men And Twitterati Has Gone Crazy
We all love fashion and like to follow the latest trends in the market. Whenever we try something new in the market it gives us a sense of confidence and accomplishment. However, not everything that comes in the fashion industry is attractive.
Among all the weird stuff that fashion industry boasts of, there's something new. Gucci just launched something new for men and the brand calls it Red vinyl shorts with a silver zip.
Since the fashion brand has introduced it on Twitter, it has swept the floor below everyone's feet. Have a look-
Red vinyl shorts with a silver zip, and a checked shirt: a men's look in the #GucciSS19 fashion show in Paris. #AlessandroMichele #pfw #mfw pic.twitter.com/CK4BpzB6Kb

— gucci (@gucci) September 27, 2018
You can also check the picture below-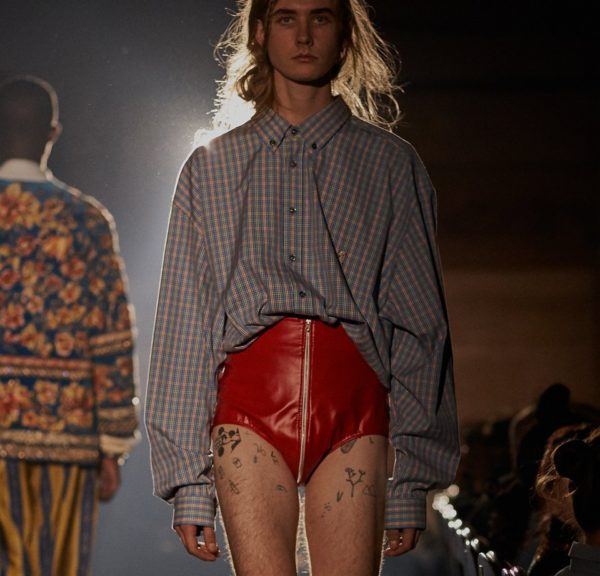 People just can't stop wondering about the thought behind this attire and are giving hilarious reactions. Have a look at some-
#1
— Chris (@Christrutwin) September 28, 2018
#2
— Shaanatunga (@MadMaxxCurry) September 28, 2018
#3
— ᘻᗩᕲ 🎩 ᕼᗩᖶᖶᘿᖇ (@Gothloretta) September 28, 2018
#4
Since I can't unsee this I've very generously decided to share it with all of you 😀 https://t.co/L9d9PnVka9

— Omar Abdullah (@OmarAbdullah) September 28, 2018
#5
Yeah! Because you're gonna see the average dude walking along Sauchiehall street in that ludicrous outfit. Get a grip!

— Ayrshire lass (@lass_ayrshire) September 28, 2018
#6
— Vaibhav VG (@VGLICIOUS_) September 28, 2018
#7
The model looks well p***d off! The outfit's bloody awful. pic.twitter.com/DWnjUen9fR

— Rachael Caldecott (@rubyrache) September 28, 2018
#8
This is what happens when Superman forgets to wear his tights 1st https://t.co/PzL2Jo0Y6B

— Ashwin Mushran (@ashwinmushran) September 28, 2018
#9
Ewww…who the hell would wear that? Not any man I know…lol. That's horrible.

— Ms. Love Canada 🇨🇦 (@CanadaLove2019) September 28, 2018
#10
Me, to my toddler: Get your clothes on, we're going out!
Toddler: https://t.co/ilPn8Ubh9x

— Mellie (@MellieAdamson) September 28, 2018
#11
— ksri 🧐 (@ksri6699) September 29, 2018
#12
What on earth are they thinking… hideous. Looks like a giant red nappy https://t.co/QRqaCVgCF2

— BSUK (@brandonsmithuk) September 28, 2018
Now those reactions are totally justified. Don't you think so?
Share Your Views In Comments Below