Food
Guy Tweets His Samosas Have Serial Numbers Embedded On Them, Leaves Twitter Talking
Samosas are one of the most loved snacks in India, especially in North India, and we can have them at any time in the day, whether in the breakfast or with the evening tea because we just love samosas and can never have enough of them.
Though the main filling inside the samosa is of cooked potatoes, some vendors also put dry fruits, pea or a piece of paneer inside the samosa with the main filling to increase its taste. While few vendors serve the piping hot samosas with chutney, several others serve it with chola (peas) and there are also some who give fried chilli with it.
However, one Twitter user Nitin Misra got the rude shock of his life when the samosas he ordered from Samosa Party, Gurgaon, Haryana, came with serial numbers embedded on them. He took to the micro-blogging site Twitter and asked the technical guy to stay away from his halwai.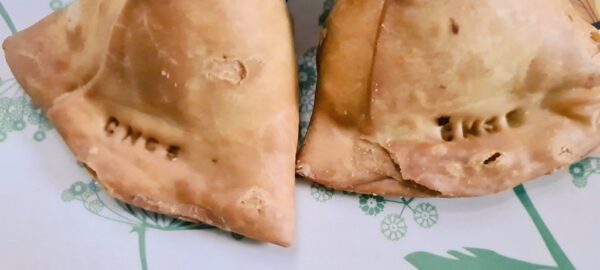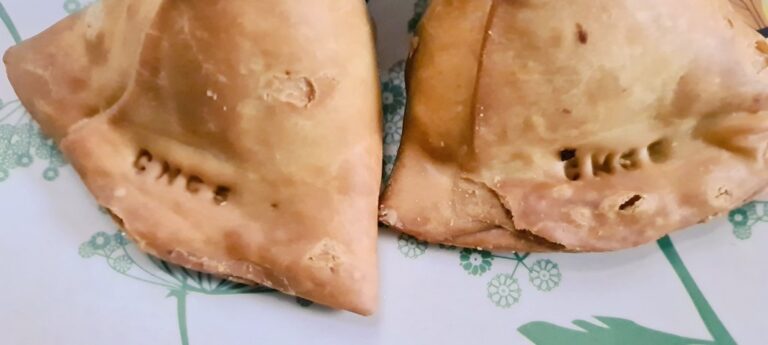 His tweet read, "Samosas I ordered had serial numbers, Can tech pls stay away from my halwai."
Samosas I ordered had serial numbers 🙄 Can tech pls stay away from my halwai. pic.twitter.com/DKo1duIiC9

— Nitin Misra (@nitinmisra) September 1, 2021
Soon the online users who are also samosa lovers started expressing their disbelief over the sale of samosas with serial numbers. While some said it may be the QR code for downloading the chutney, several others stated that it is done by the government to track what everyone is eating.
Here are some of the selected reactions:
#1
Yes, they make awesome Samosas and that marking on Samosas itself does give feeling of tech but it ensures that each person gets their favourite Samosas in a group order. Awesome job @DikshaPande3 & @Samosa_Party team

— dkagarwal (@dkagarwal) September 2, 2021
#2
Samosa party. The stamp suggests the type of samosa. They're awesome 🙂

— Diwakar (@Pentropy) September 1, 2021
#3
It's not serial numbers, it's an identifier of what kind of samosa it is, like Punjabi, chicken, corn n cheese. I think it's quite a smart way to solve the problem of guessing what samosas they are without breaking it open.

— Dhee 🏳️♈️🦉🏴 (@TwittaDhee) September 2, 2021
#4
Tech-enabled samosa

SaaS – Samosa as a service 😂😛😛

— Aditya Kondawar (@aditya_kondawar) September 2, 2021
#5
Now use this number and track the sourcing of food produce at every step of the supply chain.. and while you do so, don't forget the phudina chutney with the samosa that came with a barcode😂

— Jay Mehta (@jehmehta) September 2, 2021
#6
Hi-tech samosas 🙂 loved the idea of the filling type stamped on the corner..haven't seen anywhere except for Samosa Party! Warna samose to hamein upar se tod kar dekhne padhte hain ki kaunsi filling hai🤣🤣

— Varunima Bohara (@VarunimaBohara) September 2, 2021
#7
Samosa party solved the problem of variance. The stamps on the tail just prevents from scratching and tasting.

— Saurabh Gupta (@SAURABHKG) September 2, 2021
#8
24 Carat Hallmarked Unique ID of Samosa 😅

— Newton Bank Kumar (@idesibanda) September 2, 2021
#9
Just in case you develop a bad stomach after eating them, you need to quote those batch numbers as reference!

— Dominic Prasanna (@DominicPrasanna) September 2, 2021
#10
Ohh!! Where is the Barcode?? Mine one was having bar code as well. It will help them know the time of fry and ingredients they used in the mixure. Once sold they send a feedback and get customer opinion. They use data science to study the "Social impact of Samosa in humans lives"

— Atish (@Atish51578335) September 2, 2021
#11
There's a place in Bangalore (used to order on Swiggy) where they have named the samosas

— An_Encephalic (@Sulci_Gyri) September 2, 2021
#12
samosa party does that in bangalore, but they have like 20 different types of samosa, all which look same after getting fried.

— Saurabh Ariyan 🇮🇳 (@Saurabh_ariyan) September 1, 2021
#13
True!!! And actually such a good idea to stamp them in order to avoid confusion .. instead of ppl breaking off the tip to check which samosa has what filling 😊… so so innovative!!

— Y (@yashodharasah) September 2, 2021
#14
I m disappointed. Piche QR code bhi bola thaa dalne ko mai ne

— Lavnasur Kejriwal aka GWTW (@lavnasura) September 2, 2021
#15
Look 😂, can't wait until my rosogolla has QR codes.

— Haimantika Mitra (@HaimantikaM) September 1, 2021
What is your opinion on this idea of printing stamps or numbers on samosas? Let us know your views.
Share Your Views In Comments Below