News
Here Are Some Hilarious Memes About SC's Verdict On Section 377. You Can't Miss Them
The honourable Supreme Court of India made a historic decision today and decriminalised the homosexuality. It's an overwhelming moment for the LGBT community and those who were fighting for their rights for a long time.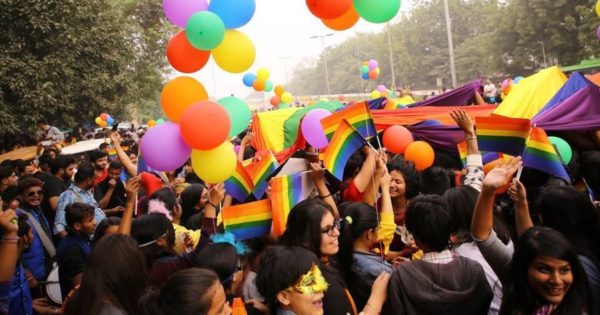 Chief Justice of India Dipak Misra beautifully said that take me as I am and that no one can escape from their individuality. His decision of ruling out the Section 377 has melted the hearts of many Indians who are overjoyed at this time.
Since the time judgement came in, the social media is flooded with tweets, posts and memes by common people and famous personalities. Many Bollywood celebs expressed their happiness on the social media and even meme makers did it in their own way. Have a look at some memes that are grabbing the attention of people on social media currently.
#1
Supreme Court making this meme irrelevant today. 🎉 #section377 pic.twitter.com/fZWOe3ItmG

— Bollywood Gandu (@BollywoodGandu) September 6, 2018
#2
CJI Deepak Mishra. #Sec377 pic.twitter.com/91QBaMALKr

— Bollywood Gandu (@BollywoodGandu) September 6, 2018
#3
Just Do It. #Section377 pic.twitter.com/YTSEBvCRt7

— Trendulkar (@Trendulkar) September 6, 2018
#4
अब दिलवाले दूल्हा ले भी जा सकते है #377Verdict

— Charles Babuwaski (@GaurangBhardwa1) September 6, 2018
#5
Options bade hai, pr aap single hi rahenge! Ab ladke aur ladkia dauno aur se reject honge 😅 #Sec377

— MORNI (@ballisticleo) September 6, 2018
#6
#Section377 abolished. Historic. #LoveWins pic.twitter.com/eNycBbYiWI

— Pakchikpak Raja Babu (@HaramiParindey) September 6, 2018
#7
Gay-rights activists to CJI Dipak Mishra. #Section377 pic.twitter.com/nAyV7GvoMd

— SAGAR (@sagarcasm) September 6, 2018
#8
#Section377
Well done Supreme Court.
You have finally got the government out of our bedroom.
Now, for the kitchen.

— Ramesh Srivats (@rameshsrivats) September 6, 2018
#9
*After the Supreme Courte Decision*

Mom – Beta Shaadi Kr Le.

He – Maine Aapke Liye Damad Dhundh Liya Hai.. #Sec377 #Section377 #Section377Verdict

— Prashant (@prashantempires) September 6, 2018
#10
Had to distract self from compulsively refreshing Twitter so made dis. pic.twitter.com/mkQOH8Orny

— The Pai (@twentytwobyPai) September 6, 2018
This is really a giant step for mankind. What do you think?
Share Your Views In Comments Below